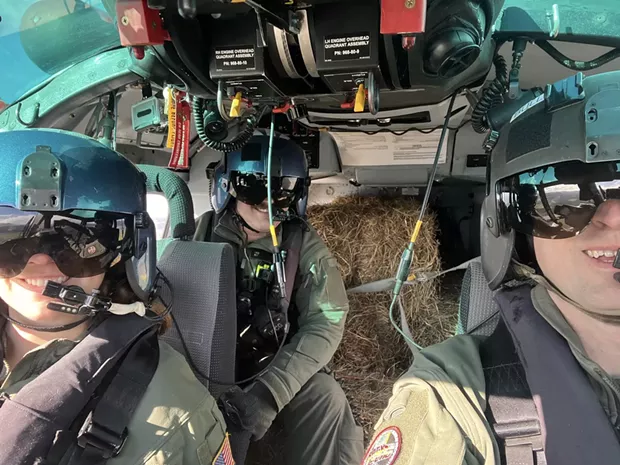 U.S. Coast Guard Sector Humboldt Bay/Facebook
A U.S. Coast Guard crew on a chopper loaded with hay.
On Saturday, March 4, Humboldt County Sheriff William Honsal got an atypical call. It was from Second District Supervisor Michelle Bushnell, who'd been fielding frantic calls from cattle ranchers in her district who had been blocked off from tending their herds by roads covered in heavy snow and downed trees, leaving their cows unfed and unable to graze on the snow-covered ranches.
One of them, she said, noted that when this happened some 35 years ago, back in 1989, a U.S. Coast Guard helicopter was enlisted to air-drop bales of hay to the starving herds.
"Is this something that can actually be done," Honsal recalled Bushnell asking. "I said, 'I have no idea, but I'll ask.'"
Honsal said he immediately reached out to the Coast Guard and CalFire to see what was possible, and received a similar response from local commanders: They didn't know if policy allowed them to help, but they would if they could.
U.S. Coast Guard Sector Humboldt Bay/Facebook
An aerial view of a remote cattle ranch.
Honsal said his department then made some official "agency assist requests" and petitioned the California Office of Emergency Services, pleading that these herds hadn't been able to eat in 10 days and were starving, with many of the cows calving.
"It has become a dire situation," he said. "There's snow all the way to the valley floors so there's nowhere for these cattle to go to get feed, and the roads are impassible with snow and downed threes, so the ranchers just can't get there. These ranchers are in danger of losing a significant part of their stock."
With the various agency approvals in hand, Operation Bales Away started as a test effort March 5 from the Rohnerville Airport, where hay from 3B Farms was loaded by hand onto the CalFire and Coast Guard choppers, which would then use GPS coordinates to drop the bales into snow-covered fields to be gobbled up by hungry cattle.
3B Farms owner Erik Bess said Bushnell and Jack Rice from the Humboldt Del Norte Cattlemen's Association were instrumental in coordinating the effort, which ultimately saw five runs each made to seven different ranches. Honsal said he realized the effort would have to continue into the week and additional resources were needed.
"The time and distance to these ranches, and the amount of hay some of them need, is pretty great," he said, adding that he'd put in an additional request for a larger helicopter from the California National Guard, a request that was granted March 7.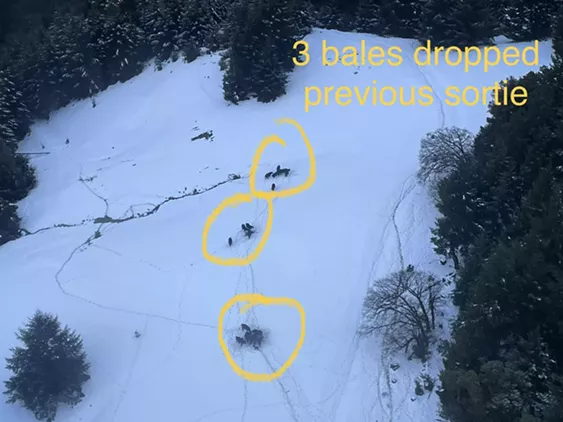 U.S. Coast Guard Sector Humboldt Bay/Facebook
Cows make their way out of the trees to feed on hay dropped by helicopter March 5.
While the Coast Guard helicopter was ultimately deemed an awkward fit for hay deliveries, Honsal said the agency will continue to assist the effort, acting as scout. While the drop teams have GPS coordinates for the ranches, many of them sprawl over many acres of steep terrain, making finding the herds, which are often taking shelter under the trees difficult. Moving forward, Honsal said the Coast Guard helicopter will work to spot cattle tracks to better pinpoint the hay drops.
"They're not currently dropping hay but offering logistical support and spotting," Honsal said of the Coast Guard crew.
The agency seemed to be having a bit of fun with its atypical assignment, rhetorically asking on social media how much hay you can fit in the back of an MH-65 helicopter. (About 500 pounds, if you were curious, per the post, which included the hashtags #specialdelivery and #SoOthersMayMoo.)
The post drew an outpouring of gratitude and praise on social media.
"Thank you for your sacrifice," write Autumn Kruse, "because you're never getting that hay out of your seats."
On a more serious note, Honsal said ranchers won't know the full impact of the snow storms — and how many cattle they've lost — until the snow melts and they can safely access their ranches. In the meantime, he urged everyone who can to stay home amid the coming storms and to refrain from making unnecessary trips into the snow.
Watch a vide of Honsal discussing the situation and find a full press release from the HCSO copied below.
Regional partners coordinate to feed starving, snowed in cattle

As winter weather continues to rain down on Humboldt County, local and regional partners are working together to save lives and cattle.

"We've had some unprecedented weather over the last two weeks and we've received multiple reports of cattle dying off because ranchers cannot get to their cows due to impassable roadways," Humboldt County Sheriff William Honsal said. "These cattle are an economic driver, they're starving and they're calving right now. So all those things necessitate some drastic measures."

Prevented from accessing their properties due to several feet of snow and downed trees, local ranchers turned to their county supervisors, who in turn contacted the Sheriff's Office, recalling a time more than 30 years ago that public safety agencies stepped up to help under similar circumstances.

"In the 1980's when the snow was so prevalent and ranchers were unable to get to the ranches, they called upon CAL FIRE and the U.S. Coast Guard Sector Humboldt Bay (USCG) to help deliver hay to those communities," Sheriff Honsal said. "We won't know until the snow melts how many cattle have died due to these conditions. But I know this for certain, if we don't act, there's going to be way more that do die and it will be a catastrophe for our county."

Putting into practice the same method used all those years ago, the Sheriff's Office of Emergency Services put in a request through the California Governor's Office of Emergency Services (CAL OES) to utilize helicopters from CAL FIRE and the USCG to drop hay to cattle in need. The request was approved and on Sunday, March 5, Operation Hay Drop began, with crews from CALFIRE and the USCG loading up their helicopters and dropping hay into remote mountain fields populated by hungry cattle.

"This is an atypical type of operation but it shows the resilience and effectiveness of cooperating with various agencies so in total we can better serve the communities that are affected," said Chief Kurt McCray of the CALFIRE Humboldt-Del Norte Unit. "We are glad to help."

While CALFIRE oversees the delivery of the hay, Diana Totten, Southern Humboldt-Area Fire Chief and member of Southern Humboldt Technical Rescue, is helping coordinate the order.

"We have about 30 ranchers that have reached out to us for assistance," Totten said. "The hay is coming from private sources, paid for by the ranchers that are requesting the delivery. When receiving a request, we talk to the ranchers about how many head of cattle need to be fed and where the cattle are expected to be on the property. After compiling this information, we then provide it to CALFIRE to coordinate the logistics of a safe delivery."

With more snow in the forecast, additional support from the California National Guard will arrive today with helicopters and troops to help run the operation, allowing for this assistance to extend to neighboring counties in need as well.

"We are still recovering from an earthquake, the winter storms in December and it's been raining or snowing for about a month now. So the impact to our whole community has been drastic," Sheriff Honsal said. "Public safety operations have been going non-stop. We've done probably close to 30 welfare checks and life safety operations for people who are stuck in the snow. Our people are exhausted."

Sheriff Honsal says the additional support will help lessen the burden on local agencies, as the upcoming rain and snow could result in mudslides, flooding and additional emergencies throughout the county.

"We don't want people to become further victims because of a snow emergency. So if you don't have to travel, please don't travel. Please don't check on things you don't have to check on. Please don't visit places where you have no idea what the conditions are," Sheriff Honsal said. "We urge people to stay home, stay warm, only travel when it's necessary and look out for each other."

Due to the overwhelming demand for assistance from community members impacted by this weather emergency, public safety personnel are unable to deliver emergency supplies to community members. However, Sheriff's deputies and local public safety personnel are able to help community members evacuate should their situation be life-threatening. If you are in need of assistance, please call 707-445-7251 or 9-1-1 for emergencies. If you are a rancher in need of assistance, please contact 707-223-2455.

To see the latest road conditions, visit: humboldtgov.org/roads and quickmap.dot.ca.gov

To see the latest weather forecast, visit: weather.gov/eka

For information regarding how to prepare for a winter weather emergency, visit: ready.gov/winter-weather.

For updated information regarding Humboldt County's emergency response, please go to humboldtsheriff.org/emergency and visit @HumCoOES on Facebook and Twitter.