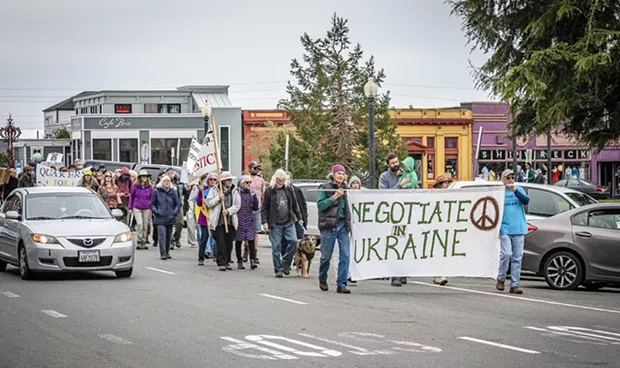 Photos by Mark Larson
The march after the peace rally for Ukraine on Saturday.
As anti-war demonstrations were held across the country Saturday to coincide with the 20-year anniversary of the U.S.-led invasion of Iraq, several dozen people gathered at the Arcata Plaza to "rally for peace in Ukraine by seeking an end to the war with ceasefire and diplomacy."
Ellen Taylor, the first speaker, reinforced that point by reading the 2003 words of West Virginia U. S. Sen. Robert Byrd, who was one of the Senate's most outspoken critics of the 2003 invasion of Iraq.
Jack Irvine, a retired physician and member of a local "council of elders" (as emcee Michael Evenson described it), was next with a wide-ranging re-telling of the history of opposition to war and nuclear armament. Evenson followed by answering the question, "Why a rally? We need to talk to and learn from each other."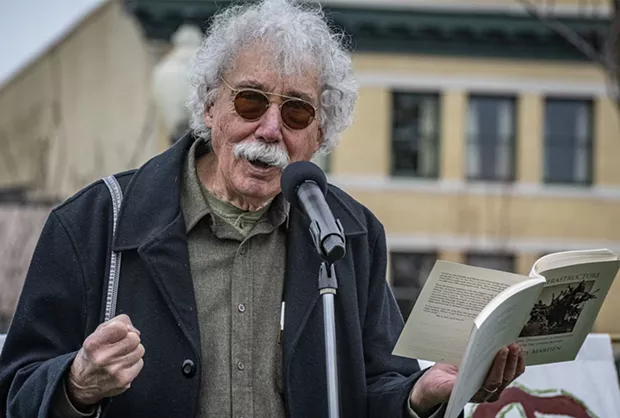 Photo by Mark Larson
Poet Jerry Martien during a reading at the rally.
Up next was a songfest led by the Raging Grannies, a short talk by Cal Poly Humboldt student José Lepe of the Party for Socialism and Liberation and poet Jerry Martien, who prefaced his reading of "After the Crash" by challenging attendees to re-make peace more interesting than war.
More songs followed by the Ponies of Harmony and soloist James Zeller. Organizer David Meserve then closed with the argument that we needed to seek an end to the war in Ukraine with ceasefire and diplomacy, before leading the attendees in a brief chant of "2, 4, 6, 8 … We need to negotiate … ."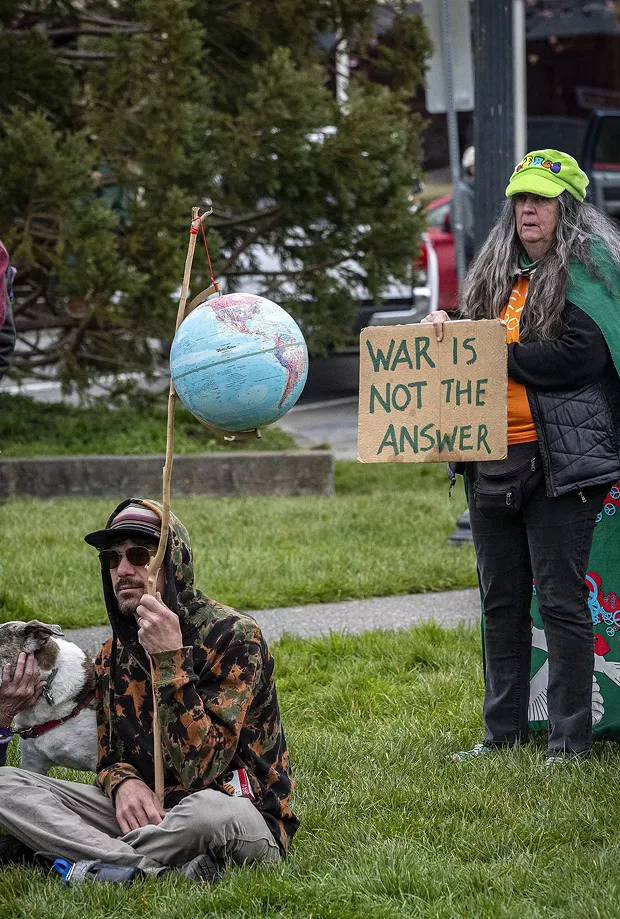 Photo by Mark Larson
Attendees at the peace rally.
Then, with lyrics of "Masters of War" by Bob Dylan playing through the speakers, Meserve and Evenson led the attendees on a march around the plaza while carrying a "Negotiate in Ukraine" banner.