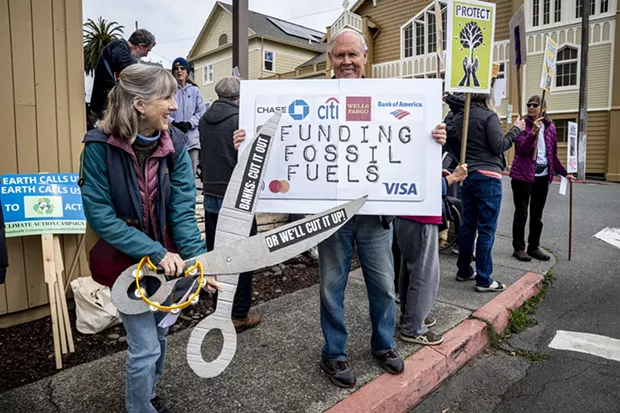 Mark Larson
Annette Holland, of Arcata, symbollically cuts up a bank card held by Greg Holland at the Third Act protest in front of Wells Fargo Bank in Arcata.
Last week's national day of protest by Third Act members urging banks, including local branches of Wells Fargo and CHASE Bank, to stop lending to and underwriting the fossil fuel industry, included a demonstration attended by around 60 persons in Arcata.
Many attendees brought their bank cards to cut up in protest March 21, as well as submitted letters promising to remove their funds to the Wells Fargo and CHASE Bank corporate offices, according to protest co-organizer Valerie Gizinski, of Arcata.
The protestors gathered at 11th and G Streets in Arcata in front of the Wells Fargo branch bank for a half hour of waving signs at passing traffic and singing protest songs before walking south on G Street and across the plaza to Seventh and H streets in front of the CHASE Bank. The protesters reprised their public-awareness actions and sung for another half hour before Gizinski reminded attendees, in closing, of the potential impact of their actions to withdraw their resources from banks and to find greener credit cards and banks.
No bank representatives appeared at either location.
The organization, Third Act, was started by climate-activist Bill McKibben and includes sustainable banking options and other information at its website at www.thirdact.org.
9 slides