Submitted
Travis Schneider's family home has sat partially built under a stop-work order since early last year.
Local developer Travis Schneider has agreed to remove his partially constructed 20,000-square-foot home on Walker Point Road in an effort to resolve a litany of permit violations that resulted in a county-issued stop-work order on the project in December of 2021.
In an April 5
letter
to Humboldt County Planning Director John Ford, an attorney representing Schneider said he has agreed to remove the existing structure and fill material, and will restore the property to its "natural grade." Additionally, Schneider has agreed to mitigate impacts the permit violations had on environmentally sensitive and wetland habitat on the property, to enter a portion of the property containing a culturally significant archeological site into an easement held by Wiyot area tribes and fence off the area to prevent further disturbances.
Meanwhile, county code enforcement issued a
notice of violation
and a notice to abate a nuisance due to permit violations on the property Tuesday, paving the way for the county to begin imposing fines of $40,000 a day for up to 90 days, an amount that would total $3.6 million if fully imposed. The notice officially gives Schneider 10 days to abate the nuisance on his own but, due to the nature of the violations, Schneider is unable to do so without additional county permits or modifications to his existing coastal development permit.
Ford told the
Journal
this morning that the agreement reflects months of conversations with Schneider and other stakeholders.
"In order to really address this issue thoroughly, there's going to have to be remediation of what's been done on site, and I think there is also a need to assess penalties," Ford said. "And we can't assess penalties through the permitting process, thus we're pursuing a penalty process and a permitting process simultaneously."
Schneider told the
Journal
in an April 7 email that he was working with the county "toward a respectful and appropriate resolution" and he was "looking forward to putting this behind us." He did not immediately respond to a follow-up inquiry this morning regarding the notice of abatement.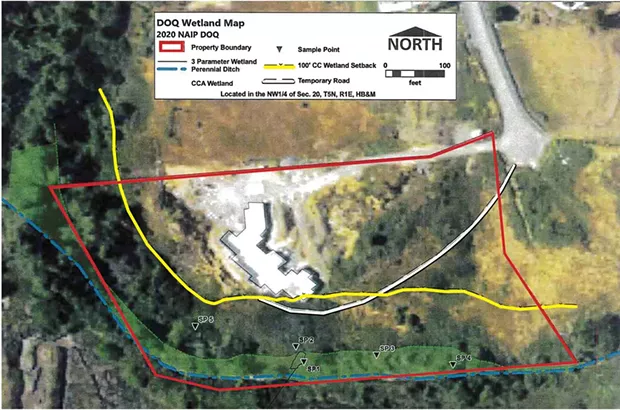 Humboldt County Planning and Building
A county staff report shows how the footprint of local developer Travis Schneider's new family home, as well as a temporary road carved into the property, violate wetland setback provisions of his permit.
The county issued a stop-work order on construction of Schneider's family home on overlooking the Fay Slough Wildlife Area on Dec. 27, 2021, after it was determined he'd built on a footprint different than the one on approved plans and thus encroached on mandated wetland setbacks on the property. Additionally, Schneider was found to have violated his permits by clearing an environmentally sensitive habitat and grading over a known culturally sensitive Wiyot site, while also cutting an unpermitted temporary access road on the property. Schneider defiantly continued construction activities for 50 days after issuance of the stop-work order.
The issue
came to a very public head
in August, when Schneider's application for permit modifications needed to resume construction came before the Humboldt County Planning Commission and the Wiyot Tribe, Blue Lake Rancheria and California Coastal Commission objected, saying additional details needed to be finalized concerning Schneider's remediation plans before the project could go forward. The entities' opposition set off then Planning Commission Chair Alan Bongio, who launched into several rants in Schneider's defense and made far-reaching comments about "Indians," accusing them of trying to extort more concessions out of the developer and playing a "game" with cultural resources and reneging on an agreement — comments tribal officials found deeply offensive and racist.
In the aftermath of that meeting — in which the planning commission sent the matter back to staff to try to find an accord —a litany of other permit issues and violations were revealed, including that Schneider had begun construction on the project
without a building permit
, that he'd
failed to get a septic permit
required before he began construction and, perhaps most importantly, that he'd brought in 10 times more fill dirt and had begun construction of a residence
more than twice as large
as allowed under his coastal development permit.
It was later learned that Bongio had
done concrete work
on the project in 2019, according to Schneider, which he later failed to publicly disclose when attempting to resolve the permit violations as a commissioner. (Bongio later, after being
censured
by the Humboldt County Board of Supervisors for his conduct at the August meeting and
stepping down
as the commission's chair,
resigned
from the commission entirely in December to "focus on his family and business.")
When the permit modification application came back before the planning commission in September, Ford made clear that the California Coastal Commission — which has appeal jurisdiction over the project due to Schneider's encroachment on a wetland — had grave concerns about the violations and whether the proposed permit modifications were adequate to address them.
"The very definitive takeaway is that what's being proposed doesn't go nearly far enough," Ford said at the time. "They believe there needs to be restitution and fines imposed."
The planning commission then opted to
send the matter back to staff
, hoping it could work with Schneider, the California Coastal Commission, the Wiyot area tribes and the California Department of Fish and Wildlife (CDFW) to find an agreeable outcome.
Months later, Schneider's agreement to remove what's been constructed to date on his family home and the 15,000 cubic yards of fill, along with the other remediation measures, seems to have come out of that negotiations process.
Ford told the
Journal
this morning that Schneider will be applying for permit modifications to carry out the agreed upon work, and the planning commission will need to sign off on those. He said the next step will be to set up meetings between Schneider, county staff, the coastal commission, area tribes and CDFW to iron out the details of the mitigation plans to make sure they are mutually agreeable. Ford said he anticipates the matter could come before the planning commission in June, but stressed staff has erred by rushing this forward before and does not want to make that mistake again.
The notice of violation and abatement issued Tuesday stipulates that after 10 days the county will begin to impose daily fines of $40,000 for up to 90 days but the terms of the notice makes clear that doesn't necessarily mean Schneider will have to pay them.
Under the county's code enforcement program, parties can enter into a compliance agreement with the county to correct violations and, if conditions of the agreement are met, "then some and possibly the entire penalty could be dismissed."
Ford told the
Journal
this morning it's not entirely clear how the process will work going forward, saying it's contingent on input from the various stakeholders and Schneider's following through on the basic parameters he's agreed to. But the planning director said it's unlikely financial penalties will be waived in their entirety.
"I do believe there will be fines," he said.