Ollie Hancock
All past issues of the paper were on display at the celebration.
El Leñador
, an award-winning, monthly bilingual Cal Poly Humboldt publication that's the only newspaper in the county to deliver the news in Spanish, held a decennial celebration Thursday, with accompanying workshops led by some of its alumni.
"The 10-year anniversary is not only a celebration of
El Leñador
but a celebration of the community we have been serving," said Ricardo Lara Nava, current editor-in-chief, who has been on staff for four semesters. In the next 10 years, he expects the paper to keep up its important work. "I see us continuing to serve not only the students but the community here in Humboldt County. We see that the local government doesn't get information out to the Spanish-speaking community, so we step up and do that."
In 2013, students at what was then Humboldt State University students launched
El Leñador
to provide for the growing Latinx population on campus. At the time, the university had just received its designation as a Hispanic-serving institution.
"
El Leñador
's 10-year anniversary means a celebration of legacy, to those who have devoted countless hours of their time to produce the newspaper," said Karina Ramos Villalobos, former co-editor-in-chief, who has been on staff for six semesters. "We are honoring those who came before us, celebrating the present and empowering future staff members."
Ollie Hancock
Karina Ramos Villalobos, former co-editor-in-chief, has been on staff for six semesters. She celebrated El Leñador staff of the past, present and future.
The paper and its staff have won more than 70 awards, including "Best of Show" from the Associated Collegiate Press in March. Advisor Andrea Juarez was especially proud of the paper's 2021 award for "Best COVID-19 Coverage" from the California College Media Association. During the pandemic,
El Leñador
was one of the only sources of vaccine information for Humboldt's Spanish-speaking community.
"The students on
El Leñador
are passionate about the paper, and it shows in the stories they produce. The newspaper has made a huge impact on local media in Humboldt," Juarez said. "
El Leñador
has been successful in a lot of ways, not just in the awards they win, but also in the skills, career readiness and opportunities, as well as the sense of community it provides students. It is also successful in the reach and impact it has on people in Humboldt County."
Ollie Hancock
Faculty advisor Andrea Juarez (right) poses for a photo with El Leñador alumni.
Manuel Orbegozo graduated in 2015 and served as an Editor-in-Chief of
El Leñador
. At the celebration, he admired the sense of community the paper creates.
"Now I'm a freelance journalist, and I focus on covering conflict and humanitarian crises internationally," Orbegozo said. "Being here and seeing all of you together putting on this event reminds me why
El Leñador
exists, it's because of community. I'm glad we have a paper that brings us all together."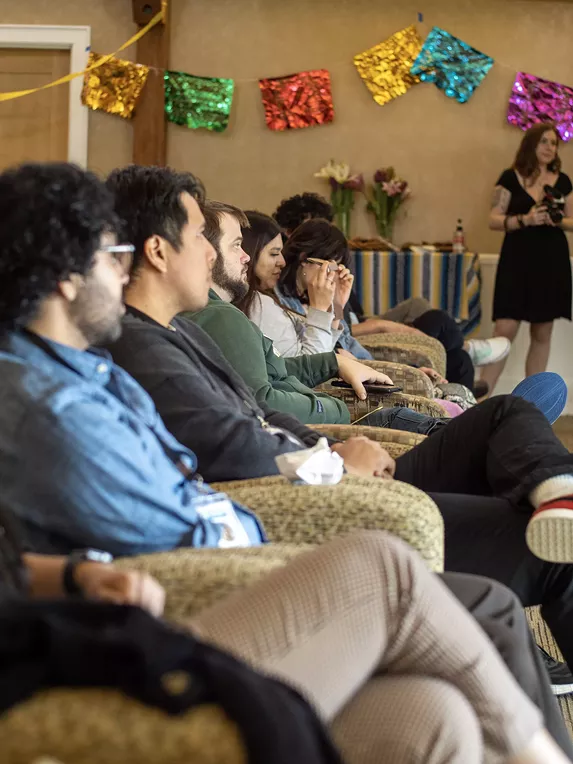 Ollie Hancock
El Leñador alumni returned to the campus to celebrate and impart knowledge on student journalists at Cal Poly Humboldt.
Ollie Hancock (they/them) is a staff writer at the
Journal
. Reach them at (707) 442-1400, extension 317, or ollie@northcoastjournal.com.