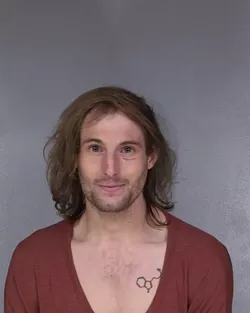 HCSO
Austin Michael Medeiros
A 28-year-old Rhode Island man was sentenced today to serve 25 years to life in state prison for the murder of 28-year-old Emily Lobba in her Kneeland home last year.
Humboldt County Superior Court Judge Kaleb Cockrum sentenced Austin M. Medeiros for the first-degree murder today, and added another six years, four months to his sentence for felony evading, theft of a vehicle and other crimes, according to a press release.
Lobba was found strangled to death inside her home April 3, 2022, and Medeiros was found to have stolen her possessions before fleeing the scene. A jury convicted Medeiros in the case about a year later, on April 27.
Find the full press release from the district attorney's office copied below.
NEWS RELEASE
5/24/2023
Today, Judge Kaleb Cockrum sentenced 28-year-old Austin M. Medeiros of Rhode Island to serve 25 years to life in prison for the first-degree murder of 28-year-old Emily Lobba. Medeiros was ordered to serve an additional 6 years, four months for felony evading, theft of a vehicle, and assaultive crimes committed against other victims, including a Humboldt County Corrections Officer.
On April 3, 2022, Medeiros strangled Ms. Lobba to death while inside her Kneeland home. He proceeded to steal most of her possessions. Ms. Lobba's caretaker encountered Medeiros at the crime scene and notified law enforcement as Medeiros fled in Ms. Lobba's van. Despite a high-speed pursuit that followed, Medeiros reached the Arcata Community Forest where he escaped on foot. Medeiros was arrested seven days later after he stole a Santa Cruz Harbor Patrol's boat and was caught attempting to sail away.
Medeiros was convicted of his crimes by a jury on April 27 of this year. Deputy District Attorney Candace Myers prosecuted the case with the assistance of District Attorney Investigator Martin Morris, as well as Victim/Witness Advocates Caitlyn Lahaie and Morgan Polasek. Local defense attorney Owen Tipps represented Medeiros. Humboldt County Sheriff's Investigators Brandon Head and Scott Hicks led the investigation that ultimately brought Medeiros to justice.
District Attorney Stacey Eads said: "I commend Ms. Lobba's caretaker for quickly alerting law enforcement of Medeiros's crimes. Thank you to the jury for their dedication and service. May this outcome help provide Ms. Lobba's loved ones with some sense of justice, and a path towards healing."