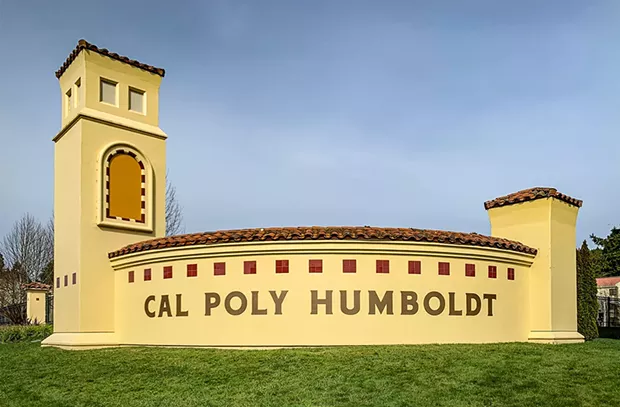 Both excitement and concern about a potential explosion in Cal Poly Humboldt's enrollment due to its new status as the state's third polytechnic university seem to have been premature.
While the university excitedly
announced
in November that freshman applications were up 86 percent over the prior year, then set a wave of panic across campus in February when it cited "unprecedented growth" when
informing
all returning students they would have to live off campus this fall, it now appears enrollment growth will be modest at best, meaning the campus and community will avoid the feared housing crunch, at least for now.
Through spokesperson Grant Scott-Goforth, the university declined to give the
Journal
specific enrollment and housing numbers to date, saying they won't be final until September (instruction, meanwhile, begins Aug. 21). Sharing current enrollment and housing numbers — even while noting they are preliminary — "would be misleading without context."
"The university is on track for enrollment growth this fall, progressing toward the Polytechnic Prospectus target of total enrollment growth of 8 percent to 15 percent increase in new students," Scott-Goforth wrote the
Journal
, noting that total enrollment in fall of 2022 was 5,858 and the university is "predicting enrollment to be between 6,000 and 6,400" to start this school year, including both undergraduate and graduate students, which would equate to a 2.4 percent to 8.5 percent increase over last year.
While enrollment remains unclear, what is clear is the university seems far less concerned about housing than it was just five months ago.
After informing all returning students in February they would have to live off campus, and then backtracking with a plan that would allow 600 to remain on campus, the university announced a string of agreements with Arcata hotels and motels — the Comfort Inn, Super 8, Motel 6 and the Ramada Inn — that would see them managed by the university in a "bridge housing" solution that would accommodate as many as 430 students. Scott-Goforth previously told the
Journal
the university negotiated a "special rate of $100 per night per room at each hotel," which penciled out to about $4.75 million for the coming school year.
But much of that appears to have been for naught.
"As of today, the university anticipates being able to meet student housing needs on campus with the Comfort Inn partnership (which offers 98 beds), or by assisting students with off-campus rental placements," Scott-Goforth said, adding that students previously placed in one of the other hotel housing options have been reassigned to other housing. "The university continues to communicate directly with students seeking housing about their assignments."
Plans for the bridge housing were negotiated to be scalable, Scott-Goforth said, "depending on need and enrollment patterns."
As a part of its new designation as a polytechnic institution and an influx of $433 million in one-time and $25 million in ongoing annual state funding, Cal Poly Humboldt projected its enrollment will increase to 11,000 by 2028, nearly double the school's 2021 enrollment and a nearly 30-percent increase over the university's previous enrollment peak of 8,500 in 2015-2016, which was associated with a massive housing crunch that left some students sleeping in their cars or camping in the woods. The university has launched a number of projects to boost housing options, including the Craftsman's Mall property, which is expected to house 960 students but won't open until the fall of 2025.
The targets are ambitious with total enrollment numbers across the California State University System
stagnating
or in decline since 2017, but the university and officials are buoyed by the fact that amid the general decline, the Cal Poly San Louis Obispo and Cal Poly Pomona programs have remained impacted, indicating a significant demand for a polytechnic education remains.
Scott-Goforth said it is hard to predict exactly what final enrollment numbers will look like at this point due to a variety of factors, including that the university has made changes this year to its application and enrollment process, since the COVID-19 pandemic students have been making enrollment decisions later than previously, the transfer student application period just recently closed and some admissions transcripts are still being processed.
For returning students, Scott-Goforth said about 84 percent have already registered for classes, a higher "to-date" rate than seen in years.
Scott-Goforth also said there is still "some capacity" in multiple campus housing options for first-year, return and transfer students.
"Though the deadline has passed, students who haven't already can submit a housing license application and Housing will do its best to find housing for them," he said.