<!———[if gte mso 10]——> <!——[endif]———> <!———StartFragment———>
Currently speeding out from the sun after its last visit to the solar system's inner reaches in 1992, Comet Swift-Tuttle leaves a trail of debris in its path. Comets are made of frozen gasses, dust and rock; as the sun's energy warms and sublimates the frozen gasses, some of its solids are blown off into space, leaving the trail of particles. (See the time-lapse video below.)
Photo by David Wilson
"Self Portrait with Perseid Meteors." The lights of Eureka shine on the Pacific Coast beneath a pair of Perseid meteors in this composite of two images from a timelapse sequence taken during the Perseid meteor shower of 2020 from the hills of Humboldt County on Aug. 12.
Every 133 years, Swift-Tuttle comes in from out beyond Pluto to swing by Earth's neighborhood on its path around the sun, laying down another swath of dust and small particles before heading back out again. Earth passes through its stream of cometary dust every year in early to mid August. As we pass through the trail of dust and small chunks, we collect them in our atmosphere like bugs on a windshield. The particles, or meteoroids, enter the atmosphere at incredibly high speeds (over 100,000 miles per hour) and burn up quickly due to friction with the air. The meteors we see in the sky are their paths burning through the sky.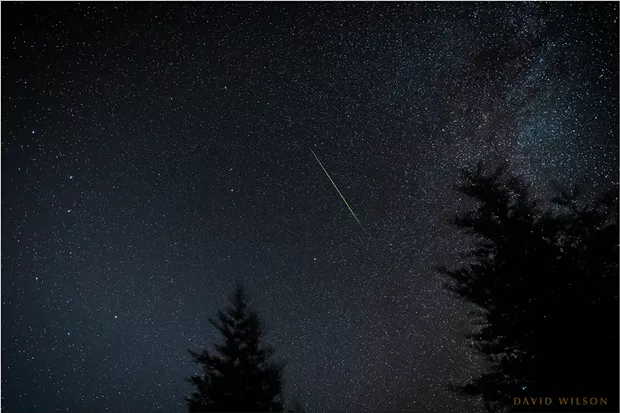 Photo by David Wilson
Still from a time-lapse sequence of the Perseid meteors from Fickle Hill Road on Aug. 11.
Imagine Earth sliding along its orbit in space around the sun, a great marble of blue, white and brown traveling majestically, silently along a path it's known for billions of years. Riding atop this great globe, you look ahead and see coming up in your path a cloudy stream that reaches out and fades into the stars of eternity on either side. Earth is going to pass through the thick of it. This is Swift-Tuttle's dust trail.
At the outer fringes of the stream, stray bits begin impacting the atmosphere, burning up in flashes and streaks as their energy turns to heat and flame. Earth glides on into the densest part of the cometary particle path. More and more flashes and streaks. Like water from a hose, the stream of particles strikes the earth's protective skin of gases. In stripes and streaks, the meteoroids stab into the Earth's thin layer of air, white hot needles straining to reach the ground.
Photo by David Wilson
"Self Portrait in Red, with Perseid Meteors on My Mind …" In the hills of Humboldt County, just past midnight on Aug. 13.
Standing on the ground now, small and human, the meteors shoot across the sky overhead. Adding comet dust to Earth's mass, the shooting stars radiate in all directions from the point where the stream of cometary motes impacts the atmospheric shield above. For the Perseid meteors, this is a point in the northeast, not high above the horizon in the constellation Perseus.
The accompanying time-lapse sequence shows a lot of activity in the sky but by far most of it is human-made, either satellites or airplanes. Here on California's rural North Coast, we see many more satellites that planes in the sky. Meteors are difficult to spot in the time lapse, as they appear only as brief flashes, short streaks that don't reach across the frame. Meteors tend to taper at the ends. Airplanes and satellites travel across the entire field of view. Satellites tend to be a uniform brightness — though that can vary as they revolve and their varied surfaces catch the sun's glare, and they will dim or brighten as they pass into or out of the earth's shadow — while airplanes appear as dashed lines due to their blinking lights.<!———EndFragment———>