I've been tripping around in the night light of California's far North Coast for some time now. A lot of nighttime visions have piled up from many late outings, cold nights and wee early mornings. Yet for all of that, this week I had nothing brand new. So the other night I found myself shuffling through the pile on the computer, sorting them, sticking both hands in and pushing them around like a pile of playing cards, trying to find something. I stacked them up, switched them around, built figurative little houses and structures of cards … Nothing, no visions formed. I went to bed.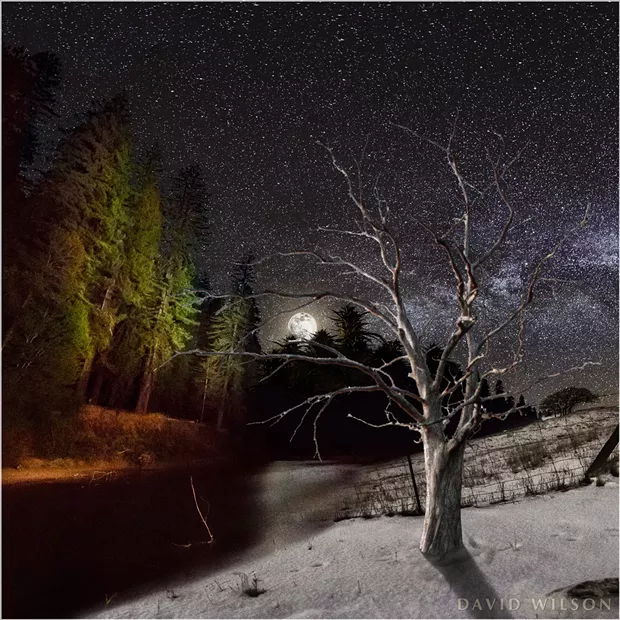 Photo by David Wilson
Left panel of the panorama. Zoom in for a Humboldt skyline.
That night as I slept, I heard the soft slip-slap as my little village of card houses collapsed. No matter, nothing had come of it, and I slept on. But visions of the cards persisted, swirling in my head as I dreamed.


In the morning they were all in a heap, figuratively. But as I looked at them in the light of a new day, I saw that a group of them lay together, fitting together just so, and they gave me an idea. Part of it I'd had a couple years ago and some of it was new. I began to play around, moving images here and there, scaling something just so, painting shadows and highlights, fussing with the skyline and moon glow.

Photo by David Wilson
Over the Rainbow … Middle panel of the panorama, cropped to the Golden Ratio.
Eventually, the image you see here took shape as the many bits and pieces came together from such far-flung places as Needle Rock on Mendocino County's north coast to Trinidad in Northern Humboldt County. In between, you'll recognize the South Fork Eel River as it glides through the redwoods, harvest time in the hills (look for it), Bear River Ridge Road with model Morrigan Crowl, a starry snowscape in Kneeland and Eureka's Carson Mansion.
Spoiler alert: The image is meant to inspire your imagination. If you'd rather the magic weren't broken, please avoid the following details. The curious may read on. I am certain we all realize this is a composite image or at least the locals among us will who know the Carson Mansion is not on a hill. Photographers and digital artists will know that it's put together, too. It is a collage of many scenes under the North Coast Night Lights. But it does have a streak of realism that can confuse and it's not meant to confuse.

Photo by David Wilson
Right panel of the panorama, with Morrigan and Bear River Ridge Road in the foreground and the lights of Trinidad out on the horizon.
The parts of the image, left to right:
The redwoods of Women's Federation Grove with South Fork Eel River; Snow Moon of February 2020; Humboldt harvest skyline from an undisclosed location (might have to look closely for this); the old, dead eucalyptus tree from Needle Rock in northern Mendocino before it fell down decades ago; a snowy panorama near Kneeland with the stars and the Milky Way arcing across the sky; the Carson Mansion of Eureka; the lights of Trinidad in the distance; and Morrigan Crowl standing somewhere up Bear River Ridge Road.

Photo by David Wilson
Snow moon detail.
To keep abreast of David Wilson's (he/him) latest photography or purchase a print, visit www.mindscapefx.com or follow him on Instagram at @david_wilson_mfx and on Twitter @davidwilson_mfx.
<!———EndFragment———>