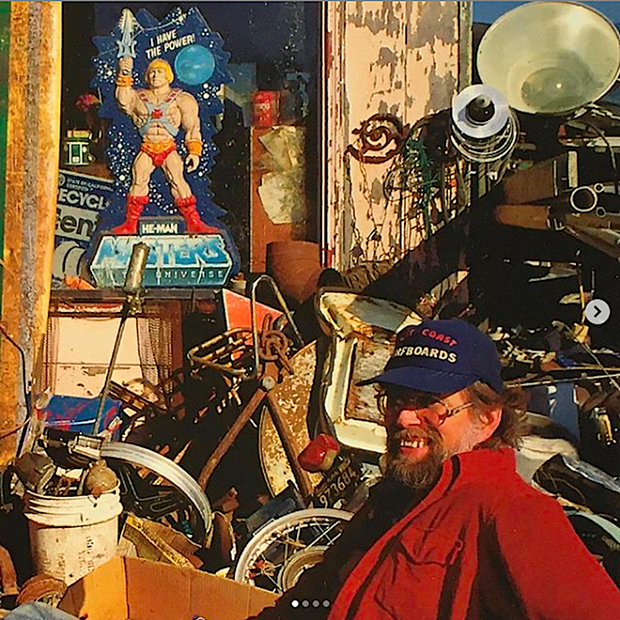 Submitted
Ken "Rotch" Rothschiller, Jan. 21, 1947 to April 20, 2021.
Throughout his life, the artistic sensibility of Ken "Rotch" Rothschiller manifested in many forms, Rotch was best known, and beloved, for being Humboldt County's first surfboard manufacturer, shaping and glassing beautiful, functional surfboards that were invariably works of art.
A longtime resident of Manila, Rotch was born in Klamath Falls, Ore. His family moved to Eureka when he was nine months old, renting a place over Phillip's Camera shop until his dad had the opportunity to buy five-and-a-half acres of land in Manila – for $300 – where Rotch and his friends would make rafts out of old railroad ties to play around in the bay. This interest in being on the water grew exponentially when Rotch began surfing in 1963. He was a junior at Arcata High at the time and inspired by a surf contest on the Wide World of Sports. When relaying what motivated him to start, Rotch said, in a long-ago interview, "I just looked at it and thought, 'Wow, that is so cool.'"
Despite not knowing how to swim and having no idea what a wetsuit was (they had only been invented in 1952), Rotch borrowed an old Hobie balsa wood board from a friend, layered up with several sweaters and went up to Moonstone Beach to give surfing a try. When the sweaters turned out to be useless against the cold water, he borrowed a buddy's diving suit, but that proved too inflexible for surfing. Undeterred, Rotch continued to paddle out, hiking across the Manila Dunes with his surfboard tucked under his arm.
At the time, the only stores offering surfboards in Humboldt County were Olsen's Paint and Bob's Ski Shop — and the only boards carried were "Malibu foamies," surfboard-shaped pieces of foam covered in vinyl with metal frames running through them. Rotch made his first board around this time, a minor disaster in which the foam melted and collapsed, and the inexperienced glass job resulted in sharp edges lining the board. He painted this initial attempt hospital green, added stripes with black electrical tape and named the board "Leprosy." Although that particular surfboard came to an abrupt and untimely end, Rotch wasn't discouraged. He continued reshaping castoff longboards, learning to deglass and even sometimes piling bricks on them for months at a time to change the horizontal curve of the board. In 1982, Rotch and former Arcata Exchange owner Keith Newcomer formed Lost Coast Boards together.
In the following years, many up-and-coming shapers benefitted from Rotch's mentorship, including renowned Humboldt shaper Brian Kang, who was stoked to have Rotch's guidance. "I'd heard about him and he shaped boards for all the big local crazy guys, so for a young shaper from Los Angeles, that was a big thing. He was a great mentor, never judgmental, and a funny guy. It was nothing but bitchin' times! I feel honored to learn the lessons passed down by Rotch."
Some years later, Rotch partnered with his longtime friend John Thomas in a new business, Out of the Woodworks, thinking woodworking would be more financially lucrative than shaping surfboards (which turned out to be true). All the years of shaping surfboards had trained his eyes to follow curves, resulting in beautiful craftsmanship in many forms including bowls, lamps and beds. One of his favorite projects was making a four-poster bed with, at the client's request, light-up mushrooms on the top of each post. His lifelong ability to see things three-dimensionally continued to serve him even in two-dimensional media — his vibrantly detailed paintings have long been collected by surf and ocean aficionados.
Carol Vander Meer, former executive director of Friends of the Dunes and longtime Manila resident, remembers Rotch as "an amazingly talented artist," who was also curious and knowledgeable about the natural world.
Rotch was preceded in death by his parents, Leona and Nick Rothschiller, his brother Richard Rothschiller and many, many friends.
Join a celebration of the life of Ken "Rotch" Rothschiller on Saturday, May 15, at 3 p.m. A paddle out will be held at "G.I. Joe's," the bayside beach just south of the Humboldt Bay Coast Guard station. All are welcome! Following the paddle out, friends will gather to share food and talk story at the North Jetty. All COVID-19 safety guidelines will be respected.
A number of Lost Coast surfboards and art pieces will be on display for people to enjoy. Those who are fortunate enough to have a Lost Coast surfboard are invited to bring it and add it to the display.