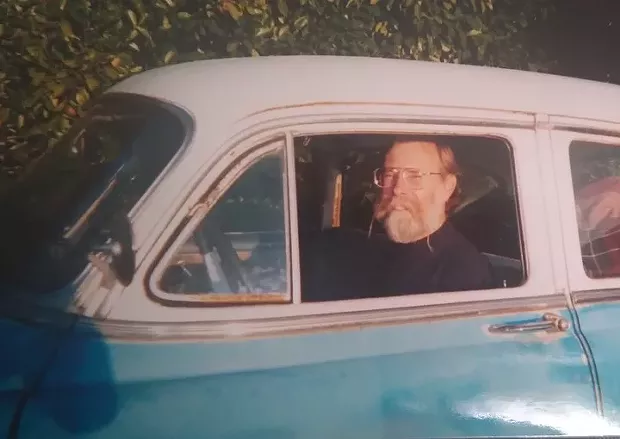 Submitted
Ralph Christensen,1948 to 2021.
Ralph passed away the evening of May 28, 2021, after a long struggle with Alzheimer's.
Born in Washington state to Melba and Eugene "Chris" Christensen, Ralph was the second of six surviving children. The family moved to Eureka when Ralph was young and he attended kindergarten at Lincoln School before the family moved to a ranch in Loleta.
Ralph greatly enjoyed nature, which helped him to bond with his neighbor, mentor and friend Morris Graves. With help from Morris, Ralph became a talented sculptor and traveled with Morris to Asia, including Bhutan, Sikkim, Nepal, Japan, India and Hong Kong.
Afterward, Ralph joined the state's Ecology Corps, where he met his dear friend, the late Albert Merritt, who invited him to a prayer meeting in Weott, where he found Jesus.
In the 1970s Ralph became a member of the Gospel Outreach Church in Eureka and lived among GO communities in Eureka and Los Angeles, and once drove a donated pickup truck from California to a GO mission in Guatemala.
At GO's "H Street House" commune, Ralph met his wife Ursula and her young son, Jonathan. They married in 1981 and had a son Thomas in 1982 and daughter Althea in 1986. In 2000 Ralph and Ursula divorced.
Ralph and his brother John took over a small window washing business called Service Systems and operated it until he retired in 2016. Ralph was a familiar sight around Eureka, washing windows for nearly all of Old Town, both hospitals, the Carson Mansion and many satisfied residential and business customers throughout Humboldt County. He had no fear of heights and would quickly scramble up ladders or rappel down the face of a building as needed.
Ralph loved camping and sailing and purchased a sailboat in the mid-1990s. He made lots of friends through sailing and the Humboldt Yacht Club.
Ralph enjoyed music and had a particular fondness for the "jaw harp" — first Philippine-style bamboo "kubing" which he made himself, then later brass "danmoi" from Vietnam. Through his love of music, he met many more wonderful friends, including his late girlfriend, Judy. His devotion to the jaw harp led him to travel to Holland, Hungary, and even Siberia to attend international festivals and was a long-time regular at Old Town Coffee & Chocolates' open mic nights.
Judy's death in 2013 seemed to nudge Ralph's absentmindedness over the edge to Alzheimer's, and Ralph's mom's death in 2019 triggered an even more dramatic decline.
Ralph is preceded in death by his parents and his older sister, Carol. He is survived by his children Tom and Althea (Dustin), former stepson Jack (Sasha), sisters Jean (Tom) and Kathy, brothers John and Mel (Marietta), nephew Brian (Emma), and nieces Chelsea, Valerie (Shane), Natalie, and Julie (Derek)
The family wishes to thank Ralph's caregivers from IHSS, Agape Home Care, PACE, St. Joseph Hospital, Timber Ridge and Hospice of Humboldt for their compassionate care, particularly as Ralph's needs and behavior became more challenging.
The family will host a wake on Saturday, June 26 from 1 p.m. to 6 p.m. at the Humboldt Yacht Club in Eureka. All of Ralph's friends, neighbors, acquaintances, customers, caregivers and fellow musicians are invited to attend. Due to the vulnerable nature of some family members, please continue to observe COVID-safe practices. Please make any donations in honor of Ralph to the Humboldt Senior Resource Center, whose PACE program allowed Ralph to remain in his home longer than would otherwise have been possible.