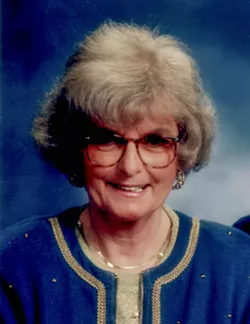 Marianne 'Billie' Ryan Huber, Nov. 24, 1927 to May 15, 2019.
Marianne Huber passed away on May 15, 2019. She was born on Nov. 24, 1927 in St. Louis, Missouri, and grew up in Springfield, Illinois.
After graduating from Ursuline Academy, she went on to study nursing and anesthesia at St. John's School of Nursing in Springfield. She worked as an anesthetist in hospitals throughout the Midwestern and western states, eventually settling in California.
Marianne's interests and energy were boundless. She traveled widely, and enjoyed adventure, the outdoors and sports cars. It was her car, a Corvette, that would bring her together with her future husband. There was hardly a craft or hobby that she wasn't accomplished in, or a topic she didn't find interesting.
Marianne was preceded in death by her sisters Margaret Paul and Patricia Wrincik. At the time of her death, she was survived by her beloved husband of 55 years, Oscar, her daughter Holly and her husband Harvey II, her son Todd, his wife Kelly and Marianne's cherished granddaughter Delaney, as well as numerous cousins, nieces and nephews.
Marianne was laid to rest at Ocean View Cemetery. Memorial donations may be made to Hospice of Humboldt or St. John's School of Nursing.