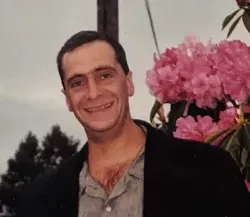 Matthew Evan Yadley 1967-2021
Experimental chef and co-owner of Hurricane Kate's restaurant in Old Town Eureka (he once created a satiric menu for an imaginary restaurant called Pilfer's); X-ray technician in Eugene, Oregon; self-proclaimed gonzo philosopher — in the tradition of Hunter S. Thompson — and social critic; artist; fire juggler and knife thrower; practitioner of yoga. All these designations help us remember Matt Yadley.
Matt was raised in southern California, and as he began to explore spirituality he lived with like-minded companions in Topanga Canyon. Continuing to pursue higher consciousness, he studied at University of California at Santa Cruz before heading farther north to Arcata. His closest circle of friends were associated with Tin Can Mailman and other bookstores. He was most often at home in nature, particularly at the Trinidad beaches and along the Trinity River, and the McKenzie River in Oregon.
Matt is survived by his son Jordan; father Richard; sisters Jessica, Kady and Gwynne, and twin brother Jason; stepmothers Joy Yadley and Jayn Hunter; and brother-in-law Bill Raggio.
The public is invited to attend a potluck memorial on Moonstone Beach, Tuesday, August 10 at 4 p.m. Please bring dishes to share with serving spoon, your own eating and drinking utensils, a chair/blanket and, if possible, folding table, and stories to share. Email Dan with questions via www.ZevLev.com.