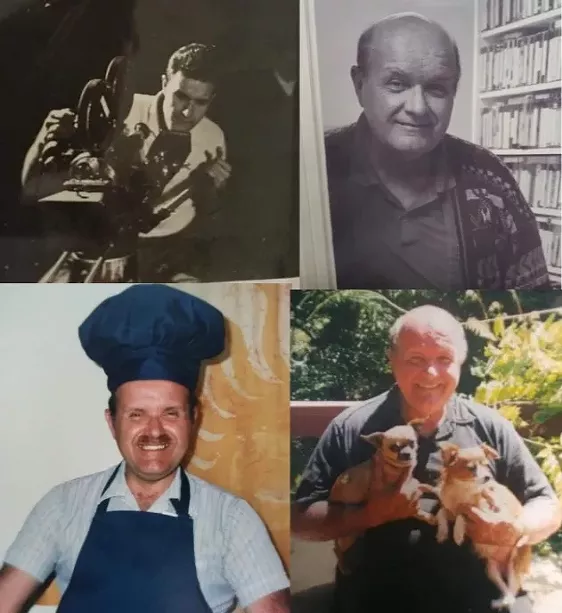 George Agis Cozyris, June 25, 1937 to Aug. 19, 2020.
In loving memory of our dear father, George Agis Cozyris, who passed away one year ago today.
Dad, there not enough words to express how often you are thought of, how much you are missed, how deeply you are loved. There is not a day that goes by that we don't think of you, talk to you, listen to you, laugh with you, feel you near us. We remember you and carry you with us every single day.
"What you leave behind is not what is engraved in stone monuments, but what is woven into the lives of others." — Pericles
George Agis Cozyris, PhD. was born in Heraklion, Crete (Greece), on June 25, 1937.
He passed away from natural causes on Aug. 19, 2020 in Eureka, California, at the age of 83.
George is survived by his sister Chrysanthi "Chryssi" Antoniadi (Xrisi Kozyri), his nephews Alexandros Patsis, Agis Patsis, great nephew Alexandros Patsis of Athens, Greece; his three children, Trevor Cozyris of Santa Cruz, California, Kali Cozyris of Eureka, California, and Kristian Cozyris of Edmond, Oklahoma and also by his grandchildren Amalia Cozyris and Claire Cozyris in Edmond, Oklahoma; his former wife Linda Steele-Clark; and his beloved cat, Kitsi. George is preceded in death by his parents, Agissilaos Cozyris and Amalia Cozyris (Ilya Livykou), as well as his sister Eva Patsis of Athens, Greece.
George arrived in the United States onboard a ship in 1956 in order to pursue an education at both the University of Southern California and the University of California at Los Angeles. He eventually obtained five college degrees in Cinema, Theatre Arts and Telecommunications, and went on to become a film/communications professor for 40 years. He became a proud, naturalized citizen of the United States in 1972.
George started working for the 20th Century Fox studio in Hollywood in 1960 as a screenplay writer in the Story Department, working later at Paramount and Columbia pictures where he wrote the synopsis for the Academy Award-nominated screenplay for the western
The Professionals
and helped rework the script for
Star Wars
. During his time in Hollywood, he met many famous people, including Alfred Hitchcock, from whom he took classes in directing, Elizabeth Taylor, Marilyn Monroe and Natalie Wood, who was his date for a Hollywood dance. George was a member of the Writers Guild of America, the union of professional Hollywood film and TV writers, the International Theater Institute, the American Film Institute, and the graduate students' chapter of the Society of Motion Picture and Television Engineers (SMPTE).
George also worked in theatre, adapting and directing many books and plays for the stage including Eric Hoffer's
The True Believer
and Alain Resnais'
Hiroshima Mon Amour
, one of his favorite films. Before he came to America, George wrote and directed several productions for the Orwo Theatre in Athens, Greece and was an assistant director in many of the professional theatre productions that starred his mother, one of the leading ladies of Greek theatre, motion pictures and radio/television (Ilya Livykou starred in 84 feature length films, more than 120 stage productions for the National Theatre of Greece, and hundreds of appearances on radio and television). George also directed and edited dramatic and documentary programs for Radio Athens, the Broadcasting Network of the Greek Armed Forces and the National Broadcasting Institute of Greece.
After his writing and directing career, George became a respected and revered instructor and colleague. He taught at Solano College, UC Davis and UC Berkeley, Cal State Hayward, Wayne State University, Humboldt State University, College of the Redwoods and the Lebanese American University in Byblos, Lebanon. Over the course of his teaching career, George taught more than 75 different courses in cinema, film, theatre production and telecommunications. He served on a variety of guidance committees for student candidates for the M.A. and Ph.D. degree in Communication and Theatre Arts. His book,
Christian Metz and the Reality of Film
is sourced and cited in several books/courses on film and cinema and earned him a spot in the book
Fifty Key Contemporary Thinkers: From Structuralism to Postmodernity
, a book that surveys the most important figures who have influenced post-war thought.
A true Renaissance man, George lived his passions, including cooking and making people happy through food! In the 1980s, George and his wife, Linda, owned and operated The Sandwich Factory, a Greek-American deli in Old Town, Eureka. It was known for its many Greek delicacies and George's famous Greek Fudge Brownies. George and Linda also owned and operated the fashion boutiques Treasures of Atlantis, Atlantis and Diva Boutique in Eureka, Sacramento and Mendocino, California. George also tried his hand at real estate, earning his license and selling and showing homes for a few years. He loved spearfishing and swimming, was a prolific poet, writing nearly 400 poems in his retirement, a voracious reader and lifelong learner. He studied the Greek linear B alphabet and earned a degree in electronic repair in his retirement. George was also an athlete in his early years, earning letters in track and field events at Athens College, most notably javelin, shotput and discus. He spoke several languages, including Latin, French, Italian and modern and classical Greek. Though he taught at the university level for decades and was impeccably fluent, English was a foreign language for him.
George was also an animal lover/rescuer who kept bags of cat and dog food in the trunk of his car, feeding strays he met on the streets of Athens and hills of Crete, doing the same when he emigrated to America. He was never without a beloved pet, usually many.
George will be remembered as a loving father and teacher. He always provided for his family and was known for leaving little surprises for his kids, like a 6-pack of diet Pepsi on the driver's seat of his teenage daughter's car and a $5 bill taped to her steering wheel before she went to school. He would often "find a $20 on the ground" (his pocket) and give it to his kids. Whatever his family asked for, he provided, sometimes preceded by the flaring of his famously passionate but short-lived temper if it was a last minute "need" that was hard to procure. He was charming, witty, enormously well read and erudite. He was a proud Greek, exclaiming often that "Everything is Greek!" and showing the Greek root to nearly every word. If his kids asked him a question, no matter how simple an answer was needed or expected, they would always get a professorial-sized lecture. ("Sorry I was late. I asked my dad how to spell 'arthritis.'")
One of George's favorite quotes is from his own relative, the Greek writer Nikos Kazantzakis, and is the epitaph on Kazantzakis' grave in Heraklion:
"I hope for nothing. I fear nothing. I am free."
You are free now, Dad. Your family loves you eternally.