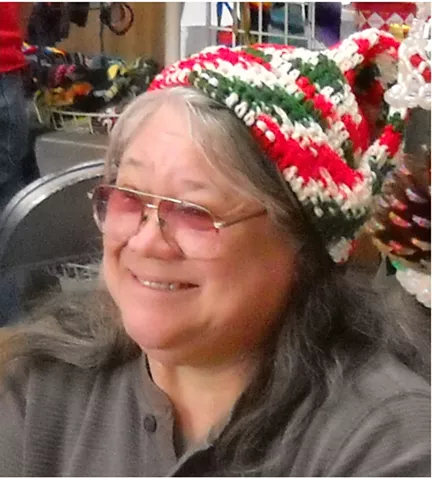 Kathrine (Katey) Jane Ringle-Hackney, Oct. 22, 1953, to March 13, 2021.
Katherine (Katey) Jane Ringle-Hackney, age 68, passed away peacefully in her sleep at home in Miranda, California, on March 13, 2021.
Katey Ringle was born on October 22, 1953, in Tokyo, Japan, to Jerld Manual Hackney and Tomiko Hackney-Watanabe. Her father, Jerld, had a career as Chief Master Sergeant in the United Sates Air Force. As a result, in her youth she lived in Japan, France and eventually settling in the United States with her parents. She lived in Colorado for a time and moved to Citrus Heights, California, in 1964. She attended San Juan High School and graduated in 1971.
Katey always wanted to help people so she started attending classes in the nursing program at Sacramento State University and American River College. During that time, she worked as a nurse's aide, dietary cook and driver for Crestwood Behavioral Health. She also worked part time to supplement her income with the Sacramento Medical Personnel Pool.
In 1973, Katey came into my life. As her friend and husband for the next 48 years, we became soul mates. In 1982 and 1986 she gave birth to our daughter Rebecca and son Gregory. Katey worked as an Accounting Technician for the California Employment Development Department and California Department of Corrections (CDC) at Folsom State Prison. In 1987 while working for CDC she was awarded the Corrections Bronze Star on the west steps of our state Capitol by the governor of the state of California for saving a human life. In 1995 we moved to southern Humboldt County to begin a new existence. Katey started working at Agnus J. Johnson Elementary School located in Weott as the Healthy Start Worker, Healthy Start Coordinator and eventually became the school secretary. Katey cared a great deal for the children living in the southern Humboldt County area. She was a master crafter. She participated in numerous school craft shows, local events, taught basic computer skills to the local elderly and participated in the annual Garberville Christmas turkey give-away. Her work with southern Humboldt County children earned her recognition from parents and school employees. Her monkey babies and baby dinosaur hand-crafted crochet items were most popular with children and adults of all ages. I know because I still keep one on my pillow.
In 2006 we retired to enjoy the good life that southern Humboldt County had to offer. She was proud that both of our children had graduated from South Fork High School. In 2013 Katey had a serious stroke that affected her balance. We discovered that she had Diabetes, which contributed as the cause of her stroke. Rehabilitation at St. Joseph Hospital in Eureka was helpful. In the morning of March 13, 2021 I thought that Katey was sleeping in a little late. So, I went to check on her. I found her lying in bed at peace. Katey had passed away in her sleep of a heart attack. I sat with her for a short while, held her hand and called 911. She was gone from all our lives.
As her husband, the loss of my beloved Katey is of significant importance. I live as a man in constant sorrow. I do miss her company. Katey did not want an obituary. However, compelled by friends, neighbors and everybody living as our Southern Humboldt family, I decided that you folks should know that Katey appreciated all of you. I would like to thank Gary who ran across the road to my house that morning and attempted to help me revive Katey. I appreciate my neighbors Jake, Jennipher, Connie, Vicky, Bob and Pat who provided emotional support. I give my heart felt thank you to first responders, the Humboldt County Coroner's Office, Ayres Family Cremation and all those good friends who helped me with the recent yard sale. Katey is survived by her loving husband Michael R. Ringle, two children Rebecca Katherine Ringle, Gregory Michael Ringle and two grandchildren Natalie Rebecca Aldrich and Milla Thomasina Aldrich. Born in Japan, Katey has said that she always considered herself an island girl. As per Katey's request, her remains will be scattered at sea.