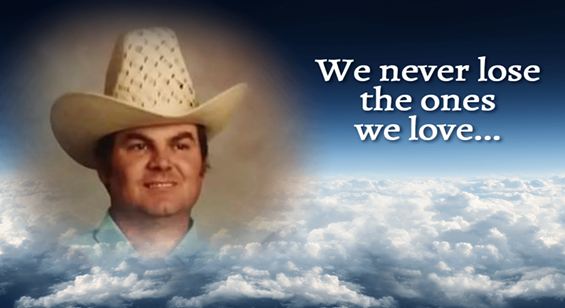 David Johannsen, April 24, 1952, to Aug. 20, 2021.
David was the third of seven kids. He was born April 24, 1952, in Eureka. He spent most of his youth in the Cutten/Ridgewood area. On the weekends his dad Hans and his siblings would spend the day surf fishing or digging for clams. David loved his dad's clam chowder! They would also spend time playing baseball or just hanging out. His cousins and aunts — Pansy, Ester, Irene, Mary — and uncles — Hiram, Allen, Phillip — and Grama Gretta would come, too. The family was very close back then.
David's class was the first to attend Winship Junior. High. He got to help choose the colors for the school. Sometimes David would get into trouble. Ninety-nine percent of the time it was defending his younger brother Randy who had MD. One day, people still remember, someone picked on Randy. David fought him from one end of the gym to the other. A teacher intervened and was knocked out. Police were called, David was handcuffed and taken away. Two blocks later they let David go. The officers knew David and understood why he did it. David always took care of Randy. David and his friends would sometimes cut class and go to the woods behind Winship. There they would smoke and fish. Weekends they would go and camp out. David always wished his daughters and grandkids could have gotten to experience what he did. When times were simpler and safer. David had fond memories of those days.
When David was 16, he ran away and ended up in Reno. There he met three nurses that he lived with. He got his first job at a steakhouse.
In May 1969, David joined the U.S. Army. After basic training he was on a plane to Vietnam. He was there a year , in the Army for seven. He was proud to be in the First Cavalry infantry division. Little did David know that one decision would impact his life, and forever change it. He remembered being sprayed with Agent Orange. He and the other soldiers didn't know they were being poisoned. After Nam, he was stationed many places. One of his favorites was Sandhofen, Germany. He loved the food, culture and the women, especially a special woman, Sonja. Eventually he ended up stationed at Fort Carson, Colorado. He was a bailiff for the courts.
He also was a driver for Colonel Mundt. They formed a very special bond and to this day still stayed in touch. That meant so much to David. He also met Mike Cheatum and they became friends and were still close. They spoke often about everything, even religion and politics! In November of 1974, David came home on leave. During that time his brother Randy introduced him to the love of his life, Darlene Houston. In March of 1975, David was in a terrible motorcycle accident. He spent a month in the hospital. During that time he sent an engagement ring to Darlene, making her the happiest girl on earth! That Aug. 14, 1975 they were married. Some thought it was too soon, they knew it wasn't!
That February 1976, Darlene was able to join David in Colorado. He had rented a cute mother-in-law unit and had everything ready for Darlenes arrival.They got to visit his friends AL Jones, Mike, Denise and others. Go to Pikes Peak and Garden of the God's and enjoy being newlyweds. It was a time they cherished forever. In August of 1976 David received his second honorable discharge.
Some of David's medals included: National Defense Medal, Vietnam Service Medal with two Bronze Service Stars, Vietnam Campaign Medal with Device 1960, Vietnam Gallentry Cross with Palm, 1 O/S Bar Army Commendation Medal with 1st. Oak Leaf Cluster. Air Medal.
They headed back to Eureka in August of 1976. From nearly their first day back they had family or friends living with them It's just what they did and David loved it. David loved being able to help people who needed it. It gave him joy.
David would sometimes annoy family and friends with his advice. He would give his advice when he felt you needed it. It was only out of love, and it was sad that some people chose to quit talking to him because of that. It was their loss because he was very perceptive and his advice would have most likely made their life better. It was only ever done out of love.
In August of 1980, they were blessed with their first daughter Amy 22 months later in June of 1982, another blessing, Jodi. David loved being a dad. He would take the girls on trips when Darlene had to work. He was a hands on dad and loved doing everything with them. David also loved taking the girls and Darlene on small trips out of town. The trips weren't only to explore, but to get food Eureka didn't have. They went to Dairy Queen in Brookings, Redding to get Arby's, Medford to eat at Skippers, one of his favorite places. He loved taking his grandkids on trips, too. He embraced being a Papa, it was one of his most treasured things he was blessed with.
In 1984 they went to Colorado for a visit. They got to see Colonel Mundt and his wife Jean, Mike , their friend Denise and AL and others. They got to be tourists, it was great. Darlene's sister Lisa got to come with them, too.
When David and Darlene were at work he had his good friends June and Judy Arbec take care of the girls. When the girls started school David went on most of their field trips and campouts. David was known affectionately as Mr. Joe. He carried that tradition on with his grandkids.
David attended College of the Redwoods for awhile. While there he became campus police with Randy Mendoza. They had lots of fun working together. David always had a job, permanent or not. He always took care of his family. He worked at two different mills in Arcata. Worked at Samoa Cookhouse and brought Darlene home warm bread when she was pregnant with Amy. David worked at Butler Valley and they liked him so much they offered him his own place to run. His most favorite job was at Semper Virens mental facility. He was there for nearly eight years. There he met his good friend Almador Munoz, he was happy to meet Almador's wife Diane and their kids. He met his friend Donald Denton, and later his mom Doris. He also met Pearl and Gloria. He enjoyed most everyone who worked there. Sadly at 35, due to medical issues, he was medically forced to retire. He always said he'd wish he could still be working and have his health back. A silver lining was he now got to spend more time with Amy and Jodi.
David was proud to be a Yurok tribal member from his Grama Gretta's side. His cousins Allen and Vada Mc Covey were neighbors for years. Allen taught David how to make, clean and set a gill net. He was in his best physical shape while gill netting on the Klamath River. It was so good for his body and soul. He would camp at Klamath with his family during salmon season.
In 1994, they were able to return to Colorado. They took their time getting there. They got to revisit their friends Denise Lairent, Mike Cheatum and his wife Margie, and the Mundts. Unfortunately that was the last time he got to see them in person. They remained close and spoke often. David loved hearing from them. Denise got to speak with David in July. She got to hear how much he loved politics. Many of you know how much he supported Donald Trump. His home is covered in flags and more will be added in David's memory.
Through the years, David made many friends. Some he didn't get to see as often as he would have liked. Others like Carl (T) Prudhomme he got to spend a lot of time with. They would go to the local drag races at Samoa. David even raced a few times. They would bbq and hang out with their buddies. Donald Snowton. Kieth (Mr. Clean). David and Carl would go to the drag races at Sears Point. For years they also went to the Nascar races. They would camp and have a blast. Donald and Otis would sometimes join them. David loved it when Otis brought his pool table. Carl's wife Pam ( sadly she passed) would cook awesome Southern food. David loved it. He went to Carl's and Pam's for dinners and the company. They were like family. Carl moved away, but he and David spoke nearly everyday. Carl met Lucy and David was so happy that Carl found love again.
Jim Simmons and David were so close that people thought they were brothers! They had such fun working on projects together. They also visited out of town nurseries for Jim's work. The latest project they worked on was Jim's tractor. They were close to getting it running. He knew all of Jim's family for years. Jim's sister Sue, his parents Paul and Vina that David fondly called "Boss Lady." They would do anything for each other. Sue's husband Rusty Wells was David's trading buddy for years. All hours of the day they would trade when they were younger. Jim, Rusty and David would go to the Pantry and have breakfast on occasion. They were very close.
David had friends he'd known since childhood. Ike and Peggy Ganfield. He loved catching up with them at the casino. He was always happy to see them. David loved going to the casinos. One of their favorite memories was when he hit a big jackpot at 4 in the morning. He came running to Darlene, so excited that he had won. She was in disbelief. He ended up getting a double oven for Darlene, new carpet and a tent trailer from Ike and Peggy. Through the years David and Darlene went to many casinos. Their local favorite was Cher-Ae Heights. He looked forward to seeing the ladies at the players club. Joanie, Brittney and Ester. He was always disappointed when they weren't there when he came. His favorite out of town casino was Twin Pines in Middleton. He loved the people who worked there and their excellent food, especially their chicken fried steak dinner. Other foods he enjoyed was Uncle Hiram's potato salad, and Auntie (Alma) apple pie. He loved her pie so much he had Darlene learn how to make it. Lately when David had medical appointments in San Francisco, they would spend the day before at the hotel. Joe was usually the one to check them in. He was always so funny and sweet. ( Thanks Joe) . On their way home they would spend a few nights at Twin Pines. David only trusted San Francisco VA with his medical care. Thanks to everyone who ever cared for David. At the local VA, he appreciated Gee Gee for all her help. Dr. Clark was his most favorite doctor. Sadly he retired last year.
David loved all kinds of music. Some of you may have heard him playing his music if you drove by the house. His family always teased him that he needed a parental advisory sign on the fence! Some of his favorites were Scuz Twittly, Jimmy Hendrix, Janis Choplin. Rolling Stones, Dr Hook, Tina Turner and many more. He got to see some of his favorites in concert. Rolling Stones with his daughters and Darlene. ZZ Top with his cousin Sonny. Alice Cooper with his brother Bruce. Tina Turner, Dr Hook , Sammy Kershaw, Terri Clark with his family and more. Lately he really enjoyed Jeff Dunham. He would laugh so much. It was great!.
In 1999, David became a Papa for the first time to Alice. Later David and Darlene adopted her when she was 7. Through the years he was blessed with five grandsons. David embraced being a Papa. When Dillon was born early David traveled down south to be by his side at UCSF. David stayed there until Dillon came home. When Jacob was flown down south and diagnosed with ITP, David went to Benoiff Children's hospital to be with him and his parents. When Jacob was ill he would watch Swamp People with his Papa until he could fall asleep. David taught all his grandkids how to play chess. Brandon picked it up really well and can put you in checkmate in three moves, just like Papa. David had certain shows he would watch with Dillon and Brandon. When they were on, Amy and Darlene had to leave the house so it was quiet. David would teach Dillon about working on cars. Jacob would make Papa spaghetti when he would visit. The grandkids took such good care of their Papa. Dillon would also cook for Papa. Alice was the only person who could give him a hard time on things (like politics) and he would just smile and not be upset.
David liked to surprise Darlene with gifts. He got her a 1980 Chevy Camero, factory 4-speed and surprised her at work. He later painted it wild orchid. It turned out beautiful.
David has so many cousins, to this day his family hasn't met them all! A few he's very close too. Harold Johannsen, they were good friends and more like brothers than cousins. They would do anything for each other. Jimmy Dulford, would pop in whenever he was in town. David loved meeting his daughters Zoey and Gracie. David and his cousin Carolyn had their good times and bad, but through it all he loved Carolyn and her husband Ernie. He enjoyed running into his cousin Kari Sue at the casino and catching up, with her about her sisters and brothers.
David would see many people at the casino he knew. Curt and Roxie, he always enjoyed seeing. He enjoyed seeing Curt and his wife Rose from the neighborhood.
David adored his sister Lisa. They would talk about everything. He loved surprising her with little gifts he knew she would love. He loved both her daughters too. Stephanie, her husband David and Rebekah. He loved when they would visit or call him. They always brightened his day.
He was happy to visit his niece Charlene, her husband Danny and her boys (his great nephews). He loved seeing them as young men starting their own families.
David and Darlene have wonderful neighbors. Jessica and David who put up with vehicles being parked in front of their house. Cats visiting their yard. Gordon Kunhle who was his neighbor for 46 years! David and Gordon had their moments but it was obvious how much they meant to each other. Both Sandi and Sandy. Both ladies are super sweet. Pete and Jennifer Johnston. David loved his garage that Pete and his crew built for him. He would just sit in there and think. Frank Clemanza and his wife Susan. John and his wife. David enjoyed talking to you all. He would always catch up with Russ while he was out walking, and Kevin Phelps too.
He enjoyed going to Tennant and visiting Jodi, Jake and Jacob. While being up there he enjoyed finding things he wanted so he and Jake could do some trading. He also liked meeting Jake's Uncle Dennis Sutton. He had a blast from the past talking to him about all the people they knew from years prior. He enjoyed talking to their neighbors Harry and Peggy May.
On Aug. 8, David walked Amy down the aisle to marry Rich Price. Instead of giving her away and sitting down, David stood there for the whole ceremony. Even after two complete knee surgeries. He was remarkable and so determined. That was a wonderful day for all. David and his brother in law Rick got to talk for hours. They discovered they had so much in common besides their love of Lisa.
On Aug. 20, on his way to S. F. for a doctor's appointment, David passed. He will always be remembered for the kind, sweet, funny man who loved all that life had to offer. He was the one who may have paid for your dinner at a restaurant and not said a word. He was especially fond of the firefighters. He felt they were the heroes. He loved treating them to meals. He was also the one who would stop and try to help anyone having car troubles.
David is proceeded in death by his Dad Hans, his brother Randy, Uncle Hiram, Gretta Johannsen, Allen and Vada McCovey. Cousins Sonny Temple, Ronnie Temple, Heidi Humphrey, Joey Johannsen, Hiram Johannsen Jr. Robert Johannsen, Tina Johannsen, Gary Ford. Nephews he adored, Bubba and Jon Jon Johannsen. Niece Alise , Grandma Ann Floren and many more family members. Friends David lost, Donald Denton, Randy Rodriques, Almador Munoz, Lester Lathem, Jim Dugan, Jerry Aargon, Pam Prudhomme, Glen Hendrickson, Kieth( Mr. Clean), AL Jones, Felix Megazzi, Marvin Ferry and Pat Carson.
David is survived by his wife of 46 years, Darlene, their daughters Amy, husband Rich, Jodi, husband Jake. Granddaughter Alice, Grandsons Dillon and Brandon, who all three lived with David — he was more of a dad to them than a Papa. He so loved having all three around. They each had a special bond with their Papa. He loved when his other grandsons would visit or call. Bruce, Jonah and Jacob he missed them. His sister Lisa and her husband Rick. Brother Danny Floren, nieces Stephanie, Rebekah and Charlene. Nephews, Eddie, Clifford, David, Dan, Gregory, Joseph, James, Gately, and August. Many great nieces and nephews. Cousins, Harold, Jimmy, Glen, Carolyn, Ernie, Joanie, Bobby Laverne Friends, Carl and Lucy, Jim, Mike and Margie, Denise, Lizzy and Marsha, Sue and Rusty, Jonah Billy and family, Greg Williams and family, Chuck Dennison, Floyd S., Raymond, Diane, and many more. He loved you all so much.
He is also survived by his precious cat 50/50 — they adored each other — and Jim's dog Pumpkin.