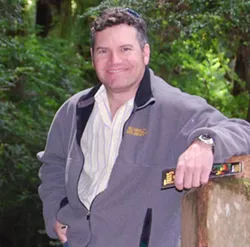 Clinton Dean Rebik was born on March 30, 1966, in Brawley, California, and passed away on November 4, 2021, in Eureka, California due to esophageal cancer. He grew up in Brawley and graduated in 1984 from Brawley Union High School. He moved to Arcata to attend Humboldt State University in the fall of 1984 and remained in the area for the remainder of his life.
After graduating from HSU in 1987 with a bachelor's degree in Theatre Arts, he became the Artistic Director for the Ferndale Repertory Theatre for several years, where he directed and acted in many productions. At the same time, he became a part-time black-jack dealer at Cher-Ae Heights Casino, eventually moving over to Blue Lake Casino. In 1999, he and an enthusiastic and intrepid group of theatre artists formed the Redwood Curtain Theatre, for which he was named Artistic Director. Redwood Curtain Theatre staged over 90 productions in twenty years, many of its most memorable directed by Clint.
In 2006 he began working at Humboldt State University in the Office of the Registrar and was promoted to Registrar in 2012. Along the way, he completed his masters' degree in Theatre Arts from HSU, also in 2012.
Along with all aspects of theater, he loved traveling, snowboarding, hiking, lazily rafting rivers, and lying in the warm sunshine. But the thing he loved most in the world was spending time with his sons.
He was preceded in death by his dad, Stephen Emil Rebik, his paternal grandparents Emil and Jean Elizabeth (Cox) Rebik, and maternal grandparents Marvin J. and Agnes Winifred (Hanlon) Young. He leaves his mom, Mary Ellen (Young) Rebik, sister Winifred Jean (Rebik) (Jude) Temple and their two daughters Katelyn Jean and Emma Danielle, his partner of 25 years Thomas Patrick Roscoe, and his two sons Matthew Dean Jioras and Alexander Harry Jioras, and their moms Christina Jioras and Peggy Metzger, plus numerous aunts, uncles, cousins and a multitude of friends. Clint made everyone in his life feel special.
A Celebration of Life will be held on December 4, 2021, at Blue Lake Casino's Sapphire Palace, from 3-5 p.m.
<!—EndFragment—>