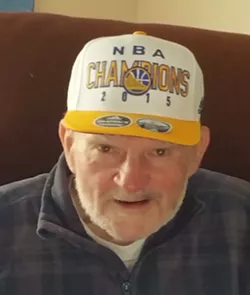 Carl Allen Eschenbach, Jan. 15, 1931, to Nov. 26, 2021.
Carl Allen Eschenbach was born on Jan. 15, 1931, in Cincinnati, Ohio, and peacefully passed away in his home on Nov. 26, 2021, in Arcata California. He grew up in Cincinnati and moved to San Diego, California after he married and then moved to Arcata for his final 12 and a half years.
Carl was born as a "blue baby" before modern medicine identified RH babies. In the hospital, they had just about given up on him, when they decided to try a blood transfusion from his mother. Later in life, he often showed healthcare providers the scar and he thought it might be why he was hard of hearing all his life. Another possible reason for his lack of hearing might have been when Carl was hit by a car at the age of five and then landed on the bumper of the same car and was in a coma for about a week.
Carl was a great athlete and loved pitching. As a kid, his mom would bring his birth certificate to games to show he was eligible because he was a lot bigger and stronger than the other kids. After his senior year at Withrow High School, Carl was chosen to represent a team from Ohio for baseball, and they won the National Junior Championship. Carl had friends from his high school baseball days that went on to be in the major leagues one way or another. Carl was recruited by the Brooklyn Dodgers to pitch in their minor leagues when he was graduating from high school, but Carl's dad encouraged him to go to college instead.
While he loved baseball, Carl was recruited to play football. He had hoped to go to Westpoint, but his hearing impediment made him ineligible. He ended up going to the University of Tennessee to play for the Tennessee Volunteers, coached by General Neyland. However, he learned that football players did not graduate on time, as they were not allowed to take required classes due to football practice. He also saw too many injuries, so he ended up transferring to Valparaiso where he could play baseball again and graduated with a degree in Physical Education. He remained an avid exerciser until two years before his death. At the age of 87, he was still doing 100 "flies" on the coffee table with 20-pound weights.
Carl met Dee Dee Miller at the Triple T Social Club, associated with Knox Presbyterian Church of Cincinnati. They went out on a date in December of 1960 and got married in July 1961. Carl got a job with General Dynamics in San Diego, so they moved and soon had two children, Beth and Phil.
A few years later, Carl earned the gratitude of two of his nieces who moved to San Diego from Ohio. One of his nieces met her husband through Carl and the other relied on Carl to help with her first home purchase.
Carl was involved in his community in San Diego as an Elder in the North Minister Presbyterian Church, as a founding member of Tierrasanta Little League, and as a Scout Leader with Troop 15 with the First Presbyterian Church. As part of the Little League, he helped build the fields, he coached and he served as a head umpire, where he trained the other umpires.
Most of Carl's employed life was working in the defense industry as a technical writer and editor. He worked on projects such as the Atlas Missile and Identify Friend Foe or Neutral (IFFN). He was known for getting the documentation out on time, even if the engineers got the work to him late. When he retired he became a woodworker.
Palomar Community College has a woodworking program that included Carl into their community with open arms. He took almost all their classes and his family and friends benefitted as he became a maker of beautiful fine furniture.
In his later years, Carl became an avid fan of Steph Curry on the Warriors basketball team. He watched many Curry highlights during his last days.
Carl is survived by his wife of 60 years, Dolores (Dee Dee) Eschenbach, daughter Elizabeth (Beth) Eschenbach, son Philip (Phil) Eschenbach, granddaughters Casey Eschenbach and Jocelyn Bliven, as well as nieces (Kathy Lotfi, Anita Glasgow, Jeanne Glasgow, Debbie Champagne ) and nephews (Joe Godfrey and Terry Glasgow) and their children. Carl was preceded in death by his parents, Carl Philip Eschenbach and Edna Allen Eschenbach, and his sisters, Kathryn (Kate) Godfrey and Marjorie (Mickey) Glasgow.
Carl was cremated at Ayres Family Cremation. His final resting place will be near his parents in Rest Haven Memorial Park in Cincinnati Ohio. For those that wish to make a donation in Carl's memory, please consider the Palomar Community College Woodworking program or a charity of your choice.
The family wishes to express gratitude to those that improved his quality of life during his final years: Doctors Bookwalter, Hong, Lupercio, and Palmer and their associated office teams, the teams at North Coast Audiology and Mad River Home Health, Ann Warner Nagy, Remi Chavez, Tammi Clary and folks with Hospice of Humboldt.