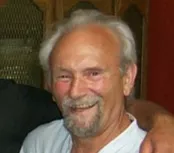 Genaro Raphael Calabrese, Feb. 28, 1938, to July 7, 2021.
With heavy hearts the family of Genaro Raphael Calabrese announces his passing on July 7, 2021 at approximately 11:30 p.m. PST.
Born Feb. 28, 1938, in Covert, Michigan, he grew up with a brother and four sisters. His father Ralph, a jack of all trades, was still picking up refrigerators at 75. His three uncles taught him mechanical skills he would use for the rest of his life. He attended college in Kalamazoo, Michigan, until his junior year when enlisting in the U.S. Army. A language buff from an early age, he attended the Defense Language Institute at the Presidio of Monterey studying Serbo-Croatian to serve as an interpreter for the U.S. Army.
During this time in Monterey, he had his first child, Sequoyah, and fell in love with the harbor, fishing boats and boat building, deciding to stay there with his brother Alphonse and run the Monterey Boat Works. There he met George Buck, who envisioned gathering redwood burl up in Humboldt County to be finished and sold as furniture. Genaro was key to the success of Burl Works. Along the way, Genaro influenced many people in the art of boat building, boat repair and his exceptional craftsman skills.
One summer, Genaro had the opportunity to work in Alaska on a salmon purse seiner. There, he met Donvieve eventually returning to Ferndale with her, her son Ryan and soon after having another son, Julian.
Together they bought the Valley Flower Creamery where Genaro became a blacksmith and Donvieve created fiber arts and later became an incubator for other artists to excel at their crafts. Along with burl cutting equipment, Genaro invented a way to string 'black holes', donuts punched from old tire casings to be strung on long fishing net cables so they would not get stuck on the bottom or wear out. This revolutionized fishnet construction.
The Creamery also served as the first facility for Sun Circle Inc., a business created with his partner, Michael Christian, in 1984 that eventually became American Hydroponics — a world leader in localizing food production with resource conservative horticulture.
Genaro retired from American Hydroponics in 2002 after helping create leading-edge manufacturing machinery that is still working to this day for sustainable hydroponic farming operations in over 100 countries and all 50 states.
Genaro leaves behind sisters, Irma, Jeannette and Carmella, daughter Sequoyah Hudson, sons Ryan Sullivan and Julian Calabrese, stepdaughters Alesha Gallegos, Arianna Love, and Andelain Roy, 11 grandchildren and one great-grandchild — all whom he loved very much. Genaro also leaves behind a diverse group of extended family and friends.
Julian said, "As his son, I could not know the depth of whom Poppa G (as he later became known) may have helped, influenced, or touched through his many lives."
While our hearts are heavy, we are relieved to know he is free to move about the cosmos.
A life celebration for Genaro will be postponed until gathering conditions are more favorable. We will attempt an event in 2022. Please contact Julian, at 419jcal@gmail.com to be notified when plans are made.