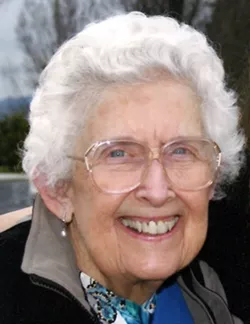 Antoinette Veazey Eastwood Martin
Antoinette Veazey Eastwood was born in Orlando, Florida on June 2, 1927. At the time of her death, on December 20, 2021, 94-year-old Toni, as she preferred to be called, was living at home in Freshwater, California. She was surrounded by many of her family members, but was still leading the charge as was her preference.
Antoinette was the daughter of Agnes Lyle Robinson and Daniel Wilbur Eastwood. She had one brother, Daniel Wilbur Eastwood Jr., whom she adored. Her determination to look after him as the two grew up in the wilds of Florida and Georgia, which she deemed fraught with danger, may have been the beginning of her lifelong commitment to child advocacy.
Toni married her college sweetheart, James Pascal Martin, Jr. in 1949 in spite of the fact that he took her, dressed up to the nines for their first date, to see slime mold growing across the ceiling of a cabin in a nearby swamp. They were happily married and thoroughly devoted to each other for 69 years before James preceded her in death in 2018.
Toni and Jim met at Rollins College where Toni received her first degree in fine arts. After marrying Jim in Winter Park, Florida, on June 2, 1949, the couple lived in Florida and Maryland where Toni began her career as a social worker. They then moved to Tempe, Arizona, for work and more schooling for Jim, and in 1955 welcomed their first child, Anne Elizabeth. Their next stop was Madison, Wisconsin, for graduate school for Jim, and the completion of their family with the arrivals in 1957 of Katherine Frances and in 1959 of Robert Bruce. While in Wisconsin, Toni volunteered as chairperson with the Wisconsin University Wives Group reaching out to the Wisconsin State School for Girls.
After Jim received his doctorate, the family moved to Los Angeles for Jim to begin his career at the Los Angeles County Arboretum and Toni to continue her humanitarian work as a volunteer with Family Services of Pasadena, the Temple City United Way and the Pasadena Council of Churches. She spent her time helping needy families including tutoring at-risk students, through Family Services and privately. She also continued developing her talent by beginning to paint portraits which she continued doing throughout her life, especially of young people as a way to encourage them to see the beauty in themselves.
In 1965, the family moved to Humboldt County where they found a forever home. Toni continued to pursue her education at Humboldt State University, receiving her teaching credential in 1970 and a Master's degree in Education in 1976. But she did not stop there, her love of learning led her to pursue a second Master's degree in Psychology and Counseling, which she received in 1979 with her grown children in attendance.
Mrs. Martin, as she was lovingly called by generations of students, worked as a special education teacher and school psychologist for the Arcata Schools for over 40 years. She continued to gain knowledge and insight through additional training, study and her own creative ingenuity, as she attempted to meet the needs of each student and their family. This also made her a sought-after resource for other teachers and she shared her knowledge and wisdom mentoring other teachers, teaching classes at Humboldt State University and leading workshops throughout the county while working as a specialist for Humboldt County Office of Education.
Toni always found time to be involved in community service and volunteered and worked with many local agencies to better the educational and sociological climate for families. She worked with many projects and has been honored by many groups in Humboldt County and California, including the local Juvenile Justice and Delinquency Prevention Commission, the Mental Health Advisory Board, CASA, Youth Services Bureau, Humboldt Area Foundation, Humboldt Women for Shelter, Special Beginnings, California Child and Youth Service Bureau, California Youth Authority, and Family Coalition, The Interfaith Fellowship, Delta Kappa Gamma, Soroptimist International and countless other local groups where she offered insight and support to better meet community needs.
Toni was a gifted writer as well as a teacher. Along with conducting workshops on a variety of subjects, she also created written materials, including an introductory manual for Hellerwork Structural Integration in 2001. Hellerwork was very helpful to Toni and others she knew. She dealt with her own adult-onset diabetes by helping form a diabetes support group in collaboration with a beloved friend and local doctor and helped create and train others with the Our Pathways to Health program, a support group for individuals with chronic health conditions. Humboldt County was one of the rural locations where this important program had its beginnings.
Through her years, in addition to all of this, she remained an active part of her families' lives welcoming two sons-in-law, Ray Blair and Merle Bates, and a daughter-in-law, Hope Lascelles. Over time, she also welcomed 10 grandchildren and 11 great-grandchildren. Toni would stop what she was doing to nurture these grandchildren and help her children in any way she and Jim could. Toni was a worshiper in the truest sense of the word, during her lifetime she created numerous works of art portraying the master healer who she tried to emulate. She also participated in the Sisters of Transfiguration monthly meetings, and she was a member of the Arcata ward of the Church of Jesus Christ of Latter-day Saints.
One of the many lessons Toni worked hard to teach her family was not to be satisfied just seeing what was happening around you, but instead to continue working to gain a greater perspective than your initial assessment might afford you. She taught her children that every single person was valuable and that they could reflect that value so others could see it in themselves. If someone said hurtful things, she taught us how much more that person must be hurting inside. These values have helped us approach others in our diverse world with love and with an eye toward seeking out opportunities to assist in positive ways. We have been blessed our whole lives to hear that our mother has inspired so many others to grow and gain insight as they worked with and enjoyed her company over the years. Toni will be sorely missed, but we are thankful she is now at peace with her Savior.
Toni's life will be celebrated by her family and friends with a memorial service this coming spring when we can more easily gather. If you would like to be included or would like more information, please contact Kathy Blair by text or phone at (707) 834-6991.
<!—EndFragment—>