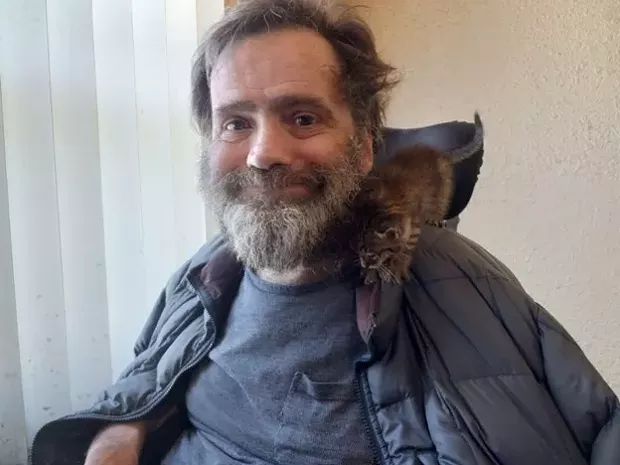 Seamus and I met at free meal. We were both homeless. That was in May of 2012, or as Seamus put it, shortly before the end of the world. My experience of homelessness could have been attributed to my many shortcomings. Seamus, however, left home at 14 years old due to a situation of domestic violence and child abuse. At 10 years old, Seamus was diagnosed with childhood-onset schizophrenia. It sure didn't show, not in my experience of Seamus. He told war stories of hunger and poverty that would break your heart about the United States of America.
When Seamus passed away on Sunday morning, we had been living in our duplex in McKinleyville for more than eight years now! This makes Seamus a real-life successstory.
Here's what happened. One year after Seamus and I met, UCSF gave him the grim diagnosis of Lou Gehrig's Disease. This is a terminal condition, one with no known cause and no known cure. He asked me to marry him on the way back to Humboldt County from the diagnosis appointment. But how did we get this housing, for at the time Seamus and I were very much homeless people.
What happened was this. Some local social workers from mobile outreach, affectionately known to our local homeless community as the S.O.S. bus, took pity on the situation and righteously moved us indoors. They wrote letters of recommendation for us. They filled out all housing applications for us, they drove us around place to place. God bless you, the mobile outreach office here locally!
Seamus' message is one of hope for America's homeless. For after several months of actually being homeless, this despondency starts to set in, that I'm stuck out here, for life. Not so! And let my late husband's life be a testament to this: If you are homeless, believe this, that, at least here in Humboldt County, there is low-income housing, there is transitional housing, just for you. Designed just to give you another chance and get you off the street! Yes there is, you just need to know where to start!
<!—EndFragment—>