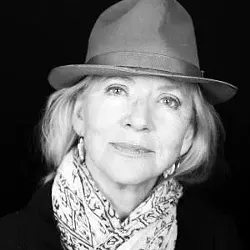 Joan Emilie Schirle, Feb. 4, 1944, to Feb. 1, 2022.
Joan Schirle died on Feb. 1, 2022, at 4:10 p.m.. at her home in Blue Lake, California. She was an acclaimed independent actor, director, playwright, teacher, and deviser and was the Founding Artistic Director of Dell'Arte International (DAI) joining the company in 1976. A pioneer in establishing the concept of "Theatre of Place" and ensemble devising, she was committed to international exchange and environmental justice. Schirle performed and taught around the world.
Joan earned a B.A. in theatre arts from the University of Santa Clara, and an MFA in playwriting from Humboldt State University. Beginning in 1969, she was a certified teacher and trainer in F.M. Alexander Technique. Faculty positions included the Esalen Institute, Firehouse Theatre in San Francisco, Sonia Moore School of the Theatre, NYC and the Julliard School of Drama.
At DAI she led efforts to make original, collaborative ensemble theatre, exploring the role of the actor-creator in addressing issues of power, privilege, homelessness, water politics, indigenous rights and medical malpractice. Among unusual projects she initiated, The Rural Residency component began an extended encounter with remote rural communities, including tribal partners on the north coast. Schirle established and led 20 of Dell'Arte's unique one-month study trips to Bali for traditional performing arts (topeng, dance, mask carving, shadow puppetry) taught by Balinese masters.
Devoted to her community, Joan was proud of the transformation of Blue Lake through an international school, a professional theatre company and a summer festival that has impacted the local economy and attracted a progressive population. Following national standards, she developed an MFA curriculum. Over 1,000 students have trained at Dell'Arte and are establishing theatre companies and projects around the world committed to expressing the values and concerns of local communities.
Never content with the status quo, Joan Schirle continued to refine and expand her teaching. "My newer understanding of systemic white supremacy culture has made me question my pedagogy, my artistic output, community relations, and the role of racial trauma in all embodiment work."
Joan Schirle as "Scar Tissue" in Dell'Arte Company's series of Scar Tissue Mysteries
Her new chamber opera, "Bird of the Inner Eye", with composer Gina Leishman, was based on the letters of American painter and conscientious objector, Morris Graves, and was produced, after a pandemic delay, at the Arcata Playhouse in 2021. She continued an international collaboration with Danish sculptor Marit Benthe Norheim on her "Life-Boats", a sailing sculptural installation on women's lives and migration. Her most recent full-length play, "The Big Thirst", on California water politics, premiered in 2016.
Schirle's creative work and community involvement expressed her belief in rural arts and that the marriage of poetry and beauty has positive social significance. She was devoted to the concepts of issue-oriented theatre and community transformation, to rural arts, multi-cultural traditions and practices related to nature.
Her many awards and honors include a Lifetime Achievement Award, (ATME) Association of Theatre Movement Educators, Fox Foundation/TCG Resident Actor Fellowship award for professional development, Cairo International Experimental Theatre Festival in recognition of leadership in the field of Experimental Theatre, San Francisco Bay Area Critics Circle Awards for Original Script for Ensemble Performance, Los Angeles Critics Circle Award, Performance.
Among her many memorable acting roles were Mary Jane in "Mary Jane: The Musical," Scar Tissue in "The Scar Tissue Mysteries," and Dorothy Dugan in Dell'Arte's "Korbel Series" at the Mad River Festival. Her solo masked performance "Second Skin" received rave reviews and more than 20 performances nationally and internationally.
She is survived by her sisters, Charlotte Ann Flynn and Tonine Nielsen, her daughter Patricia Alley, a granddaughter, two nieces and two grandnephews. Beloved by colleagues, students and friends, she will be sorely missed by all whose lives she impacted.