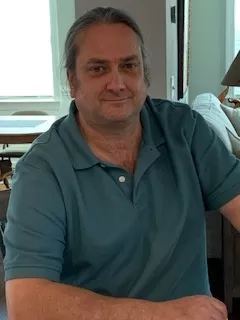 Timothy Norman Jarrell, March 17, 1971, to June 11, 2022.
Tim Jarrells passed away at the home he shared with his partner, Cher Southard, in Westhaven, California, on June 11, 2022. Born Timothy Norman Jarrells on March 17, 1971, to parents Norman and Mary Jarrells, Tim grew up in the Twin Cities, Minnesota, and Hamilton, Ohio, before moving to California. He graduated from Humboldt State University with a degree in wildlife management, and while he loved wildlife and being outdoors, he made a long and successful career working as a sound engineer, which was a job – and a community – he loved. Tim worked for a few years in Hawaii, but almost all of his career in sound was spent working in Humboldt County, a place where he established deep and lasting roots. Tim also loved music, diving, sailing, college football and, above all else, his family. Everyone who knew Tim knew him for his geniality, sense of humor, fearlessness (especially underwater) and generosity. He will be immeasurably missed by his loving parents, Mary and Norm, and partner, Cher, and by his brothers, Tony, Paul, and David, Tony's family (Gretchen, Isabelle, Owen, and Gabe), Paul's family (Beverlee and Brittani), and many other family members and friends.
Arrangements for cremation are being handled by Paul's Chapel in Arcata, California.
There will be a celebration of Tim's life at Humboldt Brews, 856 10th St., Arcata, on Tuesday, June 21, from 4-8 p.m.