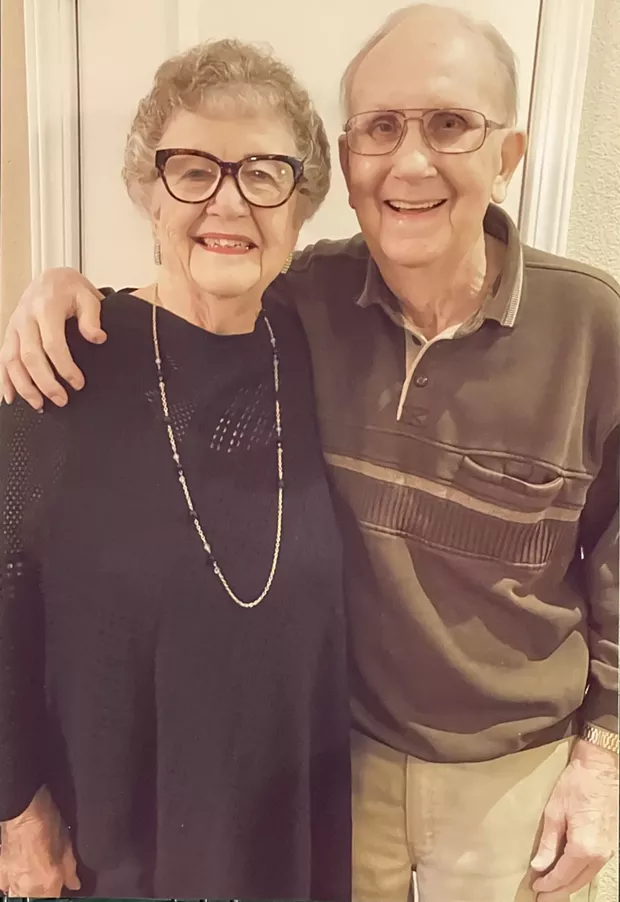 A true love story of Dan and Doris Goff, better known as "Papa & Gaga." Doris Ann Goff, 89, was born February 25,1933 in Alhambra California and Daniel Oscar Goff, 93 was born July 14,1929 in Columbus Ohio. They were married over 72 years and passed away five days apart. Doris passed away on July 29, 2022 and Dan passed away August 3, 2022.

Their love story started in 1941, they exemplified what true love really is and what a marriage is made of, what true love and marriage should be. They met over 80 years ago.

Daniel a.k.a. Danny was 12 working as a box boy at the corner grocery store in Alhambra, California. Doris was 8 years old and would sneak in the back, collect all the empty boxes to play house. She would tell Danny, "I'm going to marry you one day." He would reply, "Get out of here kid, I'm working." Little did he know they would, in fact, get married on November 23, 1949. A year later they had their only child, daughter Jeanne, and raised her in Alhambra, where they lived for 48 years.

Dan worked in advertising for many years and retired from Dunn Edwards paints. Doris was a homemaker and loved to cook for the family. She made the best darn soups. Retirement didn't last long. On May 15th 1997. the family moved to Redcrest, California, when they purchased The Red-crest Resort & Gift Shop on the Avenue of the Giants. They owed and operated it with his mother Lucile Goff until her passing and with daughter and son-in-law Jeanne and Louie. Then years later their granddaughter and grandson-in-law Tanya and Jayme moved to help with the growing family business. Great-grandson and namesake Daniel also came to work with the family business.

Dan, besides being "The Big Boss" of the Resort, worked and volunteered on many boards for tourism and hospitality in Humboldt County over the years. Doris just loved working in the gift shop, helping tourists from all over the world by making them site-seeing maps and helping to pick out souvenirs.

They enjoyed their favorite beers and visiting with friends at the Eel River Brewery where they were known as the "2 D's" What gives the family comfort is knowing that they are together and one did not have to live without the other. They will forever be together as they were cremated together in Brookings, Oregon. Ironically one of their favorite places to get away was their beach house in Brookings.

They are survived by daughter and son in-law Jeanne and Louis Colantonio. Granddaughter and grandson-in-law Tanya & Jayme Colantonio-Johnston. Granddaughter April Colantonio and great-grandson Daniel Louis Colantonio.

The family would like to express our gratitude and give special thanks and appreciation to their Doctors Phillip Olkin, MD, and Rodney Swenson, OD, and their entire staff for your patience and always being so kind and helpful.

Thank you to home health "Nurse Amy," you were always so kind and gentle and compassionate. We grew to love you and we all looked forward to seeing you three times a week with your funny goat stories.

Special thank you to Aimee Mendes and Norm Carmichael who went above and beyond for helping with care and kindness We've always referred to us as The Red- crest Resort Family but you've helped to form new word "Emplofamily," when you're more then just an employee. Thank you to Cheyenne and Sherri for filling in with smiles when we need you most.