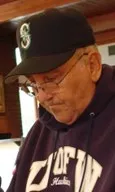 Roy Camozzi, Jan. 20, 1932, to Oct. 14, 2022.
<!—[if gte mso 9]>
<![endif]—> <!—[if gte mso 9]>
Normal
0
false
false
false
EN-US
X-NONE
X-NONE
<![endif]—><!—[if gte mso 9]>
<![endif]—> <!—[if gte mso 10]> <![endif]—> <!—StartFragment—>
On Oct. 14, 2022, Roy Camozzi passed peacefully, surrounded by family, at the age of 90. Roy was born on Jan. 20, 1932, to Joseph and Olga Camozzi. He was raised with his older brother, Raymond, in Bodega, California. He graduated from Tomales High School and attended San Francisco State University where he ran track and played baseball. Baseball was a lifelong passion embraced as a player, coach, umpire, and fan.
Roy was an avid outdoorsman and especially enjoyed fishing and hunting. As a young man, he sold firewood, worked at a lumber mill, and for the Smith Brothers fishery in Bodega Bay. Later, he worked for 30 years with California Fish and Game. He especially enjoyed driving tanker trucks filled with fingerlings to be released in wilderness lakes and streams. He met many interesting people along the way. Backpacking live fish to remote high elevation lakes around Mount Shasta with his dog, Towser, was a favorite memory.
Roy married June Santero on June 13, 1959, in Cotati, California. They had five children and were married for life. Roy's career with Fish and Game at various state hatcheries allowed his family to live near some of the most beautiful and wild places in California – Mount Shasta, Hot Springs (Mammoth Mountain), Moccasin (near Yosemite) and lastly Mad River Fish Hatchery (near Blue Lake) – a very special place for him. After retirement, Roy and June moved to Chico, California.
After working, Roy spent lots of time visiting family in Tukwila, Washington, near Seattle. Seahawks, Mariners and Husky games were a staple. His family also gathered in Tukwila for annual summer reunions where Mariners games, horse races and family poker games became a tradition.
Roy was preceded in death by his parents, Joseph and Olga Camozzi, his brother, Raymond Camozzi, and his daughter Lee Ann Marie Camozzi. He is survived by his wife, June Camozzi; children and spouses, Sandy Camozzi-Dale (Steve), Trish Camozzi-Ekberg (Allan), Kevin Camozzi (Kelly), Bryan Camozzi; grandchildren, Karlin Ekberg-Van de Venter (Clinton), Melissa Camozzi, Erik Ekberg, Matthew Camozzi; and great-grandchildren Savana, Benelli and Sawyer Van de Venter.
Roy leaves us a lifetime of cherished memories – not to mention his favorite quote, "Watch out for penguins!" He is and will be dearly missed. We love you, Roy.
<!—EndFragment—>