At 18 in Greenwich Village, New York City, Richard plowed the fertile fields of expression there, assisting in editing the Village Voice Newspaper. At age 21 he attended the 1963 March on Washington and witnessed the iconic "I Have a Dream" speech by Martin Luther King, Jr., a touchstone event for him. In 1966 Richard moved to Paris, France where his calling in art grew. That career spanned pen and ink, glass, and paint. This passion and profession sustained Richard throughout his life.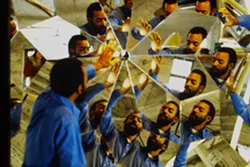 Stateside in 1967, Richard immersed himself in the radical communal life of the Haight-Ashbury. Throughout his life he was amazed and inspired by the flowering of creativity and taboo-busting antics of that time and place. He ventured to Humboldt County in 1971, getting an intoxicating taste of the Back to the Land Movement.
Back in San Francisco, in 1979, Richard was a founding member of the Stellar Arts Collective. This group of designers, glass artists, and activists obtained a grant from the State of California to construct a one-of-a-kind glass work as an entry to a large State building in The City. The epic stained glass doors, ceiling, and chandelier of the lobby, were completed in 1980. This was Richard's major opus as an artist, capturing the essence of his multi-faceted life, spirit, and craft. As a gay man, this creation was an expression of the light and love he projected throughout his life. Ironically, the glass work was destroyed on September 30, 1991, during the AB101 Riots, in protest of Governor Pete Wilson's veto of a gay rights bill (Assembly Bill 101). Emblematic of his compassionate and forgiving nature, Richard felt no bitterness, only a sense of loss of a great work of art.
In this era of his life he joined The Billy Club, a group of gay men dedicated to the rural life style, healing and compassion. Life-long bonds were formed and Billy members were at his side when he passed, singing a traditional Billy Heart Circle song of love.
He met his life partner Richard Beyer in 1977 and returned to Humboldt County in the 1980s. They built a house on the Zenia Bluffs in a style that Richard aptly described as "intimate grandeur," a description that well describes his entire life path. A gifted teacher, and personal growth facilitator, Richard Beyer passed from complications from AIDS in 1995.
Richard Evans was dedicated to building community wherever he lived. In Southern Humboldt, he was active in Redwood AIDS Information Network and Service (RAINS), serving multiple terms as board president. A stalwart supporter of KMUD radio, he built the studio booth glass windows, among other duties, including Board service. Radio audiences may remember him as the voice of "Condy the Condom" from the 1998 "Straight Talk About AIDS" public service series. He was a master of the twinkling eye.
After moving to Eureka in 2006, he served on the Board of Directors of Redwood Community Action Agency (RCAA) and was a catalyst for the fruitful partnership between RCAA and the Westside Community Improvement Association, and the creation of Jefferson Park and Community Center, one hallmark among many of his legacy on the North Coast. Bringing his depth of experience and critical eye to the written word, he contributed regularly to the
Art Beat column
in the
North Coast Journal
.
Throughout his long and storied life, he transcended many of the social stereotypes imposed upon us, and modeled behaviors that reinforced acceptance, inclusion and tolerance. Still, with humor, he suffered no fools.
On the forefront to the end, Richard would want all to know that his was a medically assisted death. He was very grateful to the physicians and caring team who supported him in this decision.
A Celebration of Art in Richard's honor will be held September 30th at Skyhorse, 216 Third St., 5 p.m., Eureka. Stay tuned for updates as the date approaches. Richard remained his funny, cheerful and optimistic self to the end.
One of Richard's signature expressions exemplifies his rich life and graceful passing: "FABULOUS!" Say it a
gain: "FABULOUS!"