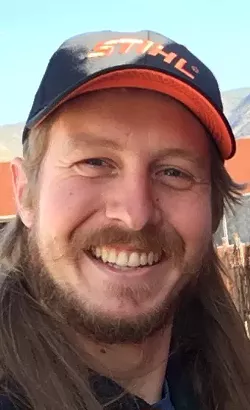 On March 31, 2023, Jasper Randall Amir died unexpectedly in Salt Lake City, Utah. Born and raised in his beloved Fieldbrook, California, Jasper was 30 years old.

In his lifetime Jasper gave his parents, Madelin Amir and Tom Pexton, a lot to be proud of. After graduating from Fieldbrook Elementary, Jasper went to McKinleyville High School, at which time he started working with the California Department of Fish and Game. He went on to join the California Conservation Corps Fire Crew based in Ukiah. After that Jasper worked with his trademark determination for placement on the Alaska Fire Service North Star Fire Crew out of Fairbanks.

From 2017, Jasper, aka "Mudflap", dedicated himself to his role as a Lone Peak Hotshot with the Lone Peak Conservation Center in Salt Lake City. He was the tallest guy on the crew, with undoubtedly the most beautiful mullet in fire. Jasper's career spanned from coast to coast. In the offseason, he worked with crews implementing prescribed burning for The Nature Conservancy in North Carolina. In 2019, he and fellow Lone Peak Hotshot Daniel Sullivan were awarded Saw Team of the Year. At the time of his death, Jasper was Bravo Squad Leader, and was intensely committed to the development of his leadership skills. This tragedy has stunned the Lone Peak Hotshots and LPCC staff and families, who will forever miss Jasper's infectious smile and positive attitude.

Over the years, Jasper fit in many adventures, including an extended solo journey around New Zealand. Then, with fellow firefighter and dear friend Ethan DeBauche, he set out on a spontaneous grizzly infested trek into Denali National Park and four subsequent trips to Central America. From childhood, Jasper enjoyed hiking and backpacking and took frequent rambles into the mountains with family and friends. He was an avid reader, a great writer, loved physical fitness, and could bust some impressive moves on the dance floor. He relished a good conversation over cold beers with old friends or new. There's a well-worn barstool at Fieldbrook Market missing the weight of him.

Jasper was truly one of a kind. He saw the good stuff in people, and in turn brought out the best in all that knew him. If Jasper loved you, you knew it. For his family and communities, there will be no getting over losing him. The world was a better place with Jasper in it.

Jasper's integrity, compassion, authenticity, loyalty, wicked sense of humor, and sassy fashion statements will be sadly missed by his mom and dad, his uncles Berj Amir and Spencer Pexton, his dear cousins Hailey Pexton and Steve Pexton, along with many relatives, his circles of friends both young and old, his firefighting family, and his brothers and sisters in The Fieldbrook Crew, especially Matt Settelmayer, Carla Avila, Cody Coffman, Lucy, Mo, and Sam Barnes, Will Whitworth, Matt Moss, Alex Bobillot, Colten Pelzel, Jake Poston, and Arrow Walker, all of whom he hella loved.

Enormous thanks to the Lone peak Hotshot Community for their love, support, and amazingly well-orchestrated care during Madelin and Tom's journey to Salt Lake City to bring Jasper home.

A very special thank you to Alejandro Ocotlan, Christian Berninger, Rachel and Ethan DeBauche, Shelby and Justin Roach, Kelly Norris, Chelsea Rose, Daniel Sullivan, and Matt Jarvis. Donations can be made in Jasper's name to the Wildland Firefighter Foundation, give.wffoundation.org.