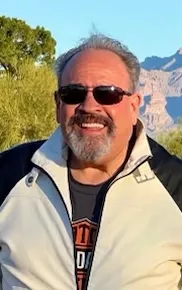 David Robert Rocha, Oct. 22, 1954, to July 5, 2023.
David Robert Rocha passed away on July 5, 2023, in Maricopa, Arizona, after a year-long battle with cancer. He was born on Oct. 22, 1954 in Seattle, Washington, to parents Elerd Rocha and Margaret (Abbott) Rocha. Dave was the oldest of six children, and spent his very early years in various locations due to his father's service in the United States Coast Guard. By the time Dave started kindergarten, the family had settled in Humboldt County, where Dave's first year of school was spent in Fieldbrook's grange hall. He then attended Fieldbrook Elementary, St. Mary's School, Pacific Union School and graduated from Arcata High School in 1972.
Dave had many interests, hobbies, jobs, and friends throughout his life. He played drums in local bands. He worked in the music industry in Dallas, Texas. He loved riding his Harleys. He drove trucks and worked on a family dairy in Newman, California. He was a woodworker, a welder, and could fix anything. Dave eventually followed in his father's footsteps and became an IBEW electrician, and worked in Portland for nearly 30 years. Upon retiring, Dave moved to Maricopa, Arizona, for the sunny climate he so loved. Here, he met and married Lauren Marie with whom he shared many interests including entertaining friends in their home, a love of pets, and traveling to Mexico. And along the way, Dave made many friends, who enjoyed his dry sense of humor.
Dave had two daughters who he loved with all his heart. He absolutely loved his only grandchild, Parker Pierson, and cherished the time they got to spend together. When Parker was younger there were camping trips in Portland and visits to Humboldt. He will also be remembered as an amazing grandpa; always making sure that Parker got candy care packages in the mail and making the most of their visits together.
Dave was preceded in death by his grandparents Lucy and Joe Rocha, Arthur and Vi Abbott, and parents Elerd and Margaret Rocha. He is survived by his wife, Lauren Marie Rocha, daughters Danielle Pierson (Josh) and Liese Knight (Rob), his grandson Parker Pierson, and his siblings Sheri Myer, Dale Rocha, Ken Rocha, Scott Rocha and Marla Mitchell (Hamilton). Nieces Brooke Rocha, Stacie Rocha Smith, Alexis Rocha Longcrier, Jamie Myer, Katherine Mitchell, and nephews Bradley Myer and Jack Angles.
Please consider making a donation to one of our local animal shelters in his name. Dave loved "his pack " of dogs so much.