Swing behind Sacred Heart Church at 2085 Myrtle Ave. and you'll find Asia's Best market tucked in its back lot. You'll also likely find Feda Ignacio, who owns the store with her husband, Juancho, behind the counter and ready to guide you through the packed shelves of Asian food products and the cold room stocked with fresh produce and dried fish. The main draw is the Filipino food, including every sweet thing you could imagine scooping onto shaved ice for halo halo and even hard-to-find packs of pungent durian fruit and balut duck eggs. There's much to explore for both the Pinoy home cook and those new to Filipino cuisine. Let's stuff a basket with some must-haves.
Instant noodles. Noodles do not get the respect they deserve as a breakfast food in America. Toss a fried egg onto a plate of Lucky Me Pancit Canton instant noodles (58 cents each), in original, spicy citrus chilimansi or canton hot chili, depending on how quickly you need to wake up. The bulalo, in imitation of traditional beef marrow stew, is the portable option ($1.28).
Dried noodles. Until some genius opens a Filipino restaurant in our county, we'll be cooking pancit fried noodles at home. There are fresh noodles in a case, too, but for two popular varieties of pancit, bihon and canton, the dried rice and wheat noodles are on the shelf (Excellent Rice Stick/Bihon $3.98, Excellent Canton $2.98). Not ready or in the mood to start from scratch? Their respective sauce packets are on the end cap (Tropics Pansit Bihon $1.18, Mamasita Chapsuey/Pansit Canton $1.38). Soak or blanche half of each enormous pack of noodles, fry your meat and veggies and add seasoning as directed. Both turn out genuinely tasty and after you've done it once, you can whip them up more or less on autopilot.
Sausage. Packs of linked sausages nearly fill one freezer case. The Magnolia Meats Hot Longanisa is peppery with a snappy casing and good over rice for breakfast or whenever ($4.98). Likewise the carnelian red Chorizo de Cebu, which is sweet and dotted with lovely gems of fat ($9.98). A brief simmer and browning and they're table-ready. Put them out for guests with toothpicks like it's 1960 and watch them disappear.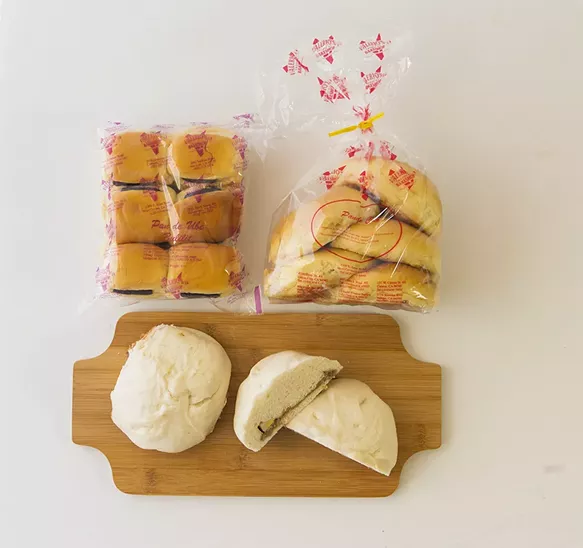 11 slides

Baked goods.
Hit the shop on Thursday when the delivery comes and you'll be in time for all manner of sweet yellow Spanish rolls. The stuffed
pan de coco
is for all coconut lovers ($5.18/five) but it's a tough choice against the purple ube yam-filled buns ($5.18/dozen). Check the fridge and see if there are still steamed chicken
siopao
buns, similar to Chinese pork buns, too ($11.98/four).
Drinks. The hot climate and national sweet tooth of the Philippines has yielded a strong lineup of beverages. Sarsi root beer has deeper flavor than standard American varieties and licorice notes ($2.08). The mango nectar is light and sweet, boasting 37 percent juice ($1.58), and citrusy calamansi juice may replace lemonade for me ($1.58).
Sauces. The selection of condiments is dizzying. Start with a bottle of maraschino red banana sauce, glossier and sweeter than ketchup (Jufran 12 ounces, $1.48) and a bottle of Silver Swan soy sauce ($3.38), both of which are excellent for helping you take down a rotisserie chicken with your fingers while standing in the kitchen. (Listen, I am not alone and we will not be shamed.) Filipino soy sauce is so much smokier and saltier with a deep umami flavor, and it's the one you need for making a respectable chicken adobo.
Spiced vinegar. Shake up the sediment in a hip flask-sized bottle of Sukang Pinakurat Extra Hot coconut vinegar with chiles, garlic, onion and ginger before you dredge a pork rind through it ($3.18). Then revel in the slow heat and fermented zing you'll want to try on pretty much every savory snack and maybe tossing chicken wings in it. Try the expensive but worth it Lapid Chicharon, which are juicily fatty and seasoned with black pepper, garlic and chiles ($7.48).
Snacks. Deep breaths — it's an overwhelming selection. Dried mango ($4.78) and sweet or salty Aling Conching candied tamarind that lights up every part of your brain with granular crunch, tang and bitterness ($1.78). The La La fish crackers are for those looking to level up from shrimp chips ($1.48) and the crispy Boy Bawang corn nuts don't tax your jaw and come in garlicky adobo flavor ($1.08). One's lunch box-envying inner child cries out for Fudge-filled Whatta Tops cupcakes ($3.48), while powdery, coconut-scented Pluto Seko wafers are chunkier than Neccos and invite you to play the game of trying to whistle with one in your mouth ($2.28).
Lumpia. Even if you make your own all the time, freezer to fryer spring rolls are a blessing when a craving strikes and/or you're unable to look away from whatever series you're binge watching. The 1-pound pack of Orientex pork lumpia fries up crisp with tender, spiced filling ($8.28).
Ice cream. Buko salad, with its spears of sweet young coconut and candied tropical fruit, makes an excellent ice cream flavor. (If you dig ambrosia salad and haven't tried buko salad, make it a priority. And if you dig buko, consider this my personal vouching for ambrosia.) The Magnolia brand half gallon ($11.08) is dessert for company, as is the company's pint of lightly sweet avocado ice cream ($4.98).
Bonus: T-shirts. There's a small stack of shirts by the counter but the Pinoy culinary swag of the Adidas logo-inspired "Adobo" T-shirt is unmatched and I will wear it until the lettering fades to a chalky ghost image ($14.98).
Jennifer Fumiko Cahill is the arts and features editor at the Journal and prefers she/her. Reach her at 442-1400, extension 320, or jennifer@northcoastjournal.com. Follow her on Twitter @JFumikoCahill.