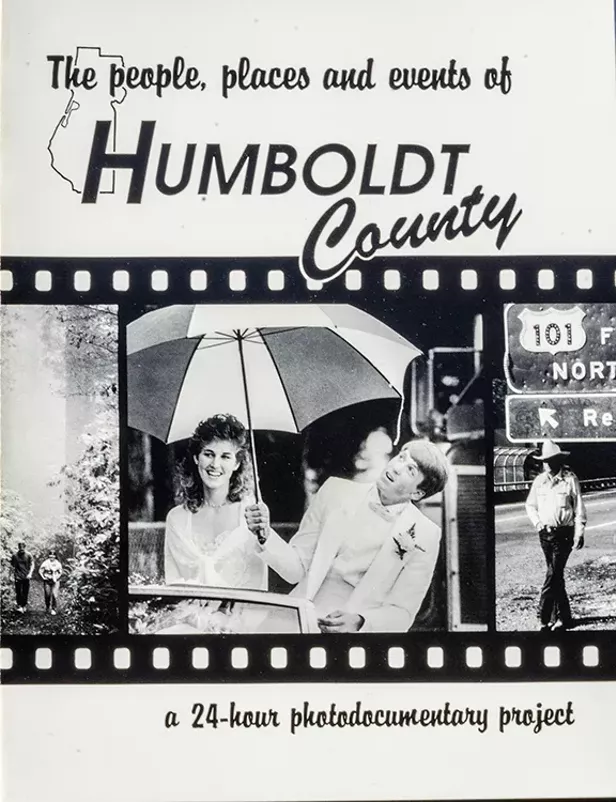 Photo by Brenda Handy
Front cover of 1987 book, "The people, places and events of Humboldt County, a 24-hour photodocumentary project" (edited by Wayne Miller). McKinleyville – high school homecoming parade (That's Mary Eastham and Dan Jones under the umbrella according to 2017 sources.)
Photo by Brenda Handy
Front and back covers of 1987 book, "The people, places and events of Humboldt County, a 24-hour photodocumentary project" (edited by Wayne Miller). McKinleyville – high school homecoming parade (That's Mary Eastham and Dan Jones under the umbrella according to 2017 sources.)
Photo by Nancy Wollin
McKinleyville – Garrett Howard got a haircut from Bertha Herd at Christina's Central Styling.
Photo by Tom Verdin
Hoopa – Bill Carpenter, a Hupa, chops Hoopa Medical Clinic's winter firewood. Bill has a number of talents that are put to use all over the reservation.
Photo by Bill Marshall
Trinidad - Axel Lingren worked with a steel ax to shape a canoe from a 10-ton redwood log.
Photo by Wayne Miller
Eureka – The Eureka High varsity cheerleaders performed at halftime of the football game with cross-bay rival Arcata High.
Photo by Tom Verdin
Hoopa – Eileen "Booboo" Grant proves working in the logging industry isn't just a man's job. "Booboo," a logging clerk for Hoopa Forest Industries, spray paints the Douglas fir so exporters at Fields Landing know its origins. These logs will be shipped to Japan.
Photo by Philip Zastrow
Hoopa – Melvin Stokes, right, adjusts the set of the net while Frank Scott provides the rowing power.
Photo by Maggie Valdez
Hoopa – Krystal Raymond wears a ceremonial regalia of the Hupa tribe.
Photo by Wes Juliana
Miranda – The South Fork High School Band entertained at half time during the homecoming game.
Photo by Philip Zastrow
Hoopa – Melvin Stokes foreground, sets the gill net, while Frank Scott rows the boat out into the Trinity River.
Photo by Lawrence Erickson
Redcrest – "Gypo" loggers Gary Sarvinski and Dan Simons took it easy after a day's work at the Redcrest grocery store.
Photo by John Becker
Eureka – Back in 1987, Doc Ball, 81-year-old retired dentist from Eureka, said he still surfed: "When the guys get excited about the waves and I get stoked, I go out and catch a few waves." Ball said he began surfing in 1929. He practiced in Garberville for 18 years before retiring in 1971. (Photo by John Becker in "The people, places and events of Humboldt County" photo project and book.)
Wayne Miller
Self-portrait, Wayne Miller.