Mark Larson
As they prepared to take a break on Saturday, Feb. 4, Casey Sheehan of Irish Ink Tattoo in Grants Pass, Oregon, placed a protective cover over his hummingbird tattoo on Hannah Lemly, of Arcata. Lemly said she chose the original design by Sheehan because it reminded her of her mother's interest in hummingbirds.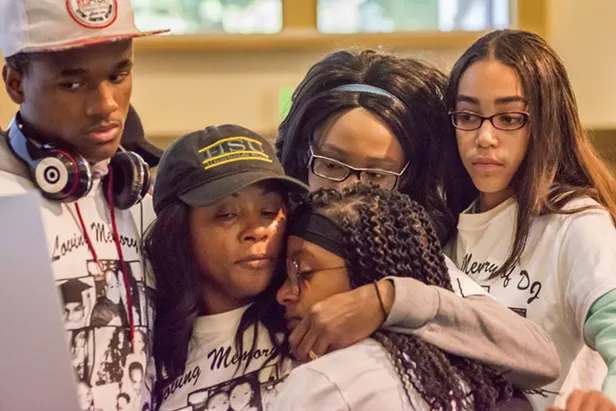 Mark Larson
Michelle-Charmaine Lawson and family members hugged each other as they gathered in front of a photo of David Josiah Lawson after his memorial vigil at Humboldt State University on Thursday, April 20.
Mark Larson
After the science expo and rally, participants in the Humboldt March for Science crossed the overpass on 11th Street in Arcata before looping around the plaza on Saturday, April 22.
Mark Larson
June Moxon's entry in the Kinetic Sculpture Race makes it over June's Dunes along the ocean on Saturday, May 27.
Mark Larson
The Humshuckers (Zack Mathiu (left), of Eureka, and Stephan Park, of McKinleyville) celelbrated their fifth consecutive win in the Oyster Festival's Shuck-n-Swallow Contest on Saturday, June 17. Each team started with 48 oysters; the second-place team still had 18 oysters to shuck and suck when Mathiu and Park finished their 48.
Mark Larson
James Peck (left) and Sarah Peters were two-thirds of The Mysterious Magical Brandishers of Magic! show at Dell'Arte International Schoof of Physical Theatre on Sunday, June 25.
Mark Larson
Dressed up as Uncle Sam, Josephine and John Silva, of Eureka, took a late afternoon stroll through Old Town. They had spent their afternoon visiting patients in the hospital, a volunteer activity they replicate each holiday while dressed in the appropriately themed costume for each holiday. Married for 62 years, they have been volunteering for the past 13 years since they moved to Eureka.
Mark Larson
London-based artist Dan Kitchener painted this giant mural on the side of the historic 1884 Buhne Building between Second & Third streets in Eureka in July. It was commissioned by the local Black Faun Art Project Group and portrays a modern Tokyo street scene.
Mark Larson
A contingent of "Ladies of the Lake" joined the 50th annual Annie and Mary Parade in Blue Lake on Sunday, July 9.
Mark Larson
A packed house watched and listened as The Absynth Quartet wrapped up the 39th annual Humboldt Folklife Festival at the Dell'Arte Amphitheatre stage in Blue Lake on Saturday, July 15.
Mark Larson
Shoshanna Rose (right), of Arcata, helped cut and serve the Creamery Building replica cake that building owners Lisa and Brian Finigan, also of Arcata, brought to share with Fervor Fest attendees on Saturday, Aug. 19.
Mark Larson
Under foggy and smokey skies on Monday, Aug. 21 at Humboldt State University during our invisible eclipse, assistant professor Paola Rodriguez Hidalgo of the Geology Department used a scale model of the earth and moon to demonstrate how the eclipse occurs. Behind her was a large screen with a projected NASA feed of what others were seeing under clear skies.
Mark Larson
Jocie Hague, of the Arcata Bottoms 4-H club, showed off her Grand Champion Hereford-Charolais cross to attract bids for auctioneer Lee Mora during the Junior Livestock Auction at the Humboldt County Fair on Sunday, Aug. 27.
Mark Larson
This Moonstone Beach yoga class took deep breaths on Sunday, Sept. 3, undeterred by the smoke-filled air from on-going September wildfires.
Mark Larson
The benefit performance by The Detours and other musicians at Lawnstock on Saturday, Sept. 9 in Blue Lake helped raise money for medical expenses for a local child.
Mark Larson
The final moments of the Samba Parade with Samba da Alegria on Sunday, Sept. 17 at the the North Country Fair included a farewell to Maria Vanderhorst, who had just led her last Samba da Alegria parade.
Mark Larson
The Raging Grannies performed their greatest hits on the north lawn of the Arcata Plaza after the Pride Parade in support of Pride Week on Sunday, Sept. 24.
Mark Larson
It was a beautiful morning (Saturday, Oct. 7) for Pastels on the Plaza, a benefit raising money for North Coast Children's Services.
Mark Larson
Demila Hodges, of McKinleyville, modeled the "trashion" design created by Svetlana Larson out of a shower curtain and lots of rivets during the Costume Fashion and Trashion fundraiser auction in Eureka on Saturday, Oct. 21.
Mark Larson
The benefit for storm-damaged Puerto Rico held at the Dell'Arte International outdoor stage included a performance by the Arcata Gospel choir on Saturday, Nov. 4.
Mark Larson
Two young skateboarders assisted Arcata MayorSusan Ornelas on Sunday, Nov. 18 in a ribbon-cutting ceremony for approximately 3 more miles of a Class I, ADA accessible, non-motorized multi-use trail, that runs from the terminus of the Arcata Rails with Trail at State Route 255, through the Arcata Marsh and Wildlife Sanctuary. The trail continues south along U.S. Highway 101 next to the North Coast Railroad Authority's railroad to the south of Bayside Cutoff along Humboldt Bay.
Mark Larson
The debt-collector George Buttrocks (Lucius Robinson) captured Ant-thena (Amy Tetzlaff) because of her unpaid college loans in "The Grasshopper and the Aunt," a December holiday show at the Arcata Playhouse. It was a fabulous mix of silly songs and punnish-ing fable, finding true love and a traditional holiday story of a cruel heart restored.
Mark Larson
The 25th annual Christmas Lighted Tractor Parade on Sunday, Dec. 17 was watched by thousands of fans of farm tractors, old and new. The Grand Marshals for this 25th anniversary parade were Dennis and Kathleen Leonardi and Family, and honorary guests were Maxine Detlefsen (103) and George Hindley (98) who led the parade.