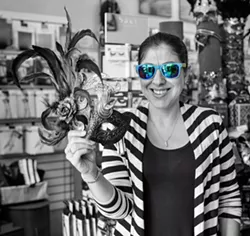 Jessica Carey smiles because she works at Good Relations.

Best Adult Clothing Store
Best Hobby Shop
Best Place to Work
That Good Relations, the self-proclaimed education-based lovers' boutique, swept three categories is impressive — just which categories it won raises an eyebrow. Best Hobby Shop? Well, it does rain here quite a bit, so Humboldt may be spending more time with indoor pursuits than flying model planes. Best Adult Clothing Store hints at a little misunderstanding about what constitutes "adult clothing," though there are a few shirts and costumes on the racks that could see daylight. Finally, Best Place to Work. "We're really good to our staff," says manager Meghan Riley, who points to the compassionate family vibe among workers. There's no walk of shame going to or from work, either. While shops that sell sex toys and lingerie remain dirty little secrets in other communities, Good Relations, which is owned by Humboldt State University professor and practicing psychotherapist (and former columnist for this paper) Melinda Myers, is active in the annual Humboldt Pride celebrations, runs workshops and hosts artists for Arts Alive. And the employee discount? Riley answers with a bubbling giggle, "It's generous."

Reader's Picks

BEST Acupuncture
Humboldt Acupuncture
517 Third St. #18, Eureka; 268-8007
www.humboldtacupuncture.com

BEST Adult Clothing Store
Good Relations
223 Second St., Eureka; 441-9570
www.goodrelations.com

BEST Antique Store
Daisy Drygoods
959 H St., Arcata; 822-1893

BEST Attorney
Kathleen Bryson
732 Fifth St., Eureka; 268-8600
www.humboldtjustice.com

BEST Auto Body
Myrtletown Body Shop
2706 Myrtle Ave., Eureka; 442-3722

BEST Auto Repair
Leon's Car Care Center
929 Broadway, Eureka; 444-9636
www.leons-carcare.com

BEST B&B
The Lost Whale Inn
452 Patricks Point Drive, Trinidad; 677-3425
www.lostwhaleinn.com

BEST Bank/Credit Union
Coast Central Credit Union
2650 Harrison Ave, Eureka; 445-8801
www.coastccu.org

BEST Barber
Rocky's Barber Shop
308 F St., Eureka; 443-5557

BEST Bicycle Shop
Revolution Bicycles
1593 G St., Arcata; 822-2562
www.revolutionbicycle.com

BEST BookStore
Booklegger
402 Second St., Eureka; 445-1344

BEST Children's Clothing Store
Lots for Tots
3008 Broadway, Eureka; 445-3477
www.lots4totsplus.com

BEST Computer Repair
Renaissance Computers
1033 G St., Arcata; 822-7591
www.rencomputing.com

BEST Construction Company
Alchemy Construction
330 S G St., Arcata; 822-8013
www.alchemyinc.com

BEST Craft Store
SCRAP Humboldt
101 H St., Arcata; 822-2452
scraphumboldt.org

BEST Customer Service
Coast Central Credit Union
2650 Harrison Ave, Eureka; 445-8801
www.coastccu.org

BEST Dance Studio
The Dance Scene Studio
1011 H St., Eureka; 442-7770
www.danceeureka.com

BEST Feed Store
The Farm Store
3956 Jacobs Ave, Eureka; 443-7397
www.thefarmstore.net

BEST Florist
Flora Organica Designs
Arcata; 407-7694
floraorganicadesigns.com

BEST Furniture Store
Arcata Exchange
813 H St., Arcata; 822-0312
www.arcataexchange.net

BEST Gas Station
Costco
1006 W Wabash Ave, Eureka; 441-8750
www.costco.com

BEST Gym
HealthSPORT
Arcata Sports Complex
300 Martin Luther King Jr. Way, Arcata
822-3488; www.healthsport.com

BEST Hair Salon
B Styled
2901 F Street, Eureka; 443-7895

BEST Handyman
Daniel Badeaux

BEST Hardware/Lumber Store
Pierson Building Center
4100 Broadway, Eureka; 441-2700
www.thebighammer.com

BEST Head Shop
S.T.I.L.
2940 Broadway # E, Eureka; 269-0210;

BEST Hobby Shop
Good Relations
223 Second St., Eureka; 441-9570
goodrelations.com

BEST Horticulture Supply Shop
Northcoast Horticulture Supply
60 W Fourth St., Eureka; 444-9999
nhs-hydroponics.com

BEST Hospital
Mad River Community Hospital
3800 Janes Road, Arcata; 822-3621
madriverhospital.com

BEST Hotel
Benbow Historic Inn
445 Lake Benbow Drive, Garberville
(800) 355-3301
www.benbowinn.com

BEST Jewelry Store
Vintage Avenger
1101 H St., Arcata; 822-3300;

BEST Law Office
Kathleen Bryson
732 Fifth St. Suite C, Eureka; 268-8600
www.humboldtjustice.com

BEST Liquor Store
John's Myrtlewood Liquors and Fine Cigars
1648 Myrtle Ave., Eureka; 444-8869
johnsfinecigars.com

BEST Mailing Center
Post-Haste Mail Center Inc.
600 F St., Arcata; 825-8295
www.posthastemail.com

BEST Massage
Arcata School of Massage
145 G St., Arcata; 822-5223
arcatamassage.com

BEST Mattress Store
Moore's Sleep World
3 Fifth St., Eureka; 444-2337
mooressleepworld.net

BEST Mortgage Company
Coast Central Credit Union
2650 Harrison Ave, Eureka; 445-8801
www.coastccu.org

BEST Musical Instrument Store
Wildwood Music
1027 I St., Arcata; 822-6264
www.wildwood-music.com

BEST Nail Salon
Bloom
650 Sixth St., Arcata; 825-8987
www.bloomsalonaveda.com

BEST Nursery/Garden Center
Pierson Building Center
4100 Broadway, Eureka; 441-2700
www.thebighammer.com

BEST Optometry Practice
A to Z Eye Care
851 Bayside Road, Arcata; 822-7641
www.atozeyecare.com

BEST Orthodontist Practice
Dr. Howard L. Hunt, DDS
707 I St., Eureka; 443-1390
www.huntsmiles.com

BEST Outdoor Gear Store
Pacific Outfitters
1600 Fifth St., Eureka; 443-6328
www.pacificoutfitters.com

BEST Pawn Shop
Humboldt Bay Trade & Pawn
1435 Fifth St., Eureka; 442-7777
humboldtpawn.com

BEST Pet Groomer
Nor Cal Pet
1580 Nursery Way, McKinleyville
839-9201;

BEST Pharmacy
Barnes Arcata Family Drug
1080 G St., Arcata; 822-2496;

BEST Photography
Carrie Badeaux

BEST Place to Buy a New Car
Mid-City Motor World
4800 US-101, Eureka; 443-4871
www.midcitymotorworld.com

BEST Place to buy a used car
Roy's Auto Center
10 W Fifth St., Eureka; 443-7697
www.roysautocenter.com

BEST Plumber
The Plumberman
Eureka; 442-8345

BEST Real Estate Agent
Victoria Copeland
509 J St., Eureka; 445-4500
victoria@mingtree.com

BEST Real Estate Office
MikkiMoves Real Estate
805 Seventh St., Eureka; 515-6683
mikkimoves.com

BEST Restaurant Server
Cameron, Brick & Fire
1630 F St., Eureka; 268-8959
www.brickandfirebistro.com

BEST Shoe Store
Vintage Avenger
1101 H St., Arcata; 822-3300;

BEST Soil Company
Fox Farm
2200 Bendixon St., Samoa; 443-4369
foxfarmfertilizer.com

BEST Spa
Soul to Soul Spa & Foot Bar
854 10th St., Arcata; 822-7685
soultosoulspa.com

BEST Sporting Goods Store
Pacific Outfitters
1600 Fifth St., Eureka; 443-6328
www.pacificoutfitters.com

BEST Storage
Rainbow Self-Storage
4055 Broadway, Eureka; 443-1451
rainbowstorage.com

BEST Thrift Store
Angels of Hope
1309 10th St., Arcata; 822-5019
youthability.org/angels-of-hope-thrift-store

BEST Tire Shop
Les Schwab
2440 Broadway, Eureka; 443-3507
www.lesschwab.com

BEST Vacation Rental
Trinidad Retreats
56 Berry Road, Trinidad; 601-6645
www.trinidadretreats.com

BEST Veterinarian
Sunny Brae Animal Clinic
900 Buttermilk Lane, Arcata; 822-5124
www.sunnybraeanimalclinic.com

BEST Vintique Store
Vintage Avenger
1101 H St., Arcata; 822-3300