NCJ delivers news to your inbox every day with NCJ Daily, NCJ Weekly Update and Events This Weekend newsletters. If you landed on this page, chances are you're already subscribed. But in case you're not — or you want to manage your subscriptions — here's how.
Log in to your account from any page on our website. Or create an account if you don't already have one. (We aren't going to sell your information.)

Click on "Edit Settings."

See your subscriptions here, or …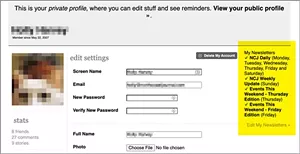 … scroll down to the bottom of the page to manage your subscriptions.
Thank you for reading!
Love,
— NCJ