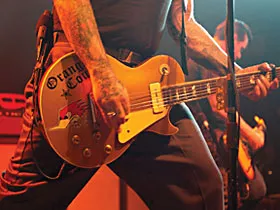 It was one of those parties. A wild one. My friend Gregg was moving out of a ramshackle place in Blue Lake into classier digs elsewhere and had a backyard bash to celebrate. Gregg has definite pyromaniacal tendencies and included a flaming limbo dance as part of the affair, followed by fireworks and a bonfire to dispose of leftover firewood and scrap lumber around the yard. My job was to keep the festivities festive by providing a soundtrack using an old-school record player set up on the porch of the back shed (and by old-school, I mean one with a built-in speaker that came from a school). Flipping through boxes of LPs in the shed I dug out songs with a fire theme: "Fire," both the Crazy World of Arthur Brown and the Jimi Hendrix versions, Johnny Cash's "Ring of Fire" and others.
Someone asked Gregg if they could burn his wooden ladder. He agreed. When I put on Social Distortion 's cover of Cash's classic the revelers began something akin to a mosh circle around the fire pit. Some of the crazier partiers had stripped to nothing but their boots. A few naked crazies climbed up and over the ladder until it collapsed into the flames and someone literally "fell into a burning ring of fire."
The memory of that night came back when I heard that legendary O.C. punks Social Distortion are coming to the Eureka Municipal Auditorium Saturday, July 14. That's what the band's music is like. Led by the intense Mike Ness , Social D was part of the late '70s wave of Cali punk alongside bands like Black Flag, The Dead Kennedys and Bad Religion.
Comrades have fallen by the wayside, but, with a few breaks for rehab and the like, Ness has been at it ever since. At 45, the thoroughly tattooed guitarist is no longer a young punk, but that didn't keep him off his skateboard, and last year he fell off and broke his arm rendering him unable to play guitar. No worries: His friends stepped in as the band continued touring, first Ron Emory from TSOL, then Bryan Small from another fiery punk outfit, The Hangmen . They've just released a new EP, The Hangmen In the City , produced by Ness, and they're part of the current Social D tour. Also on the bill at the Muni: The Heart Attacks , a "scuzz rock" five-piece from Atlanta described by lead singer Chase as "a gang of pirate gypsy crackhead smart-mouthed snot-nosed rock & roll misfits."
Meanwhile, across town, it's The 5 Browns, who could be described as a classical novelty act. The family band, two brothers and three sisters, all play piano and all of them are pretty good. What's novel is they all play at the same time. That's right, five pianos on stage at once. They do some duo numbers and solos, but the main deal is pounding out warhorses from the classical repertoire all together on five Steinway grand pianos. What occurred to me was the fact that there probably are not five concert-ready Steinway grands in the county. No problem — the Browns travel with a truckload of them and will bring them to the Arkley Center Saturday evening.
Vocalese jazzman Bill Allison leads Redwood Jazz Voices in their first performance Thursday, July 12, at Muddy's Hot Cup with Dave Wilson on bass and Mike LaBolle on percussion. The young vocal ensemble includes Bill's son Clay Allison , Lorenza Simmons (Madi's daughter) and Calista LaBolle (Mike's daughter). "All kids who grew up in households with pro musicians," Bill points out, adding, "They're all in tune to it."
Seattle nerdcore semi-star Matt Kenall used to call his one-man-band Capital Steps, but the similarly named comedy troupe complained, so now he calls himself Square Wail . He's at the Jambalaya that same Thursday on his "I'm Not Listening" tour playing loopy dance tunes he creates with a pile of gadgets, but mostly with a Nintendo Gameboy. No, really. Dj[hexWarrior] opens, playing out for the first time.
Friday at the Jam, it's yet another band from Portland, Wooden Nickle , a trio with guitars, drums and a laptop who craft cool, dark, haunted alt. folk/rock/country songs intermittently spiked with guitar feedback, hand claps and digital trickery. Deejay Jen Savage offers a preview on KSLG that afternoon at 1 p.m. Locals Laden Swallow open the show at the Jam with songs from their Awaken CD.
The Venerable Lord Bret Bailey from Que La/ The Common Vice tells me he's been branching beyond rock opera with C. Vice. See what he's up to at the Pearl Friday. Deric Mendes ' new band shares the bill.
There's art and music Friday at the big purplish foundry in Aldergrove Industrial Park known as Unauthorized Art. Percussionist Jesse Jonathon is the music guy out there, renting rehearsal space for some of the worldly bands he's in: WoMama, Afromassive, Dun Dun Fare, the Janky Mallets and Bloco Firmeza. The Arts! Arcata gallery opening that evening features sharp sculptures by Seth Magnusen and pix by photographer Christopher Cook including shots of various local bands. The music? "We're starting with a local songwriter, Rebekah Downey, then the jazz trio Weather Machine, then WoMama and The Janky Mallets ending midnight-ish. It's all a fundraiser for the building," says Jonathan, promising, "It's gonna be fun."
If you've been following the Synapsis/Empire Squared saga, you know it's actually going pretty well. Says Carmen Olson , the sexy Synapsis trapeze artist/stilt walker, "It looks like we're going to get the Conditional Use Permit we're applying for, so soon we'll do the fire exits and ADA compliance stuff required, and then we reopen. We have an architect working for us, John Ash. He's top notch. He read about it in the paper and called us to volunteer his time. He's drawing up the plans, then we'll have an idea how much we'll need. We're hoping to get a grant from the Humboldt Are Foundation, but in the meantime we're trying to get some money together."
To that end, they're reviving Tsirkus Picaresque as Tsirkus Burlesque for a cabaret-style show Saturday, July 14, at the Dancenter in Arcata's Old Creamery. "It starts at 8:30 with a fire show and silent art auction," says Carmen, "then they'll be a burlesquey-style circus show. Between acts we'll auction off more art live. We'll have trapeze, fabric aerials, hula hooping, a clowning striptease and other stuff. DJ-dancing after. It's kind of risqué, so it's adults only."
It's got to be bittersweet. Yer Dog 's long-awaited CD release party at the Alibi Saturday is also the band's last show ever. "We'll be playing with The Ravens , which should be loads of fun," says Pete. "We're encouraging everyone coming out to dress in the best formal wear — suits, tuxes, evening gowns — recreating a ballroom dance party." Don't know if that's possible in the confines of the Alibi, but it sounds different.
Coming up next Wednesday, July 18, at the Indigo, The Soul of John Black , with John "JB" Bigham, formerly of Fishbone, who has dug into his roots in recent years to come up with a new twist on the blues — call it alt. blues. Meanwhile at Muddy's Hot Cup, it's 8traC , an alt. funk outfit from Boulder with stunning blonde vocalist Chantel Mead out front and guitar work and samples from Derek VanScoten, who came through town a few years back with a funk trio called Element37. (Think he likes names with numbers?) Same night at Mazzotti's: jazzy electro-acoustic jams by the Eric McFadden Trio , with Eric McF supplying flamenco/Hendrix-inspired guitar riffs backed by stand-up bass and drums.
A reminder: Don't forget next Monday, July 16, is the next vote for Steel Toed Slippers on their way to TV stardom. Vote for them (more than once) at www.cbsnews.com up until noon Wednesday.
As you perhaps read elsewhere in this paper, it's Blues by the Bay weekend. If you listened to "The South Side," Chas Lewis ' blues show on KHSU last Friday night, you got a taste of some of the artists who will be playing. You would have heard more this week, except the show will not be on. Chas is the radio name for KHSU's longtime development director Charles Horn , and he was summarily dismissed from his position Monday. The man who's described by colleagues as "the glue that holds the station together" won't even be allowed to volunteer as a deejay. Don't be surprised if things come a bit unglued at KHSU in the coming weeks as they struggle to fill his shoes. Good luck, both to Chas and those at the station.