Speaking at a virtual roundtable called to discuss the systemic failures of local school districts to help Native students succeed, as detailed in a recent report by the American Civil Liberties Union of Northern California, Humboldt State University Native American Studies Chair Cutcha Risling Baldy said it largely comes down to curriculums that disempower Native youth.
Baldy, who is of Karuk, Hupa and Yurok decent and a Journal contributor, said the California Mission Project and Gold Rush lessons erase the history of California's attempted genocide on Native people, noting that the state legalized the enslavement of Native people and even offered bounties for killing them.
As such, Baldy says school curriculums often disempower Native youth, leaving them feeling unheard, unrepresented and even erased.
"I know it's possible to create a curriculum that empowers Native youth," Baldy said. "We know we have a curriculum that disempowers them, that takes their stories from them. We know we have these situations where they're not feeling empowered to go into higher education. We know that once they get there, they're confronted consistently with people who question their own stories. It's time to change that. It's time to start at the very basis of the structural curriculum that we teach our youth to tell them that their stories are important and matter, that their voices are important and matter."
Submitted
Baldy-Humboldt State University Native American Studies Chair Cutcha Risling Baldy discusses how Native people are largely absent from school curriculums.
The Dec. 3 discussion is an attempt to build on the ACLU's October report that found Native American youth in Humboldt County struggle to meet basic educational benchmarks and are far more likely to be suspended, expelled or suffer chronic absenteeism than their non-Native peers.
For example, in the 2018-2019 school year, just 20.7 percent of local Native students met or exceeded state English language arts standards for their grade levels, compared to 44.6 percent of students overall. In math, just 14.5 percent of Native students met or exceeded standards, compared to 32.5 percent of all Humboldt County students.
Tedde Simon, an investigator and acting Indigenous justice program manager at the ACLU Foundation of Northern California said in an October interview with the Journal that while the findings weren't surprising, they were nonetheless shocking. The report, a first citable document, validates what has already been known in Humboldt's Native community: That Native school kids struggle more than their non-Native counterparts.
Two-hundred participants from Humboldt and Del Norte counties tuned in to the virtual Native American Report Card Roundtable discussion and listened to Baldy and other presenters speak about what's missing in Humboldt County schools.
Baldy spoke about her lectures at HSU, saying she asks all her incoming students what they learned about Native Americans in school, with students most commonly saying they learned how the California Mission Project brought Christianity to the West and how the California Gold Rush boosted the state's economy. The problem, she said, is that current school curriculums leave out how harmful these two historic events were to California's Native people.
Submitted
Marshall-Rain Marshall, the Indigenous education advocate for the Northern California Indian Development Council, moderated the roundtable discussion.
And this was a message — almost a call to action — repeated throughout the roundtable: Bring more Native representation and history into school curriculums to empower local Native youth so that they can thrive academically and socially.
Rain Marshall, the Indigenous education advocate for the Northern California Indian Development Council, has firsthand experience seeing how triggering any discussions surrounding Thanksgiving, Columbus and the Gold Rush are to Native students.
"It makes students not want to go to school anymore," she said. "That's something that can be addressed proactively by teachers, by changing the narrative to discuss it from an Indigenous perspective. That's something that goes off the history books and into some extra research that is definitely available."
Two Feathers Native American Family Services Executive Director Virgil Moorehead said a strong focus on Native culture and identity can help foster restoration and healing, leading Native students toward a better sense of themselves.
"I think this is about development — human development," Moorehead said. "We're all part of the positive development of our children. We must have a community focus, including addressing the root causes and understanding persistent trauma environments in the effects of cultural and personal discontinuity."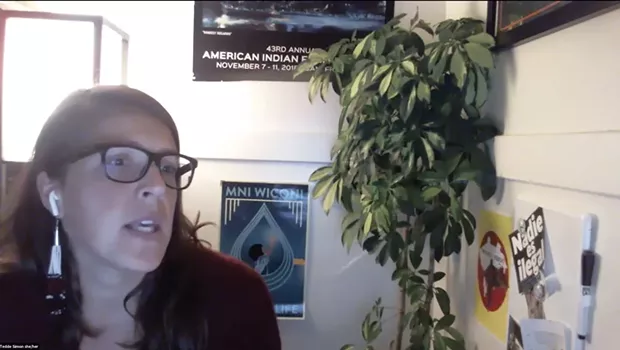 Submitted
Simon-Tedde Simon, an investigator and acting Indigenous justice program manager at the ACLU Foundation of Northern California, discusses "Failing Grades," a blistering report she helped author on the state of North Coast education for Native youth.
All speakers agreed there is a lot of work left to do to begin addressing the drastic disparities the ACLU report found. But the report does highlight 11 tangible recommendations for school districts to begin implementing immediately, including what Baldy and Moorehead suggest, adopting more culturally relevant curriculum, as well as hiring more mental health professionals, moving away from exclusionary discipline models and developing memorandums of understanding with local tribes and service providers.
The discussion is scheduled to continue as a monthly event with another Zoom roundtable forum set for Jan. 21, 2021, at 5 p.m., which can be viewed at https://humboldtstate.zoom.us/j/82833695092?pwd=Z0x3NFBoVnVUOTBBaGE3YzhFdWpNUT09 Meeting ID: 828 3369 5092 Passcode: C6G8V*
The Community Voices Coalition is a project funded by Humboldt Area Foundation and Wild Rivers Community Foundation to support local journalism in generating truthful, courageous and equitable stories covering vulnerable and traditionally underrepresented communities in Humboldt, Trinity, Del Norte and Curry counties. Project stories produced by the North Coast Journal newsroom will be done with full editorial independence and control.
Iridian Casarez (she/her) is a Journal staff writer. Reach her at 442-1400, extension 317, or iridian@northcoastjournal.com. Follow her on Twitter @IridianCasarez.