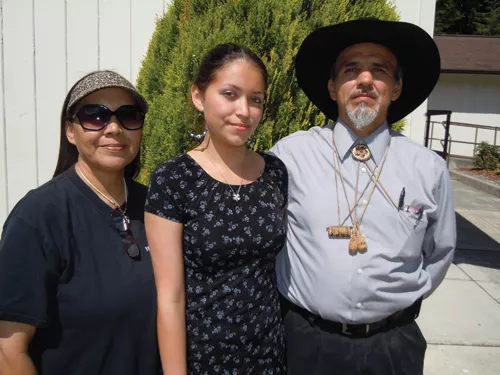 photo by Heidi Walters
Gayle Norris, left; her daughter Jamyelynn, 19, a traditional dancer; and Yurok Tribe Chairman Thomas O'Rourke Sr. at the ceremony to welcome back ceremonial items.
Up at the Trees of Mystery last Friday, the 49-foot talking Paul Bunyan statue -- his sidekick, 35-foot Babe the Blue Ox, as ever by his side -- was in fine form, keeping up a stream of inanities and news alerts: "Ashlee, oh Ahshleeeee. Oh, there she is: Ashlee, why aren't you still sitting on my big boot? heh heh ... So, I promised I'd put in a word for the Yurok Tribe's Salmon Festival next Saturday, in Klamath ... Hey, buddy, I've been known to boot someone clear across the highway for less than that." Titter titter.
Meanwhile, inside the gift shop, tourists roamed the labyrinth of kitsch exclaiming in various languages at, perhaps, the kitschness of it all: those snowglobes, that Bigfoot T-shirt, these redwood boxes, those figurines. Some wandered into the museum to behold an astonishing collection of Native American items arranged by region and tribe: ancient leather dresses decorated in shells; baskets; tools. A little boy banged randomly on a replica drum. A man snapped photos of the displays with a flash, even though signs said not to, and was quickly admonished.
A short jog down the highway, however, inside a former church that now contains the Yurok Tribe's housing authority, tribal elders and medicine men had laid out a collection of 217 Yurok ceremonial prayer items that had recently been permanently relieved of their enslavement as curios. And in a celebration this very day, Kwom-Shlen-ik (or "Object Coming Back"), the tribe had welcomed these items home after a hundred-year absence -- an absence during which they'd been ogled at collector Grace Nicholson's Pasadena curio shop, and, later, in various museums back East. Most recently, they'd been in storage with other items of this region at the Smithsonian's National Museum of the American Indian facility in Suitland, Md; this July, following a six-year negotiation, four Yurok Tribe members flew to Maryland, rented a Budget van and drove the sacred items home. There are more ceremonial items to be repatriated, but the ones returned represent 30 percent of the Yurok items stored at the museum.
Most of the items are used in the tribe's two world-renewal dances, the White Deerskin Dance and the Jump Dance, called the "high" dances and held every two years around August and September; a few are for the "common" Brush Dance, a ceremony held to heal a sick child. At Friday's ceremony, tribal members were free to admire them. But after that, elders explained, the items would be returned to the families in villages along the Klamath River who for years have guarded specific regalia, and they would be brought out only at dance time, thus fulfilling their intended destiny.
News reporters and photographers trickled in, their eyes agleam at the sight: a row of bald eagle feathers and condor feathers bound to whittled yew sticks, sometimes two feathers secured together, other times four together, back to back and end to end to make long, wand-like feather pieces, their spines resplendent with alternating white deer belly fur and red woodpecker feathers; oblong enclosed baskets (an elder grabbed one and wafted it forward, then back, saying that in this way the people's prayers were gathered); woven fiber head nets and head rolls made of deer belly and red-feathered pileated woodpecker scalps; a bright yellow braided porcupine quill halo, to be worn by a girl in the Jump Dance; shell necklaces; white deerskins.
Richard Myers, who helped revive the tribe's world renewal dances and who was one of the four who brought the items home, kindly told the reporters they couldn't take photographs. The tribe didn't want the items to be commercially exploited -- photos could become postcards, for instance. He stepped into a side room to talk further, still holding in one hand a piece of wild ginger root that he said was used when one wanted to talk to the Creator.
"The other reason for no pictures is because each of these things has its own spirit in it," he said. "And we've seen it. One time -- this was up on the Bear Grass Forty -- someone took a picture of a girl in her work dress, made of maple bark. Behind her were some tan oak trees, and in the photo you could see faces in the trees -- they were our elders."
Myers said when he saw the feathers and other regalia lying inside the big drawers stacked high at the museum in Maryland, he was overwhelmed. "It was really sad," he said. "It was like when you go somewhere and see an Indian in prison."
Likewise, amid the speeches, prayers and song, Chairman Thomas O'Rourke Sr. compared the returned items to prisoners of war. Bob McConnell, another tribal member who helped bring the items home, said he felt deep down that there had been a plan. "The Creator was able to see we were going to have hard times," he said. "I think the Creator sent Grace Nicholson and allowed her to get [all of these items] in one place. And the museums took care of them. ... And they're here now, and they're ready to dance."
Afterward, when most everyone had left, McConnell walked over to the table holding piles of "sleeping" deerskins -- they will be awakened just before the next White Deerskin Dance, which is this year on Aug. 27 in Weitchpec. Behind the deerskins was a bin, which McConnell opened to reveal several humongous red and black stone blades.
During the dance, he explained, the "rock packer" leaves the line of dancers and holds the blade out in front of him to cut the veil between this world and the spiritual world.
"The action of the rock packers allows interaction between our world and their world," McConnell said.
As McConnell explained the dance, a big man in khaki work coveralls with "Dan" stitched on the front came over and peered into the bin.
"What are those?" he asked.
"Obsidian blades," said McConnell.
"That's like for cuttin' stuff, right?"
"Yeah."
"They're awfully big!" Dan said, and laughed.
"Yes they are," said McConnell. "It's a very big thing that they cut."
"Hm," Dan said and, with a final look, walked away.