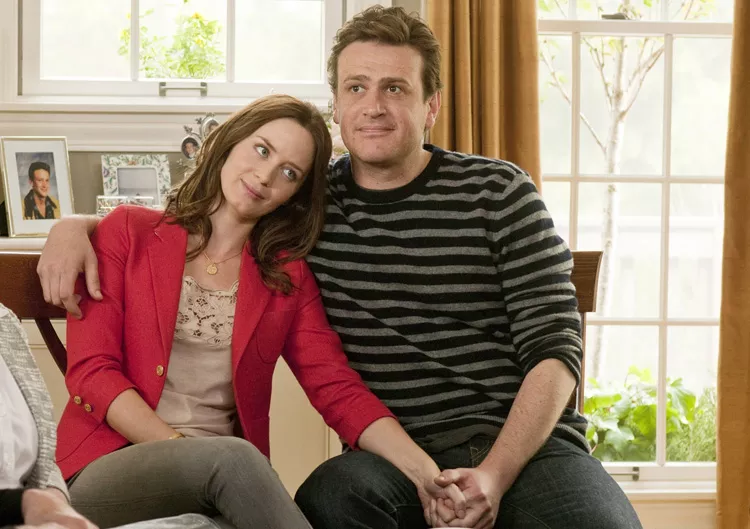 THE FIVE-YEAR ENGAGEMENT. Writer/actor Jason Segel has been collaborating with writer/director Nicholas Stoller for some time now. Often backed by Judd Apatow's production company, they've achieved pretty significant financial success with their efforts. Their first major movie, Forgetting Sarah Marshall, was something of a breakthrough for the young filmmakers, even if I found its tone overly coarse and off-putting.
To their credit, The Five Year Engagement forgoes the easy crassness of that early work, trading instead on Segel's tried and true, aw-shucks affability. He gets a lot of help from a really funny supporting cast, and the script tweaks the rom-com formula in smart, subtle ways. On the whole this is satisfying stuff, even if it doesn't break any entirely new ground.
The title sums up the skeleton of the plot: Tom (Segel) and Violet (the always charming Emily Blunt) get engaged, but her academic career forces a move to Michigan and a postponement of the nuptials. Tom puts his chef job on hiatus; Violet's contract gets extended; the delay drags on; and eventually resentment and ennui start to creep into the relationship. Meanwhile Tom's best friend (Parks and Recreation's Chris Pratt) and Violet's sister (Mad Men's Alison Brie) race through their own foil relationship, marrying and procreating before Tom and Violet can even start planning their wedding.
In the describing, the storyline sounds like boilerplate stuff, which it is. But Segel and Stoller have pretty strong chops and an admirable ability to bring their unique sensibility to a traditional genre movie. As a result, The Five Year Engagement is sweet, funny, clever and pleasantly quirky. R. 124m.
SAFE. I've said before -- probably more than once -- that Jason Statham is my guy. By my reckoning, he's a near-perfect action star. Undeniably badass, he also manages to seem like he's having tons of fun while pulling off back-cracking stunts and fight choreography. So I'll happily go see just about anything he's in. Unfortunately, that means I'll l end up seeing movies like Safe.
Which isn't to say this is an awful movie: It's not, but it's not especially competent or memorable either. Statham plays Luke Wright, who, as we learn through increasingly clumsy exposition, is a super-assassin who ran afoul of the corrupt part of the NYPD and the Russian mob by not taking a dive in a cage fight. The Russians murdered his wife in reprisal and promised to kill anyone he might ever befriend in the future. So he lives on the street and in homeless shelters. Enter the 11-year-old math genius that the Chinese mob has forced to serve as a human computer. Turns out the Russians and the corrupt cops want information she has, and only Luke can protect her. And kill almost everybody he sees in the process.
There are even more implausible plot threads hanging out of this thing, but there's not much point in getting into that. Not surprisingly, this "kitchen sink" screenwriting doesn't do the movie any favors. A few of the action sequences are legitimately brilliant, but they get lost amid scowling lowlifes and mundane (and weirdly bloodless) shootouts. R. 94m.
THE PIRATES! BAND OF MISFITS. I've been a fan of Aardman Animation since the early days of Wallace and Gromit. And if you don't like Wallace and Gromit, we probably have very little to talk about, you and I. The studio's most recent project brings in a lot of the bug-eyed weirdness of those earlier movies, but not enough of the intelligence and heart that made them immortal.
Hugh Grant plays the Pirate Captain, a cut-rate cutthroat with a fragile sense of self-worth. He wants to be the pirate of the year, but despite a crew of lovable oddballs (a Band of Misfits) he doesn't really have it in him. Or so it might seem, until he gets tangled up with Charles Darwin, Queen Victoria and a convoluted plot involving his pet dodo, Polly.
The look and feel of The Pirates are spot-on: From the creaking belly of the ship, to the foggy streets of 1837 London, to the steam-punk flying machine, there are visual treats galore. But tonally the movie treads a tricky line. Some of the references and humor seem like they'd go over the heads of the target age group. And the plot drags painfully in a few spots. (Granted, I stay up later and drink more than the average audience for this movie, but it still seems weird that I came so close to falling asleep). PG. 88m.
THE RAVEN. It is an odd choice for John Cusack to play Edgar Allen Poe. He carries it off, but he isn't the actor that first springs to mind when one thinks of the dark, ragged prince of American letters. But then again, the whole idea of this movie is strange. It finds Poe nearly destitute, dogged by despair, and in love with a woman whose father can't stand him. Into the alcoholic miasma of his life comes a serial killer who draws the inspiration for his crimes from Poe's stories and poems.
The movie successfully evokes a gloomy 19th Century Baltimore, and Cusack's performance is solid. But these attributes are undermined by serious pacing and continuity issues and surprisingly bloody violence. The ending gives itself away summarily, but because the two hours leading up to it aren't especially satisfying, it's no great loss. R. 111m.
--John J. Bennett
Previews
THE AVENGERS. Marvel's superhero all-star game unites Iron Man, The Hulk, Captain America, Thor and, of course, Samuel L. Jackson (that bad mutha-effer). Directed by nerd demigod Joss Whedon. PG13. 142m.
THINK LIKE A MAN. After two weeks atop the box office charts, this battle-of-the-sexes comedy, which features a nearly all-black cast, comes to Humboldt County, which features a nearly all-white cast. PG13. 122m.
KID WITH A BIKE. From filmmaking Belgian brothers Jean-Pierre and Luc Dardenne, this Grand Jury Prize-winner at last year's Cannes Film Festival follows an emotionally troubled 11-year-old boy who strikes up a friendship with a pretty young hairdresser. In French with subtitles. 97m. PG13.
THE DEEP BLUE SEA. Rachel Weisz stars as the unsatisfied wife of a British judge. Trouble arrives after she gets erotically entangled with a Royal Air Force pilot. Based on Terence Rattigan's 1952 play. R. 98m.
Thursday is Ocean Night at the Arcata Theatre Lounge, with this month's sea-worthy installment featuring Ocean Frontiers, a documentary that falls right into the evening's wheelhouse -- namely, showcasing unlikely allies (industrial shippers, biologists, pig farmers, snorkelers ... ) who've banded together in defense of our planet's life-supporting seas. 6:30 p.m.
Humboldt Roller Derby won't have another local bout until June 16, so you'll have to make due with Whip It (2009), Drew Barrymore's directorial debut, which stars Juno's Ellen Page and shows Friday at 8 p.m. PG13. 111m. Family-friendly Sunday will feature the adorable pig Babe (1995). 6 p.m. G. 89m. And, hoo boy, don't miss your opportunity to see Sean Connery in a red diaper and suspenders -- on the big screen! (Shudder.) Zardoz (1974) headlines Sci-Fi Pint and Pizza Night next Wednesday, followed by The Giant of Metropolis (1961), about which you need only know two things: 1. It's a campy Italian sci-fi movie, and 2. Our hero is beset upon by "a horde of bloodthirsty dwarves." Hell yes. 6 p.m.
Continuing
21 JUMP STREET. Jonah Hill and Channing Tatum star as cops who go undercover, inside the plot of a 1980s sitcom starring Johnny Depp. R. 109m.
THE CABIN IN THE WOODS. When five young friends head into a creepy, remote wilderness you may think you've got the story pegged. Think again, sucka. R. 95m.
CHIMPANZEE. Hackneyed Disney doc narrated by Tim Allen. G. 78m.
THE HUNGER GAMES. In a dystopian future state, teenagers get conscripted into a televised death match. Based on Suzanne Collins' bestseller. PG. 142m.
THE LUCKY ONE. Based on a Nicholas Sparks novel, this maudlin romance starring Zac Efron isn't offensively bad, just painfully bland and drawn out. PG13. 101m.
THE THREE STOOGES. Larry, Curly and Moe find themselves in the 21st century. Frightened, they resort to slapstick violence. PG. 92m.
WRATH OF THE TITANS. Perseus, a yoked demigod, stabs 3D computer images with his trident in order to save his "holier than thou" dad, Zeus. 99m. PG13.
--Ryan Burns