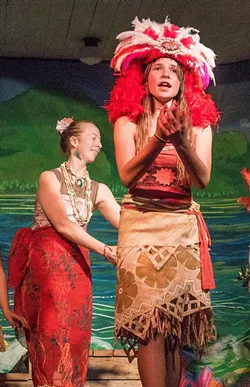 Photo by Betty Ann Hanauer
Shekina McCullough as the adventurous island princess Moana and, behind her, teacher's aide Jordan Lambert as the goddess Te Fiti.
Full disclosure: Since I was a kid, I've hated school plays. With their choruses of singing first-grade elves, their trays of stale refreshments and drama coaches who may have previously worked as prison guards, there was little to love. All this to say that the musical adaptation of Disney's Moana just presented by the tiny Forks of Salmon Elementary School was a winner on every level.
Salmon River is a tributary of the Klamath, barely across the Humboldt/Siskiyou County line, and its total human population must be in the mid-triple digits. The exception is during rafting season, which is happening right now. But it is a school and a town with theatrical roots that go back decades and maybe more. Along the way, I was converted, although it took a while.
Forks School had a much larger population in the mid-1970s, when Jim and Suzanne Jennings showed up there for their first teaching jobs. Jim recalls that the first play was titled No Room at the Inn. Richard Marley, who'd been a longshoreman before he helped found the Black Bear Ranch commune, helped Jim write the play and its music. Its premise was that there was a big vaudeville show going on when Joseph and Mary showed up, the perfect set-up for singing elves.
Subjects varied over the years but they were all musicals. There was a show about the Manhattan Project and the development of the atomic bomb. Tim Murray, now an expert timber faller but in those days a jaded upper-grade student, enthusiastically sang the Cream hit song "I'm So Glad" while his little brother Will Harling played Einstein. Harling is now the director of Mid Klamath Watershed Council.
There was The History of Science - Part 1 and, a year later, Part 2. Then The History of Religion - Part 1, in which Merlin Hanauer played the Prophet Muhammad. "This was the late 1970s and nobody knew much about Muslims then," Jim Jennings explained. Hanauer is now an economics professor at Sonoma State.
There was even a local production with a cast of grownups in the summer of 1985 when Marley and Jack Wickert, an alumni of the San Francisco Mime Troupe, produced a Salmon River version of the Three-Penny Opera. Jennings played Mack the Knife but said he had a terrible time memorizing his lines. Once he even bungled a cue where Sharon Goods, playing Jenny Diver, was supposed to sing the famous "Pirate Jenny" tune. She squeezed the tune in anyway and Freeman House, visiting from Petrolia, said he'd once heard the legendary Lotte Lenya sing the same song on the New York stage.
"Lenya was very good," he conceded, "but Sharon sang it even better."
Fast forward a few decades and Jerred Lincoln is now in his first year of teaching at Forks Elementary. The school has shrunk to one teacher and just 10 students, and previous teachers have skipped having plays some years. But Lincoln, who is Native American with many relatives along Salmon River, decided to give it a try.
The production was prefaced by a meal served up by river cooks at tables in the schoolyard, just a few hundred yards below where the North Fork of the Salmon River joins the South Fork. The roads there are curvy, one-lane and strewn with rock or even closed in bad weather. The show was just across the road in a building that was once itself the school house, but now doubles as a community hall.
Moana was re-written by Forks students from the 2016 Disney film. The story is set in Polynesia and the title character is the strong-willed daughter of the village chief. When things get hard on her island, Moana, on an elder's advice, heads off in search of the legendary demigod Maui to retrieve a lost relic heart made of jade.
It was the first show (of a two-day booking) and the excitement was palpable. Students peeked out from back stage as the crowd filled the 60-seat hall. Neighbors gossiped. Techies perfected sound levels. The show was prefaced by the usual reminder to shut off cell phones but there is, of course, no cell service and little electricity in Forks. Then there was a mock tsunami warning to add to the Polynesian atmosphere.
Shekina McCullough, a 12 year old just finishing sixth grade, played Moana to perfection in voice and movement. She captured exactly the conflicts for a young woman willing to take great risks for the welfare of her people. McCullough lives on a ranch above the South Fork at a 2,800-foot elevation where there is frequent snowfall and on a road even sketchier than the river roads. Perfect background for the unrelenting courage of her character. She delivered the songs with a practiced confidence and her studied physical presence held the audience spellbound. Viewers must have kept reminding themselves, "just a sixth grader."
Her foil Maui was played by Irie Montgomery, a fifth grader who was sizably shorter than McCullough but with more than enough attitude to be a convincing demigod whom Moana gradually coaxes to join her in recapturing the relic heart.
Maui agrees, but says he must first redeem his magical fishhook from the clutches of Tamatoa, a giant, greedy vent crab. The crab costume is probably the best of many prize winners on the stage. The scene with the most tension is between Moana and the crab, who was played by Shekina's third-grade sister Nadine McCullough. If there was ever a productive channeling of sibling rivalries, this scene captured it.
The school has grown so small that a few teachers' aides were recruited to be part of the cast and many more parents and neighbors built sets, found props, created elaborate costumes and executed spectacular lighting and special effects. Some of the adult helpers, like Maisy Cooper from Orleans, even had a background in theater. My wife Sue Terence was a skilled educator all her working life and I learned watching her that one of the gifts of a good rural school teacher is sniffing out local talent. Lincoln, in his first year as a teacher, clearly already has that gift.
Even the costumes for the kindergarten and first grade actors seemed appropriate. The kids played kakamoras, a gang of noisy but relatively harmless demons. It was evidence once again that type casting works, in this case better than being cast as a singing elf.
I know that old guys like me rattle on about how good things used to be and how everything's gone downhill lately. Certainly there are realms where that is true. But they still have great theater on that little stage at Forks of Salmon Elementary, just below where the North Fork Salmon River meets the south.
Malcolm Terence lives on the main-stem of the Salmon River near Somes Bar. He is the author of Beginner's Luck, Dispatches from the Klamath Mountains, published by Oregon State University Press.