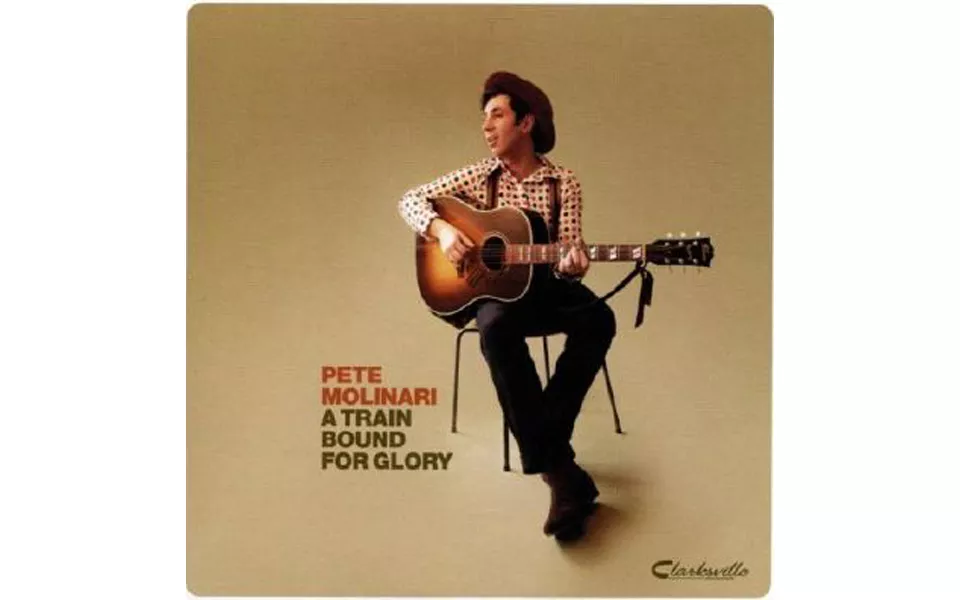 By Pete Molinari - Clarksville Recordings
A Train Bound For Glory
It's not unusual for a young singer/songwriter to crisscross the U.S. and absorb influences, initially inspired by Jack Kerouac's On The Road and Woody Guthrie's Bound For Glory (along with a healthy dose of Bob Dylan) developing chops in numerous coffee shops and folk clubs. But what this UK troubadour did with those experiences is quite extraordinary. Pete Molinari's third full-length, A Train Bound For Glory, is a finely crafted record, unabashedly soaked in American '50s and '60s country, folk and rock 'n' roll.
Last year's EP Today, Tomorrow and Forever started as a side project for Molinari, who traveled to Nashville and recorded a handful of covers with producer Adam Landry and the assistance of The Jordanaires, the legendary vocalists behind Elvis Presley. A Train Bound For Glory, recorded again in Nashville, hardly sounds like a continuation; rather it's a launching pad fueling inspired performances by Molinari and the support musicians.
Molinari's sleeve has always been adorned by his musical influences, namely Guthrie, Dylan, Presley, Ricky Nelson, the Everly Brothers and Roy Orbison. From the lo-fi folk of his debut, Walking Off the Map, recorded by Billy Childish in his kitchen, to the lush analog sound of A Virtual Landslide, accommodated by Liam Watson, Toe-Rag Studios and its talented pool of musicians, Molinari has continually polished his skills as a singer and a songwriter.
Molinari has been fortunate to surround himself with an eccentrically antiquated group of musician/producers, be it Childish, Watson or Landry, who assembled a regal group of Nashville-based musicians. Most notably, Chris Scruggs (Earl's grandson) on acoustic and electric guitars and pedal steel, and Landry, himself, on guitars, should be given credit for the added muscle and subtle country-tinged accompaniments.
Though the album's title, A Train Bound For Glory, doesn't exactly evoke rock 'n' roll, it's Molinari's most rocking release. From the opening cut "Streetcar Named Desire," a "Little Sister"-like number with a brilliant skiffle/Merseybeat undercurrent, to the alt-country "Willow Weep For Me," which executes the looseness and bite of Dylan and The Band's Basement Tapes, Molinari, with his melodic voice, pulls it off with a soulful timbre. He enters gospel territory with the mid-tempo burner "Since You've Been Gone," which combines the powerful vocals of the famed sibling gospel singers The McCrary Sisters and the stringing electric guitar of Scruggs with the fervor of The Rolling Stone's Exile period.
The album's closer, the elegiac and romantic "What a Day, What a Night, What a Girl," is a wonderful left turn, centered on a British folk string arrangement that carries a melancholy Sir Paul McCartney would likely approve of. It is adequate praise for a deserving, aptly titled record. Molinari has created an impressive "train" to pull his Guthrie inspiration.