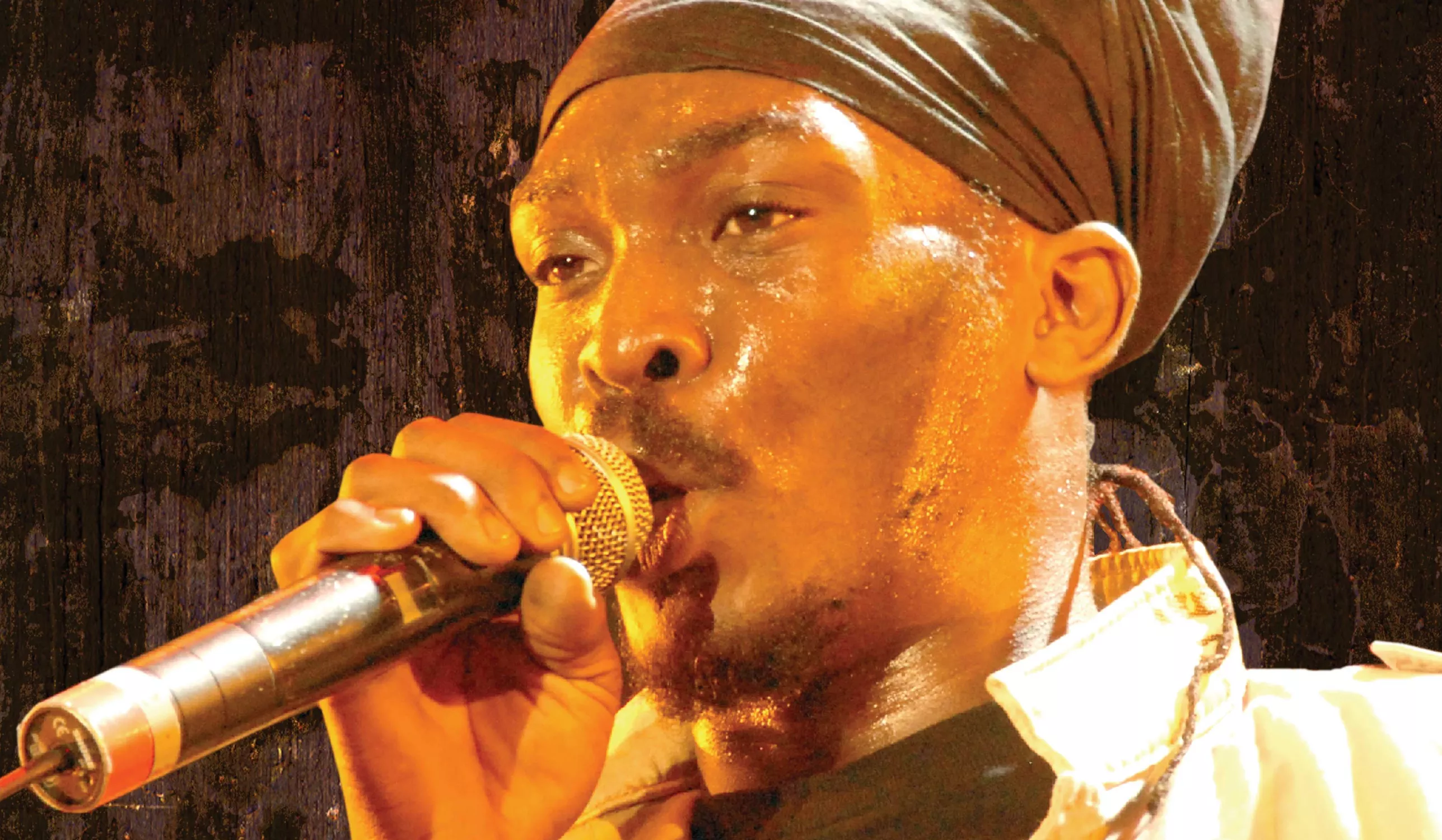 In Jamaica they have a word for media that glorifies guns, violence and degrading images of women -- they call it "slackness." While it once dominated the world of dancehall, things have shifted toward more positive themes, at least from certain artists.
At the forefront of "positive" or conscious dancehall is Keith Blair, better known as Anthony B. Raised in a religious home with his mom, who was a Seventh-Day Adventist, and grandma, a Revivalist, Anthony became a Rastafarian.
When he moved to Kingston at the end of the '80s and got involved in dancehall, he rebelled against the slackness of that time. "And I don't stop. I never stop rebelling against slackness," he said when I spoke with him before his last visit to Humboldt. "Slackness is not good for society. But in our world there's something called harsh reality. In the '80s, when you sang about a short skirt or short shorts it was derogatory... ."
Dancehall at the time was all about girls and guns.
"That's right," Anthony agreed. "But there's still people out there holding guns who's not violent people -- people who have guns to protect their homes in today's society. It's like how you use the influence you have -- it's either positive or negative. You use it to destroy or you use it to defend. So it's not saying you can't sing about guns or about ladies -- it's the way you sing about them.
"When you bitch up a lady, then you bring down the level of a woman, and a woman is a queen and the mother of creation. It's what you sing about the girl and the gun that make it slackness."
Can songs actually change the way people think about things? "Well, I can't say. My view of life is that the changes come from within us. If you change yourself, it can influence and it can inspire. If we read a book, it can change our focus and our way of thinking. We can watch a movie and come to a realization and see facts of life we weren't thinking of. So I do the work and hope that it will be an inspiration and an influence, even if you are not in the same frame of mind. It's like going to school, like the student and the teacher. They're there to present ideas, and you may understand, you may not. You do the work and you hope the inspiration will go far and wide. That's how Bob Marley started out. One, two, three, four, five, until he conquered the world with his music."
Ready for your next lesson? Anthony B and The Untouchable Band return to Arcata for a show on Wednesday, Jan. 19, at the Arcata Theatre Lounge. Northtown Dub and DJ Rashane share the bill.
I guessing you've taken your Xmas tree down by now (if you ever had one). Nevertheless, in the local music club world the holiday season is not quite over. You see, college classes have not yet resumed and will not until after MLK Jr. Day, which means action in the music scene is slow at best. But there are a few noteworthy shows.
Portland artist-o-the-week (hands down) is Professor Gall, leader of a "junkyard folk and steampunk jazz" combo that "seeks to uncover the contradictions of an ambiguous and native-less society, 'dreaming the existentialists' dream,' while at the same time pleading for individualism, peace, and more fun at funerals." Gravelly voiced mad scientist/neo-vaudevillian Drew Norman is out front on guitar, banjo and stomp box, offering lessons on The Psychology of Booze & Guilt on the band's latest album, in tunes about whiskey, the resurgence of the '50s and "Putting the Fun Back in Funeral." He's on a solo tour of Cali, and what better place for a neo-vaudevillian to play than kitty-corner from Dell'Arte at The Logger Bar? Class is in session this Thursday around 9.
The British dub band Zion Train Sound System, originally founded by Neil Perch in 1988 in Oxford, hits the Red Fox Friday night. While his roots are in deep reggae, Perch is also an ace remixer, and Zion Train has been influential throughout the '90s and in the new millennium as the electronica world shifted into dubstep. Just in: Rocker T added as special guest.
On the hip hop tip, Red Fox presents an open freestyle night Saturday, hosted by Franco and DJ Plus One.
Six Rivers Brewery, always a staunch supporter of local bands, keeps on keepin' on with The Speakeasy Saints, Jimi Jeff and the Gypsy Band and The Grass Band on subsequent nights -- Thursday, Friday and Saturday -- in that order (that's one band per night) all offering variations on funk, soul, blues, etc.
Sometimes we get e-mails that are difficult to decipher, like this note that came via Humboldtmusic.com asking, "If possible, could you please add the following event to your calendar?" Under "What" is says "Chronic Bass Session V1: w/Hypha The Glitch Report Masta Shredda,M Haiku Funkplus" (sic w/wild capitalization adjusted). When: Friday. Where: Nocturnum. The rest seems to indicate the whole thing was hastily copied and pasted from Facebook, including a line saying, "You are Attending ¬? Share ¬? Public Event Edit Event Update Fans of See All People You May Know." My translation? Another dubstep night with those big-ass speakers that shake you from the inside out. Tell everyone you know.
Yes, there are still unabashed hippie rock improvisers around who dare to call themselves "jambands." Santa Cruz ("the other Humboldt") is home to the unrepentant jamband called Wubakia. Guitarist Adam Schwartz and keyboardist Kris Yunker weave the noodles together while drummer Larry LeBron lays down funky grooves on tunes allegedly influenced by everything "from Yes and Pink Floyd to Britney Spears and Sun Ra." Did they leave out Phish? They shouldn't have. The name? According to the Urban Dictionary, it's "the inverse of deja-vu. A phenomena that, when experienced, makes something familiar feel completely novel." As in, "Wow, wubakia! I've heard this song a hundred times, but every note seems completely new." (Note, the band itself seems to have supplied the definition.)
BTW, a note from CenterArts/AS Presents announces: Mike Gordon of Phish is coming to HSU March 6, presumably in connection with his new album, Moss. "Tix on-sale via fan club this Wednesday." Also, for the boomers, David Crosby and Graham Nash on April 1, ("no foolin'") tickets on sale Jan. 17. And I hear Animal Collective will be on the 2011 schedule, too, although no date has been revealed.
Leading this week's Sunday afternoon Open Jazz Jam Session at the Graves Museum: SoHum trombonist Jimmy Durchslag. When he's not busy overseeing the Mainstream Media Project (his day job) Jimmy plays in Ponche!, The Garberville Town Band, The Pastime Silent Movie Orchestra and the jazz combo Humboldt Time. (He was also a member of Rod and the Ideals.)
Word on the street has it (well, according to Andrew) the fine Westwood coffeehouse Mosgo's, one of the last all-ages venues around, is on the ropes and in need of some help. Thus the show there Saturday evening, a benefit for Mosgo's with the fine neo-old time band Huckleberry Flint as featured performers. By chance, the benefit takes place the same night Huck Flint is on KEET TV in the second installment of Lost Coast Sessions (Showtime at Mosgo's 7:30 p.m. LCS, 8:30.) I guess that's what DVRs are made for. If you can't make the show, maybe it would be a good idea to stop by Mosgo's some time for a cup of joe and a sandwich, a pastry or whatever. They could use the business.