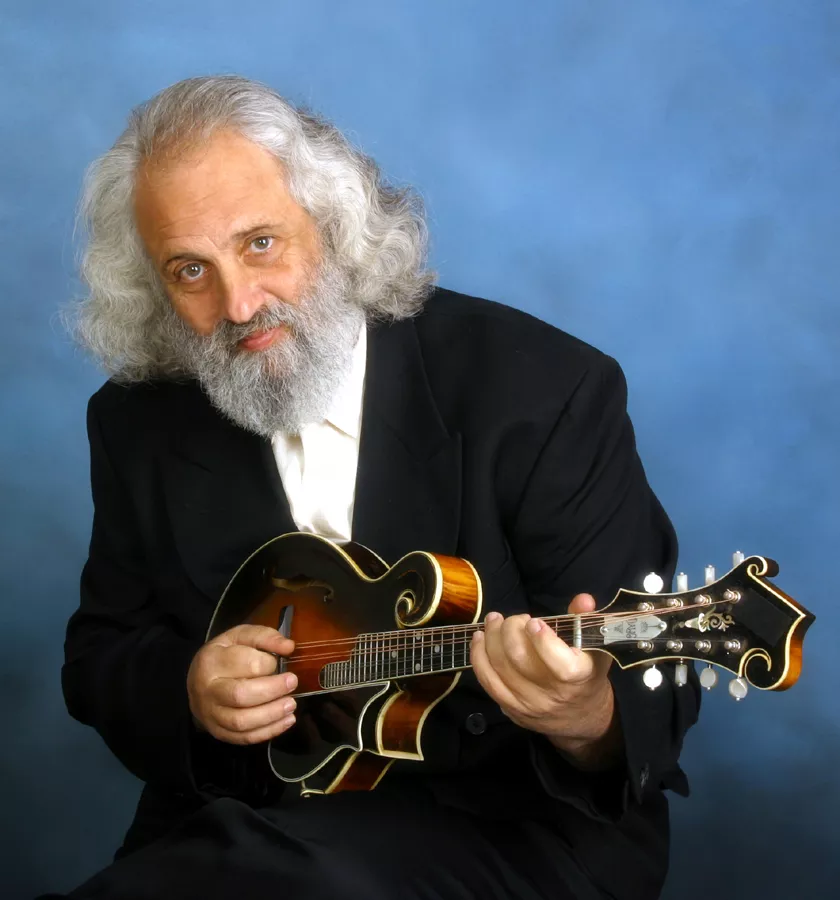 For decades master mandolinist David Grisman has been at the forefront of a fusion of Old World stringband music, Appalachian bluegrass and Django jazz known in some quarters as newgrass. In Grisman's world, it's "Dawg" music -- Dawg being the nickname he was given by the late great Jerry Garcia, one of many storied musical partners over the years.
While he plays in many contexts, his prime performance vehicle over the years is the David Grisman Quintet, a well-oiled Dawg machine with a variable but always stellar cast. When we contacted Grisman last week via email, he'd been spending time with DGQ rehearsing material for a collection of gigs, among them a show at HSU's Van Duzer Theatre Saturday, May 8.
Along with some brand new tunes, they'll play some from Grisman's back catalogue with other artists such as "Dan'l Boone," first recorded with Sam Bush, and "Waltz for Gigi," done with Denny Zeitlin. And, he noted, "We are also playing a wonderful tune written by Grant Gordy, 'Blues to Dawg,' which I helped him record on his new CD. And, of course, we'll be playing some of our 'standards' as well."
Guitarist Gordy is the latest DGQ addition. "Grant started sitting in with the DGQ at gigs in Colorado (where he lives) when he was a teenager," said Grisman. "He started playing with us three years ago, initially as a sub for Frank Vignola when Frank was unavailable. After a while, Frank became too busy with his other projects and Grant became our guitarist full time."
Grisman describes the young picker as part of "the new elite family of American acoustic practitioners who are pushing the ever-expanding envelope of a musical frontier." What's Dawg's role in that family? "Friendly uncle."
Grisman was an early adopter of the artist-run record label model, working with a couple of friends to establish Acoustic Disc 20 years ago. With the music distribution business going through major changes, where does he fit in?
"I actually don't fit in," he said. "I'm an independent free thinking musician who feels comfortable ignoring popular trends. Establishing Acoustic Disc was part necessity and part invention... It's been a wonderful endeavor and now we're looking to do a lot more in the digital domain with Acoustic Oasis."
He's exhilarated -- and liberated -- by the recent launch of an online Acoustic imprint. "Now I can make available many more projects that would have been questionable business decisions as CD releases. We're literally going everywhere with quality acoustic music from the past, present and future -- both live and studio recordings. And of course having a product that you don't have to manufacture or ship is a retailer's dream come true."
Among the first releases on Acoustic Oasis is something they call Extra Large Pizza Tapes, a super-sized 170-minute version of a classic album with Grisman, Garcia and Tony Rice trading licks. You can also expect some unearthed tracks from Old & in the Way, the bluegrass supergroup with Jerry, Dawg, Peter Rowan and friends. Grisman's musicologist side is reflected in pending releases by bluegrass legend Bill Monroe, Russian mandolinist Dave Apollon and Brazilian mandolinist Jacob do Bandolim. Already in the digital can: music by Italian banjo/mando virtuoso Giovanni Gioviale and a 4-CD set by Danish swing violin master Svend Asmussen, who Grisman notes is "still 'svingin' at the age of 92." Grisman turned 65 this year, but rest assured, he's not retiring -- he too has a lot more svingin' left to do.
The David Grisman Quintet performs at HSU's Van Duzer Theatre on Saturday May 8 at 8 p.m. Tickets are $35, $30 for seniors/children and $25 for HSU students and are available at the University Ticket Office 826-3928 at The Works in Arcata and Eureka, or at centerarts.humboldt.edu.