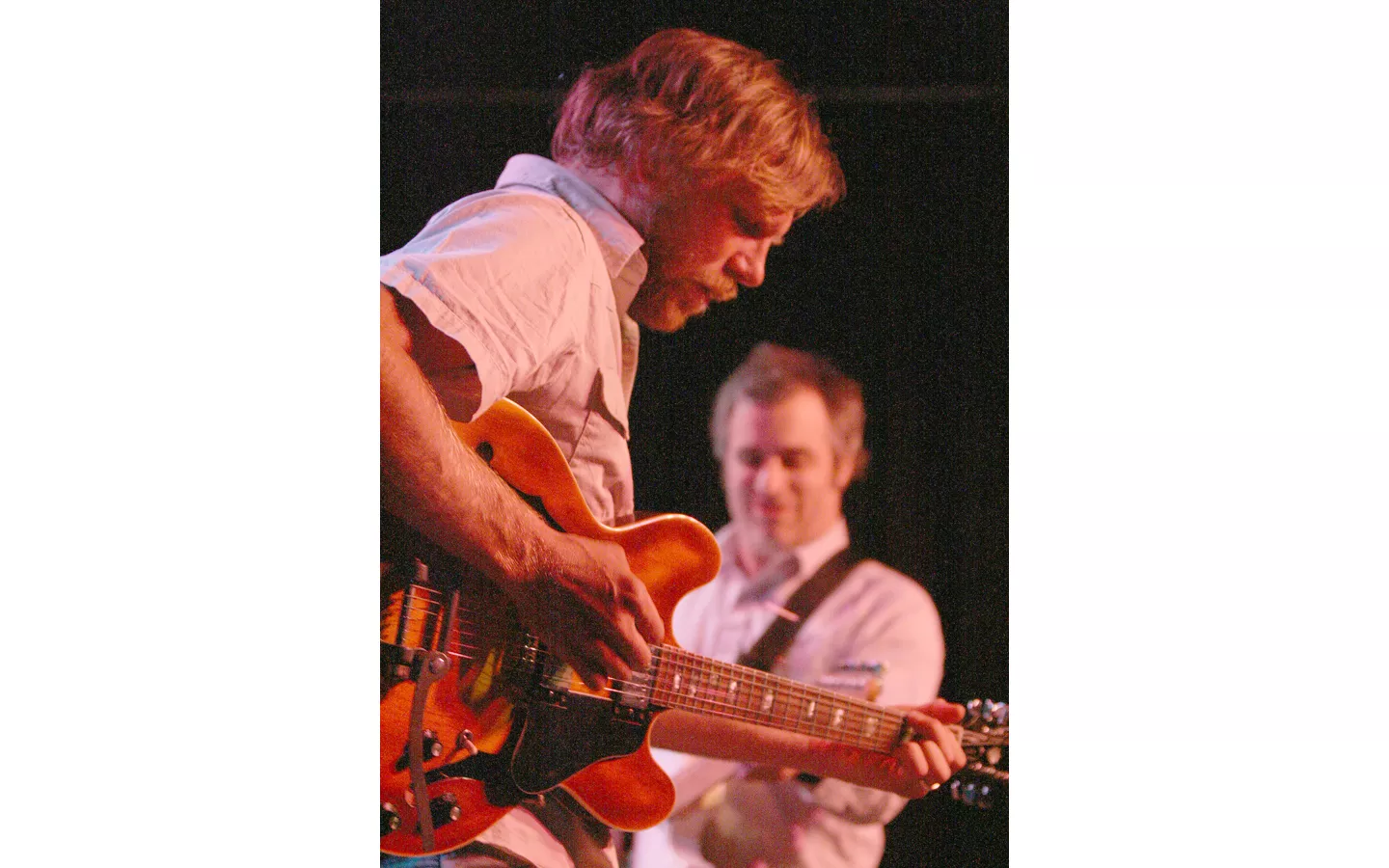 photo by Bob Doran
Tim Bluhm and Greg Loiacono of The Mother Hips at Humboldt Brews
It was 20 years ago when Tim Bluhm and Greg Loiacono started playing their guitars together, jamming on rock tunes they knew and, after a time, the occasional original. While attending CSU Chico they put together one band after another, eventually settling on the name The Mother Hips. By 1993 they'd recorded their first album, Back to the Grotto, a collection of tunes steeped in California rock history. They sold the CD at shows around Chico and Sacto, coming over to the coast often to work the Arcata/Eureka bar circuit.
There's is a classic rock 'n' roll story: courted by major labels, finally landing a deal with Rick Rubin's American Recordings, which re-released their debut disc and recorded another, a move to the City (S.F.). But at their heart, The Hips were always an indie band, too indie for the majors. American dropped the ball promoting them and the label itself eventually died, offering a prelude of things to come for the industry as a whole. More interested in making good music than business, The Hips marshaled on.
Loiacono and Bluhm developed into seasoned, literate songwriters drawing lyrical inspiration from writers like Steinbeck as much as from their precursors in the rock world. There were bumps in the road -- both tried solo work for a time, but they got back together. They had something, a sound built on the warmth of California rock with elements drawn from sunny SoCal country rock and S.F. psychedelia, but updated for the new century and personalized. Somewhere along the way they dubbed their sound "California soul" -- it fits. Their latest disc, Pacific Dust, finds them in fine form. That material was the focus when they played at Humboldt Brews last November, the first show ever in that space. Those in attendance saw a mature band at the top of their game. A splendid time was had by all.
Now they're back, closing a day full of music Saturday at the Oyster Festival on the Arcata Plaza -- what could be better than some fine California soul on an afternoon in the sun? Well, maybe following it with another set or two at Humboldt Brews, where they play for what's deemed the "official" Oyster Fest after-party. (Note that the other O-Fest bands are both playing at the Wave: Acacia Collective on Friday and Woven Roots on Saturday.)
With competition from several unofficial O-Fest after-parties, it looks like a helluva night in the greater Humboldt Bay area.
Ripping guitarist Gretchen Menn, heavy bassist Nila Minnerok and kick-ass drummer Clementine played together in the metal band Bottom, and a couple of them worked on the side in AC/Dshe, an all-girl tribute to, you guessed it, AC/DC. Add vocalist Anna Kristina and the songs of Led Zeppelin and you have Zepparella. They will rock the Arcata Theatre Lounge Saturday night along with the inimitable Magnum, who offer a tribute to the general notion of heaviness, along with a glimpse of the look that comes after Blue Steel. (They're also playing for our awesome 20th anniversary bash July 3. More on that later.)
Remember back in May when The Buffy Swayze had that big benefit to help out with heart-related medical bills for Jesse's wife, Jessica? As noted then, a second benefit is planned for Saturday, June 19, which by chance coincides with O-Day. This time they're at the Alibi, joined by Arcata's all-star power trio Dynamite Sweater, with Mike and Tad from The Cutters plus DJ Red on vocals, offering what Red describes as "comedic rock 'n' roll on the new wave tip."
In other related biz, Andy from Strix Vega writes saying they're looking forward to the Oyster Festival. "We will of course be joining the crowds and enjoying oysters (at least some of us) and beer (at least all of us) down at the Plaza. After enjoying some hopeful sunshine we'll be heading over to The Jambalaya for their Oyster Fest After Party. We'll be joined by The Bucky Walters and our friends from Berkeley, The Real Nasty (featuring members of Afrobeat superstars, Albino!)." Andy concludes with a competitive price comparison, but we'll skip that.  BTW, don't be misled by the Albino! reference -- The Real Nasty is a country-rock band with Jacob Groopman on electric guitar, Ryan Lukas on upright bass and Matthew "Smitty" Smith on Cajon box drum.
Meanwhile in Eureka Saturday night, deadheads will gather at the Red Fox Tavern where The Play Live Dead Band is throwing "a musical dance party." Says TPLDB's Jim Walsh, "The time is right for dancin' in the streets!" Or in nightclubs, or wherever.
Ran into keyboardist Aber Miller at Saturday's Farmers' Market where he was playing funk with Fire It Up. What shall we call the band he's assembled to play at this Sunday's Jam at Morris Graves Museum, I wondered. "The Aber Show!" he replied with mock excitement. "All my tunes! You've been waiting for this!" He'll be playing those tunes you've been waiting for on the Graves' baby grand (and kazoo) joined by drummer Abe Chase-Mohammed and bassist Sam Roberts with Rose Armin-Hoiland adding vocals on some songs and, added Aber, "Isaac [Williams from F.I.U.] may play sax on a couple."
Aber explained that F.I.U. is "kind of The Bump Foundation, but Fire It Up is allowed to play the Farmers' Market, and Bump Foundation is not. The market people said Bump sounds too 'nightclubby,' so Greg rearranged things slightly to get us in."
That's Greg as in guitarist Greg Camphuis, who is bringing The Bump Foundation (with "some special guests and fresh material") to a nightclub near you, the Jambalaya, on Friday night.
Humboldt's favorite soul man, Earl Thomas, celebrates the release of his new album, Introducing the Blues Ambassadors, with a Sunday evening concert/soul food dinner benefiting Ferndale Repertory Theater. You'll get Earl's contemporary blues fusion with a side of Ferndale chef Steve Sterbeck's jambalaya.
Also on Sunday, Father's Day, Yogoman Burning Band plays an afternoon show at Six Rivers Brewery (3-6 p.m.) with families in mind. Bring the kids! Bring Dad! There's even a special family price. 
It's punkabilly time at the Red Fox this Thursday as The Chop Tops stop off on their way to the Rose City Round-Up, a car show/rockabilly fest up Portland way. L.A.'s The Henchmen are along for the ride.
In the opposite direction, in more ways than one, you have the Sierra Nevada World Music Festival this weekend with Baaba Maal, Fat Freddy's Drop, Toubab Krewe, Don Carlos and Alborosie among the headliners.
Got a note from Catherine Feeny, a singer-songwriter originally from England, now from Portland. "The North Coast in all its wild beauty and gorgeous character is near and dear to my heart," she wrote, noting she's played here before "both as a solo artist, and as part of the band Come Gather Round Us." She also dropped Mike Dronkers' name and mentioned that she's had songs placed in a film (Running with Scissors) and on TV (The OC, Mercy) -- the question is, are the songs any good? They are. I've been listening to her People in the Hole album a bunch and especially love the opener, "Jacaranda," and the closer, "Junk Queen," a happily twangy tale of heroin addiction with Brian Wright sharing vocals. Catherine's coming here (again) to play a house concert in McKinleyville on Wednesday, June 23. See the calendar for details.
That's the same night the Folklifers have Brooklyn's rollicking honky-tonk band The Sweetback Sisters at the Arcata Playhouse. The sisters (who are not biological sisters) have Prairie Home Companion on their resume, and you can see why -- they are good.
And finally some sad news via Eldin Green: Norm Copperman, jazz piano player extraordinaire, passed away last Saturday after a long illness. He'd retired locally; you may have heard him play with Mr. Calamari. May he rest in peace.