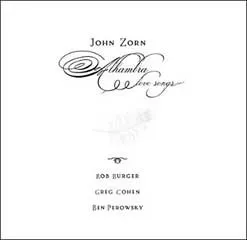 In the mid-1980s I witnessed avant-garde saxophonist, instrumentalist and composer John Zorn literally clear a room at St. Mark's Church in NY's East Village during an annual New Year's Day poetry/performance marathon. At the time, it was not surprising to be assaulted by Zorn's confrontational, post-No Wave style: loads of honks and screeches produced from his alto sax (and a duck call). But, occasionally Zorn also showed his more tender side, playing his alto sax with fluid, melodic lines.
After working on numerous projects, from his 1986 Ennio Morricone-inspired work The Big Gundown, to film noir-inspired deconstructions, Spillane (1987) and Naked City (1989), Zorn and the Lower East Side NY underground music scene started to draw outside attention. Zorn, along with other NY musicians such as John Lurie, Arto Lindsay, Christian Marclay, Diamanda Galas, Wayne Horwitz, Henry Kaiser and Bill Frisell, started to forge paths in contemporary music, often blurring and redefining more traditional musical boundaries.
Over two decades and more than 400 recording appearances, Zorn has created a staggering body of challenging and eloquent work, primarily from his compositions, arrangements and casting of musicians. And while he has produced more accessible work -- 2008's The Dreamers, for example -- the die-hard New Yorker has never dedicated an entire recording to work inspired from West Coast artists. Zorn's recent release, Alhambra Love Songs, is what it states: love songs to individuals, cultures and a geography. For the most part his compositions take their titles from a number of small towns in the San Francisco Bay Area.
"Mountain View," a song dedicated to Vince Guaraldi, is a methodical opener that acknowledges the jazz pianist and "Peanuts composer," but it also contains Zorn's subtle touches of Middle Eastern and Jewish musical influences. The trio in the recording -- with original Tin Hat Trio member/founder Rob Burger on piano, Greg Cohen (Tom Waits, Ornette Coleman, and Zorn's Masada project) on bass and former Lounge Lizard Ben Perowsky on drums -- show great chemistry, allowing for a looseness and a warmth to their sound while maintaining a musical edge. They are a masterful outfit, especially the pianist Burger, who punctuates his playing with confidence and flair in a nearly "East Coast" hard bop style. From the sublime "Half Moon Bay," dedicated to poet Lyn Hejinian, to the melancholic "Novato," to the Sephardic funk of "Larkspur," Zorn doesn't merely emulate his interpretations of West Coast jazz -- he remakes them.
One of the great things about jazz as an art form is that it lends itself to be constantly reinterpreted and redefined. What is important to note is how this redefinition is executed. Alhambra Love Songs is yet another John Zorn record executed with grace, musical excellence, a sense of play and intensity. And, oddly, it just may be one of the great summer records of this year.