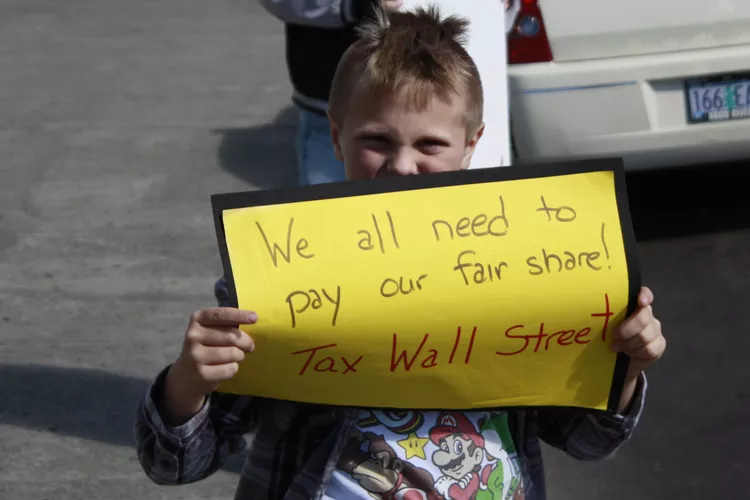 Photo by Zach St. George
Truth Jackson, 9, of Eureka holds a sign outside the courthouse on Saturday. He goes to Washington Elementary School, and was attending the protest with his mom.
Truth Jackson peered over a yellow sign that read, "We all need to pay our fair share! Tax Wall Street!" The 9-year-old was spending his Saturday standing on the sidewalk in front of the Eureka Courthouse with a crowd of Occupy Eureka protesters. The blond, mohawked kid gave a savage grin to the cars that honked as they passed.
Jackson and his mom were at the courthouse along with 15 or so other protesters, all there to show their solidarity with the Occupy Wall Street movement taking place in New York. They held signs and wave at the cars driving by. There weren't any American flags waving. There weren't any tricorne hats. But though the slogans may be different, it's hard not to think of another group of activists that stood in the same spot in recent years -- the Tea Party.
Two movements grown from the ground up. Two groups of people who see the little people getting trod on by the oppressive powers that be. Two groups of Americans, worried about their money, the public's money, and what the future may hold. Both local Tea Party activists and Occupy Humboldt activists, however, have trouble seeing any hint of themselves in the others.
"I see it as a lot of spoiled people," said Margaret Stafford, a longtime Arcata resident and former city council candidate, who identifies politically with the Tea Party. The Occupy Wall Street protesters seem to just be railing against all things corporate indiscriminately, she said, and the anti-capitalism undercurrent bothers her. "I think it's a lot different from the Tea Party-type activist," Stafford said.
One Tea Party follower contacted by phone said that there are absolutely no similarities and demanded an apology from the reporter for asking if there were, before hanging up.
The Occupy Wall Street movement has attracted derision from conservative political pundits and TV commentators for its apparent lack of focus and leadership. Indeed, the slogans on the signs outside the courthouse ranged widely in content, from the standard "Wall Street trickle is fickle" to "Radiation is here among us!" One sign protested fluoride in the public water supply.
Despite the diversity of causes represented, it's shortsighted to say that the Occupy movement is too varied to be consequential, said Jack Nounnan, standing out in front of the courthouse. "We're intelligent enough to have more than one ball in the air." Occupy Wall Street is more of a people's movement than the Tea Party movement, he said. "This is very inclusive and welcoming."
The Tea Party hasn't been exactly focused either, said Jim Decker, also at the courthouse. Tea Partiers represent general discontent, with the president, with taxes, with government, with liberal social policies, he said. "I don't see coherence there either."
But is it possible that the Occupy Wall Street-Tea Party divide is more of a rift between generations than of substance?
Charles Ciancio has lived in Humboldt for decades, and is a Tea Party supporter. Ciancio worked his way through college at a local lumber mill pulling greenchain -- grabbing and stacking freshly milled timber. Seeing young people protesting against Wall Street is grating to him. He attends local Tea Party meetings, and said that the crowd tends to be older. "I think they appreciate a little more working for a living, reaching the point where they can take care of themselves," he said. The new protesters represent a sense of entitlement in Ciancio's opinion. "Have any of them even worked, ever hauled in a bale of hay?" he wondered.
Both movements were born out of tumultuous times.
The Tea Party movement began in 2009 following the 2008 Democratic sweep of Congress and the White House. The conservative/libertarian movement, which is pro-states' rights, pro-small government, and anti-tax quickly rose to national prominence, and solidified its political power in the 2010 elections, when Republicans gained control of the House of Representatives. Many of the new Republican representatives campaigned under the Tea Party flag, and three current Republican presidential candidates identify themselves as Tea Party members.
The movement, which lacks national leadership, has been lauded as an example of grassroots organization, although critics are quick to point out that the fledgling Tea Party received large amounts of funding from David and Charles Koch, frequent contributors to Republican causes, among others.
Occupy Wall Street began in mid-September, when hundreds of protestors marched through New York and slept on the streets, demanding financial and political reform, among other things. Within weeks, the protester's ranks swelled into the thousands, and New York City police arrested hundreds. The movement attracted steadily increasing media attention, and spurred similar protests across the nation, including in Eureka and Arcata.
If nothing else, both movements have inspired average people to get involved politically -- and their members might find more in common if they paused to consider. Ciancio said that if the Occupy movement could look beyond Wall Street and broaden its focus to all the elected and appointed officials making huge salaries, it would be more on track with Tea Party objectives. He made it clear that he does not approve of the new protesters, but he did say that, however indirectly, the movements could be working toward some of the same goals.
While the Tea Party has carved itself a niche in American politics, at least for now, the future of Occupy Wall Street is less clear.
Henry Willey Jr. was at the courthouse on Saturday. He said that, while a demonstration can bring immediate attention, real change can only happen if the movement has clear goals about what needs to change. "It's not gonna mean much without organization," he said.
Organization seems to be coming. The Occupy Humboldt website has pictures, lists of resources, and a live video stream of the ongoing rally at the Humboldt State University quad. Besides the continuing demonstrations there and at the Eureka Courthouse, there will be rallies at the Arcata marsh on Wednesday, Oct. 12, at 6 p.m., and Thursday, Oct. 13, at noon at the Arcata Plaza.
Decker said that he's been a part of multiple movements over the years, and each one is different. "With a true grassroots movement you never know where it's going to go until it gets there."
For 9-year-old Truth, it's all about the future. "I want to be part of the 99 percent," he said, a little hesitantly. Then, more confident, "I want to help the kids have a good future."