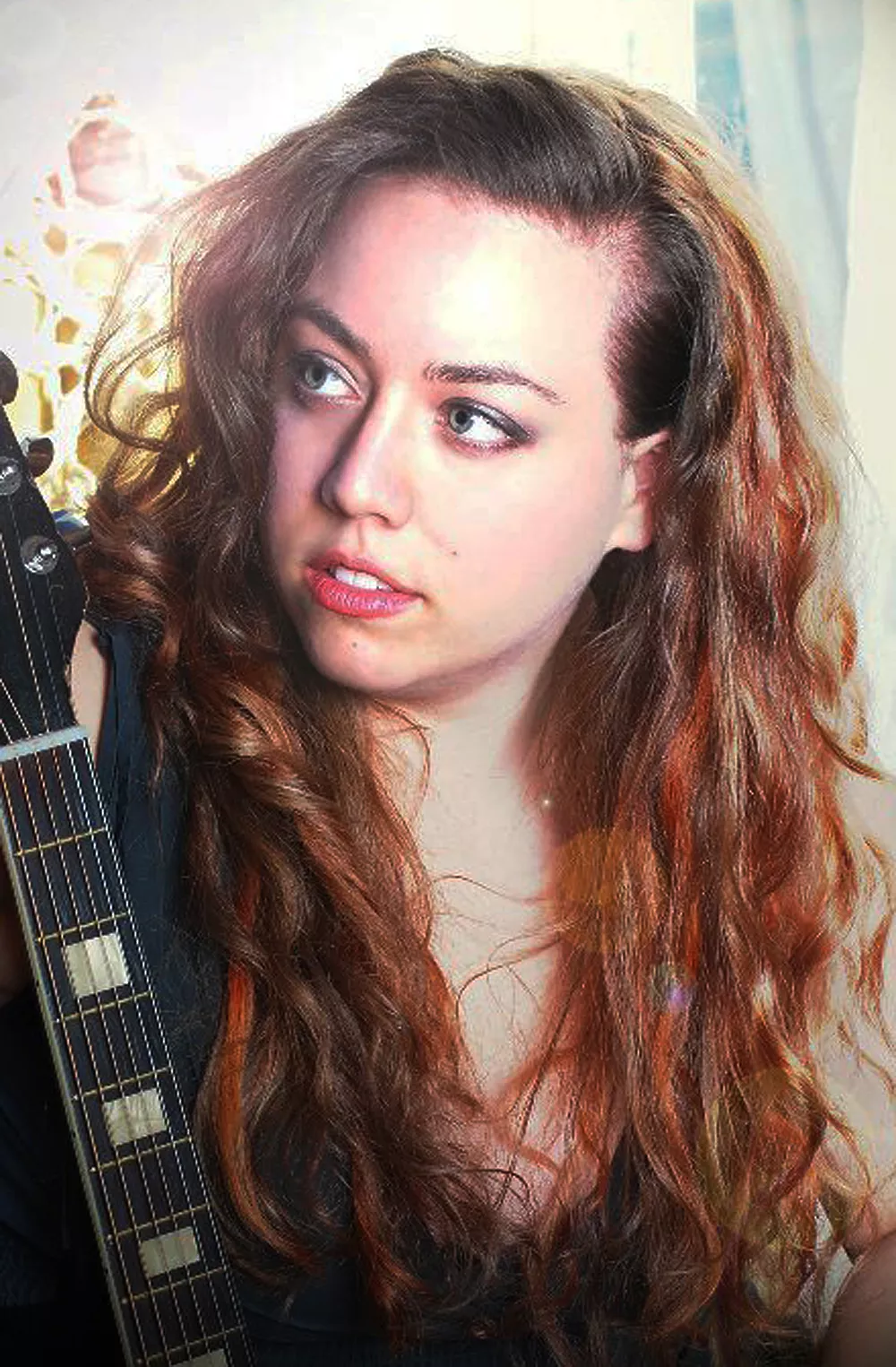 Considering her melodious name, it's not surprising that Melody Walker became a musician. After living for years in Humboldt and earning a music degree from HSU, Melody now lives in the East Bay with her musician boyfriend Jacob Groopman of The Real Nasty. When I caught up with Melody Tuesday morning via cell, she and Jacob were on their way to Caspar on the Mendo coast.
"We'll be recording for a few days, doing my first studio album, all original music," said Melody, explaining that the project was financed via IndieGoGo, an online fundraising platform similar to Kickstarter. "I raised five grand and reached my goal, plus $700 more. I figure it will cost me around $10,000; the rest will be out of pocket."
Despite the sorry state of the music biz, she's not worried about the return on her investment. She knows she'll make the money back. "You can totally do it; you just have to leave town. You have to tour your ass off, but every night you play, people will buy your CD."
She calls her semi-folky style "Americali" noting, "That word is copyrighted. It's basically Americana with a California twist, a little world music, a little jamband. I don't know, maybe not 'jamband,' Jacob doesn't like that." (He's her arranger, and apparently he grimaced at the word while listening in on our interview.) "You could say there's a New Age spirituality to it. It's folk with a traditional edge, but with my provocative nature in the mix. I grew up with traditional folk, but also pop like the Beatles, and I really got into provocative songwriters like Ani DiFranco."
After a few busy days recording, Melody and Jacob leave Mendo for a very busy Friday. "Friday morning we play the Head to Head Dead fest in Redway -- I think we're the first act. We're busting out a couple of Dead tunes for that. We've been doing Merle Haggard's 'Sing Me Back Home' that the Dead covered, then we'll do something off Working Man's Dead, the Dead's bluegrassy record."
After the morning set they head to Ferndale to play on KHUM in the afternoon, then to Jambalaya for a Friday night show. "We're playing with our new friends, The T Sisters. They have great harmonies, kind of like The Roches, and they're really sisters. Two are twins actually." (The three sisters are Erika, Chloe and Rachel Tietjen.)
Also on the bill, The Bucky Walters, back home after playing the festy circuit. "It's always a good time with The Buckies," says Melody. 'It's bahl hornin' -- that's Boontling for good drinkin' music. You know their band name is Boontling too; it means phone booth. The only remaining phone booth in Boonville says Bucky Walters on it. Don't ask me to explain why."
Promoters have upgraded the headliner for the above-mentioned Head to Head Music Festival, Friday and Saturday at Dean Creek Resort north of Redway. While early posters promised "Steve Kimock and Friends," the latest redefines that as Zero. That's the band Kimock founded in Marin County in 1984 with Greg Anton and John Cipollina from Quicksilver, mostly playing spiraling improv instrumentals, but eventually enlisting G-Dead lyricist Robert Hunter, who wrote songs for the Zero Chance in a Million album. The latest Zero, playing two sets each night at Head to Head, includes Kimock, Anton, Bobby Vega (who played with Kimock in KVHW), Chip Roland and vocalist Judge Murphy. The rest of the fest "deadicated to honoring the Grateful Dead Family," is heavy on the Dead/Jerry tributes with SoCal Dead tribute Cubensis, Wake The Dead's Celtic Dead covers, and Deadicated Maniacs along with other jammy bands.
John Butler is a star in Australia, but he was born in Torrance, which makes him a SoCal guy, at least a bit, even if his family moved down under when he was a tyke. His rootsy jamband The John Butler Trio has been phenomenally successful back home, taking three of their five albums to the top of the Aussie charts with music that mixes Jack Johnson's mellow beach vibe with a touch of Michael Franti and some Ben Harper-esque blues (like Harper, Butler plays a Weissenborn). JBT plays Wednesday, Aug. 17, at the Van Duzer sharing the bill with the closely related Mama Kin. How close? Lead singer Daniella Caruanam, aka Mama Kin, is also Mrs. John Butler. Her brother, Nicky "Bomba" Caruanam is the drummer in JBT; his brother, Michael Caruanam, plays in Mama Kin and in Nicky's band Bomba.
Shemekia Copeland draws on a long tradition of women in the blues, walking in the shoes of icons like Etta James and Koko Taylor. But she also tries to be an innovator like her dad, the late bluesman Johnny Copeland, who, among other things, traveled to Africa to play and record. "I've had success in my career, and I'm happy with that," says Shemekia in a note on her website. "But that doesn't mean I don't want to continue to grow. In order for an artist to grow -- and for a genre to grow -- you have to do new things. ... My main goal when I started this was that I was going to do something different with this music, so that this music could evolve and grow." See what's new with Shemekia when she brings her band to Humboldt Brews Wednesday, Aug. 17.
On the electro front you have Travis Egedy, aka Pictureplane Thursday at Jambalaya with Javelin and Hollagramz. Then there's Deep Groove Society's "birthdaze" Sundaze at the Jam (Sunday) with Jan van Lier back in town, DGS resident DJ JSun and b-day boy Psy Fi.
Tahoe-based roots/Americana combo Dead Winter Carpenters plays Friday at the Wave. Saturday the casino has Afrolicious, a DJ team with Pleasuremaker and Señor Oz. They typically host a dance party Thursdays at the Elbo Room in S.F., often with live percussionists and sometimes a full band. Whoever is coming north with them also plays for a Concert on the Plaza Sunday afternoon in Arcata (2-4:30 p.m.).
Saturday at the Alibi, Alabama alt. "ghost" country combo Pine Hill Haints shares a bill with Portland rockers Hauksness.
Former locals The Ian Fays are back playing their Casio-licious music at the Shanty Monday night with spacey looper Mister Moonbeam.
Jonesing for some reggae? Bambú Station, a band from the Virgin Islands led by vocalist Jalani Horton, plays Monday at the Jambalaya.
Young old timer Frank Fairfield returns to the Jambalaya Tuesday with his guitar, banjo and fiddle. All I can say is, Frank's the real deal. Local string band Wet Fez opens.
Adding to the never-ending stream of tributes, a Saturday show at the Red Fox by Long Beach Rehab, a tribute to Sublime and Bad Brains. Rehab members include bassist Q-ball from another Sublime cover band, LBC Sublime (who reminds us that he's not Eric Wilson) and vocalist Israel Joseph who replaced HR in Bad Brains for a few years, plus Chris Sepulveda who allegedly played with Smash Mouth. "Guaranteed crowd pleaser for any diehard Sublime fans out there!" promises show promoter Ole of Diamondback.
Meanwhile, Saturday night, at some crazy campground in Illinois, Humboldt hip hop legends Potluck -- 1-Ton and Underrated with special guest Garth Vader (see 7-Oh) -- play on the main stage of the Insane Clown Posse's 12th Annual Gathering of the Juggalos opening for a line-up that includes Vanilla Ice, George Clinton and Funkadelic, Tech N9ne and Twiztid, and, get this: Charlie Sheen serving as host. You can tune in to this insanity on the Internets (3 p.m. our time) for just $19.99. Party on, Garth! "Winning!"