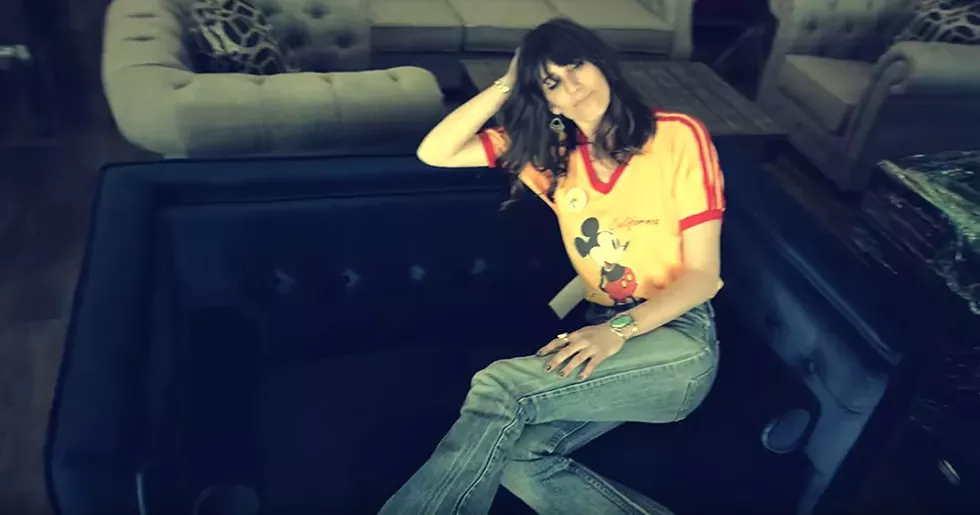 From YouTube
Nicki Bluhm plays Humbrews on Wednesday, June 13 at 9 p.m.
It's a packed week of great music so I will keep this intro as lean and mean as a vintage WWF wrestler's rant track. Here goes: The weather's fine, the music's good, so get off the couch ya potatoes (hold the last vowel sound before cutting with the sibilant S) and see some dang shows! (Same instructions as before on pronunciation but really yell this time. Also, feel free to end with a nonsense word like "boo-ya" or "gubernatorial").
Have a badass week.
Thursday
The Jam continues its YAMS-curated Thursday Pint Night series at 9:30 p.m. ($5). The evening of half-priced beer pints will feature performances by Los Angeles rockers Kaz Mirblouk, Portland indie groove machine Astro Tan and local spacey, jazzy jammers Foxtrot.
Friday
It's Trap Night at the Miniplex beginning at 8 p.m. For a mere $10, you can get real deep down to that most modern and perfect hip-hop hybrid, trap, with the instructors from Body High Pole Dance.
Blue Lake's hard country balladeers Barnfire play a free set on its home turf tonight at the local honkytonk parlor, aka The Logger Bar. The music kicks off around 9:30 p.m. so bring your best boots and evening bolo tie.
Saturday
The Westhaven Center for the Arts has a good one going on tonight at 7:30 p.m. for all of you no depression, alt-country fans in the 707. Local luthier and Georgia transplant Michael Walker plays with his group The Handshakers to deliver a set of rough-hewn beauties. Close your eyes and hear the stories from the big spaces between the cities ($5-$20 sliding scale).
Here are two fine tribute shows for you in Eureka. At 8 p.m. at The Eagle House there is a burlesque birthday tribute to fallen royalty — America's only royalty — The Artist Formerly Known on this Plane of Existence as Prince ($25, $20 advance). DJ Goldylocks, Bada Bling! Burlesque, Rag Doll Revue and many more will help ring in the purple one's second posthumous birthday (plus two days) because fuck it, it's 1999 somewhere.
Meanwhile at Humbrews at 9 p.m. Full Moon Fever celebrates the songbook of the late Tom Petty for those of you who enjoy a more low-key type of pop-rock perfection. Join local six-string slinger Piet Damolen and friends as they free fall through the great wide open. ($10, $7 advance).
Sunday
The Outer Space hosts an evening of pop punk miscellany tonight at 7 p.m., when Minneapolis' Scrunchies roll into town ($5). Joining them will be Eureka's Clean Girl & the Dirty Dishes — featuring members of Monster Women — and Arcata's gentle act Daniel.
Over at the Miniplex, ex-Ariel Pink and Deerhoof-ster Chris Cohen brings his lush pop to the stage at 9 p.m in support of his forthcoming Captured Tracks album, As If Apart. Joining him will be Shannon Lay who brings her folk splendor on a return trip to Arcata after opening for Ezra Furman last month. Also on the bill is Meg Duffy's Los Angeles-based lo-fi act Hand Habits. Guarantee a place in sonic heaven for $10.
Monday
KEET/KHSU present a Lost Coast Sessions set by Lord Ellis tonight at the Arcata Playhouse at 7:30 p.m. After a long hibernation, The band is back at it again with a new album in hand to help spread the good word of the bucolic riff-rock gospel. This is a free show with only one band on the bill so expect a long and special setlist of tunes by the masters.
Tuesday
My memories of the 1980s are fairly ephemeral eight-bit flickers in a wash of cathode-tube TV sunshine but if there is one idea that locks in from my dayglo childhood it is the perfect pairing of skate culture and punk rock. I may not be Rodney Recloose or Bionic Lester from the OG Nintendo game Skate or Die, or a young Sam Rockwell in the first Teenage Mutant Ninja Turtles movie but I can appreciate rebellion and plywood ramps. These go together like early Wu-Tang and Mortal Kombat arcade games so head down to RampArt at 8 p.m. to enjoy Portland's hardcore wonders Long Knife ($6). It's an all-ages show with a bar for those with ID and the full spectrum of local punk bands will provide support, from the straightforward approach of The ChainLinks to the thrashy weirdness of Smooth Weirdos to fantastic poli-sci sounds of The Cissies and SLOP.
Wednesday
Nicki Bluhm, formerly of The Gramblers, has gone off on her own in her musical and personal life. Breaking from the alt-country jam folk act she fronted for nearly a decade and going through a divorce, she is touring on her new solo album, appropriately called To Rise You Gotta Fall. She will be playing with her band at Humbrews tonight at 9 p.m. so come out if you dig her vibes ($18, $15 advance).
Full show listings in the Journal's Music and More grid, the Calendar and online. Bands and promoters, send your gig info, preferably with a high-res photo or two, to music@northcoastjournal.com.
Collin Yeo thinks that Marc Bolan telling the press that his song "Metal Guru" is "just about a car, man" is just about as cool as Karma. He lives in Arcata.