Intricately carved by the hands of an artist in central Mexico some 200 years ago, the delicately painted statue of baby Jesus with crimson lips and outstretched arms has spent the last century in the care of Marie Escher's family.
After it was passed down to the Arcata resident in the early 1970s, she continued the long-held tradition of bringing the Niño Dios out at Christmas time, when he would hold court on her grand piano, nestled in red velvet and surrounded by holiday boughs, the special guest at decades of cocktail parties held in his honor.
Amid the passing of Champagne-filled glasses, Escher says she would relate the story of Niño Dios, whose history — now intricately linked with that of her own family — is as colorful as the picturesque mountain town of Guanajuato from which he came.
Born of a prayer answered and whisked away to safety from Pancho Villa's marauding army, his future is now a matter of foreign relations, necessitating federal and congressional intervention to help secure a safe passage back.
Escher, a spry octogenarian with a quick laugh and bright smile, says in recent years she "started to worry about his future" and began charting a course to return Niño Dios to the church where he once sat perched on the hand of the Virgin Mary.
Now she hopes the petite statue — about the size of a small child — will soon be making his way home, with her family's long held promise to keep him safe fulfilled. "I had often thought it would be good to get him back," Escher says.
Illustration by Jacqui Langeland
El Niño de Atocha
Ceremoniously known as El Niño de Atocha de Guanajuato, the statue's creation — and eventual arrival in the United States — is steeped in the ravages of war.
The story begins at the Battle of Guanajuato in September of 1810 during the Mexican War of Independence, when a man was gravely wounded while defending the Spanish stronghold at the center of town. As his family prayed for him, they made a vow: If he recovered, they would have a statue of El Niño de Atocha commissioned for their parish church. The man survived and his family kept their pledge.
After the wooden baby Jesus was presented to the church, each year the religious icon would make a special pilgrimage to soldier's family home for Las Posadas, a festival commemorating Mary and Joseph's travels from inn to inn, searching for a safe place to stay.
That tradition was still taking place at the turn of the 20th century when Escher's mother, aunts and uncle were growing up in Guanajuato with their Methodist missionary parents — a lineage Escher clearly delights in describing as "an interesting bunch."
Her grandfather, Escher says, was a physician who treated anyone needing his help and became known as a "doctor to the nuns and the whores and the elephant in the circus," the latter a reference to his successful care of a sick animal when the traveling show stopped for a visit.
While living in Guanajuato — a silver mining town with bright pastel buildings packed tightly together on narrow cobblestone streets — Escher's mother and aunt struck up a friendship with Maria de Jesus Arizmendi, a member of a prominent Guanajuato family and a direct descendent of the man whose brush with death led to the statue's inception.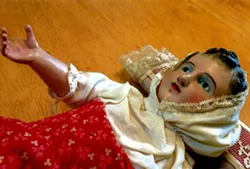 Submitted
Niño Dios.
They were invited to join the family's Las Posadas celebration, during which Escher says she was told Niño Dios was carried on "a large silver tray, surrounded by French creams," with the ritual being that revelers would kiss his baby toe before taking a treat.
But the Mexican Revolution erupted in 1910, once again thrusting the nascent country into the throes of war. During the ensuing decade of civil unrest, even churches were not immune to plunder and Pancho Villa, one of the revolution's most prominent and feared figures, more than once made his way to Guanajuato.
On two occasions, Escher says, Villa lined her American grandfather up for execution, with her grandmother stepping in the first time to tell the general he would need to shoot her, too, as she never went anywhere without her husband. While both survived, Escher says the stress of living through the revolution took a toll on her grandmother's health and she died in 1926, not long after the war's end.
Amid these turbulent times, according to the family story, Maria came to visit Escher's aunt, carrying with her a large box containing Niño Dios, and implored her to bring the baby Jesus with her back to the U.S. Although Escher's aunt insisted the gift was too great, Maria persisted, saying the beloved statue would be unsafe in Guanajuato.
"You must take him because I've already done the penance for giving him to you," Escher says her family holds Maria responded. But the Arizmendi family member also set down a few conditions, including that he must always be treated with respect and referred to as Niño Dios or Niño de Atocha.
When the aunt fled Mexico a year or so after Escher's mother in 1916, she secreted Niño Dios away with her. For the next 30 years, she would teach Spanish literature at a Southern California college, presenting him to her students each year at Christmas time.
While growing up, Escher says her aunt often regaled her with stories of Niño Dios and her family's time in Guanajuato, but she didn't set eyes on him until she was in her 40s. By then raising three young children in the Bay Area, Escher recalls with a smile how her Aunt Edith delivered the family treasure to their home, saying, "Here, he's your responsibility now."
Now 87, Escher has spent nearly a decade seeking to return Niño Dios to his rightful home, only to run into difficulties at every turn. Her overtures to the Mexican Consulate and the Catholic Church went unreciprocated, including a letter to the Vatican that went unreturned.
Undeterred, the Mills College graduate who minored in art history persevered, aided in recent years by friends. Among them is Louisa Rogers, who has a home in Guanajuato, which she describes as a "color fest" and an "incredible town."
Bill Perry
Guanajuato, Mexico.
Escher, who visited the Arizmendi home during a visit to Guanajuato as a child, was able to remember the general location, which narrowed down Niño Dios' likely church to two neighborhood parishes. Rogers visited both to take pictures of their statues and met with one of the priests.
Still, she left without finding a conclusive connection to the statue's former home.
Meanwhile, Diane Johnson, a professor emeritus at Humboldt State University, wrote letters as well, attempting to secure the religious statue's safe passage to Guanajuato, with Escher concerned that Niño Dios would be in danger of confiscation or worse if efforts to bring him back were not undertaken with official documentation and protection.
It wasn't until Escher reached out to the Eureka office of Congressman Jared Huffman that she was able to make headway, meeting with field representative John Driscoll and staffer Lindsay Righter, who connected with the Department of Homeland Security's Cultural Property, Art and Antiquities Program.
The investigative unit works on "returning a nation's looted cultural heritage or stolen artwork, promotes goodwill with foreign governments and citizens, while significantly protecting the world's cultural heritage and knowledge of past civilizations."
While Niño Dios didn't exactly meet those parameters, Righter was able to connect with special agent David Keller, who works in the department's San Francisco office. He agreed to help bring Niño Dios home.
Submitted
Niño Dios.
More than 100 years after his arriving in the U.S., Escher placed Niño Dios into the care of Keller and fellow special agent Joe Hong during a March meeting at Huffman's Eureka office, the first step in a 2,000-mile journey back to Guanajuato.
For legal purposes, Escher had to sign the statue over to the American government, which, she says, "considers him as stolen property" for logistical reasons "because he doesn't have any papers" to prove his provenance.
Protective until the end, Escher says she told her son she was prepared to "grab the baby Jesus in my arms and run out the door" if she had any doubts about how he would be treated. Such a measure, she says, turned out to be quite unnecessary, describing Keller as someone obviously "very concerned about doing the right thing and getting him home to the right place."
Now the antiquities program will call on its cadre of experts to authenticate the origins of the statue and its age, examining the wood and paint for clues, as well as trying to find a maker's mark before turning Niño Dios over to the Mexican government.
Huffman says Escher's story is just one example of the countless efforts of his staff "every day, out of the limelight, unheralded — but these are the kinds of base hits and occasional homeruns my district staff delivers for people."
The congressman also praises the role of the antiquities program, saying he's "glad that that expertise is there and that you have people like special agent Keller, who has spent his career repatriating antiquities."
Just in the last six months, the Homeland Security program helped return three ancient statues to Lebanon and Roman relics to Italy, including ancient mosaic flooring that dates back to 35 A.D., part of an opulent ship that once belonged to the Emperor Caligula.
According to the department, more than 8,000 artifacts have been returned to 30 countries since 2007.
Submitted
From left to right: Marie Escher, special agents Dave Keller and Joe Hong, and Diane Johnson at the March turnover.
"Homeland Security Investigations is working with our colleagues and counterparts in Mexico to determine the rightful owner of this statue," Ryan L. Spradlin, special agent in charge for the Northern California and Northern Nevada field office for HSI, writes in a brief email response to the Journal, which came after more than a week of inquiries to fnd out more about the statue's journey, including phone call and email exchanges with eight diffent people from Washington, D.C., to San Francisco. "These types of investigations take time but it's worth it in the end to ensure the U.S. does its part to honor a country's history and irreplaceable artifacts."
Huffman also commended Escher for her efforts, saying she has shown a "generosity of spirit that is uncommon."
Considering Niño Dios has been in her family for more than a century, Escher says she has no reason to believe he's not 200 years old. While ready to see him sent back to the town her family once called home, she admits that moment of letting go was not without a tinge of sadness.
"You don't say goodbye to someone you've lived with for 46 years without a tear in the eye," Escher says, "but it was a great relief to turn over responsibility to trustworthy hands and now he is on his way back to where he belongs."
Hearing that the Mexican Consulate in San Francisco might hold a ceremony once the process is completed, Escher says she'd consider attending for a final farewell. Her friend, she says, is also trying to convince her to make the 2,000-mile trip to Guanajuato once Niño Dios' journey is complete.
"So who knows," Escher says with a grin, "we might."
Kimberly Wear is the assistant editor at the Journal. Reach her at 442-1400, extension 323, or kim@northcoastjournal.com. Follow her on Twitter @kimberley_wear.