Submitted
Charmaine Lawson and her son David Josiah Lawson.
April 15th, 2020
To the person responsible for murdering my son,
I am writing this letter to encourage you to come forward in order to bring peace to yourself and my family. Your friends and family may tell you that you are free and to disregard me, however, I know that you are not free in your mind or in your heart.
I'm DJ's mother, you know me by now, and you know I am not going anywhere until I get justice for my son. I pray that you want to heal your soul and want to redeem yourself. DJ, my firstborn, was the love of my life and I miss him dearly. Losing a child is one of the most unimaginable and painful things that a parent could ever experience. Having your child brutally stabbed to death is even worse. Visualizing my son being stabbed, the pain that he experienced, and his last breath are thoughts that haunt my family and me. I imagine the memories from that night haunt you as well.
I address this letter directly to the person responsible for my son's murder. It has been three years to the day since my son was murdered and justice has not been served and every day I suffer even more. On April 15, 2017, you killed my son.
Submitted
Charmaine Lawson and her son David Josiah Lawson.
I gave birth to DJ on May 20, 1997, at 12:52 p.m. I raised DJ with unconditional love, love of God and with the values of kindness, respect and the love of others, just as I imagine your family raised you. We attended church on Sundays and had an amazing family bond. DJ received academic awards throughout his high school years and graduated with honors. He played football and ran track and field. He was an amazing long jumper and hurdler. He loved skateboarding, snowboarding, surfing, playing the guitar and vacationing with his family. DJ was an ordinary young man who just wanted to enjoy life. I wish you would've had the opportunity to know my son. You probably would've been friends, laughing and playing video games together.
DJ knew the importance of education and attended Humboldt State because he wanted to set an example for his younger siblings. He chose Criminal Justice as his major because he had an incredible passion for people and wanted to help his community. DJ had the biggest heart that was filled with love and compassion for humanity and you could see it in his smile. He never looked down on anyone and treated everyone equally. It was his dream to be an attorney and to enter into politics. It is ironic that the career field that he wanted to dedicate his life to has failed to be there for him now that his life has been taken.
I will never see my son get married and have children of his own, I will never see what an amazing attorney he would have become and I will never be able to take another family vacation or tell my son that I love him.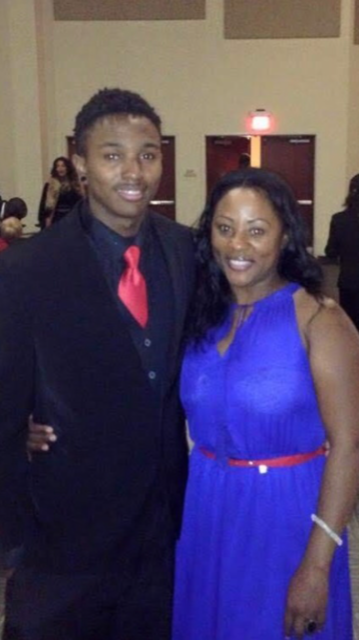 Submitted
Charmaine Lawson and her son David Josiah Lawson.
If you take the initiative and the first step toward healing, you may still be able to have a productive life with a clear heart and soul. Take responsibility, face the consequences, make amends and prove to yourself that you can grow and better yourself after such a horrendous act.
As DJ's mother, I am asking you to turn yourself into the police and take responsibility for your actions. You know that, regardless of what others tell you to do, the right thing is to turn yourself into the police and to take responsibility for taking my son's life.
I need to heal, my children and my family need to heal. We deserve a resolution. There is no healing without justice.
Charmaine Lawson