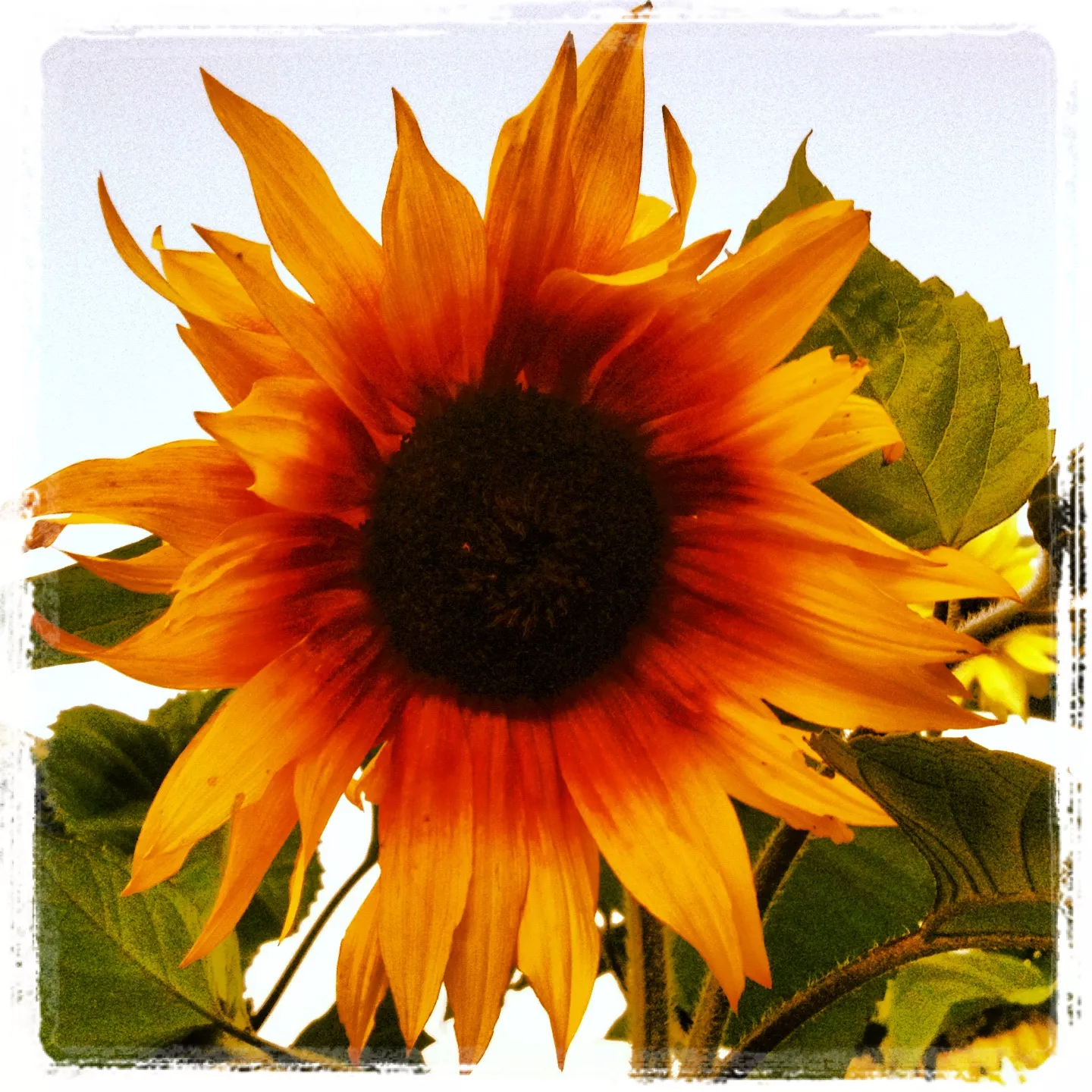 photo by Bob Doran
Sunflower
It's an odd time of year. On the one hand, the sunflowers are blooming and the sunshine seems to be telling us summer is here -- finally. Then there are the returning (and new) college students, back for school. (Welcome!) That tells us -- sigh -- summer is over. Confusing. At any rate, there's still time for a few more summer festivals.
Mad River Summerfest starts Friday evening with most of the action on Saturday. The festival has moved further east, leaving the riverside Pump Station for Christie's Pumpkin Patch near Blue Lake. The party once again features all local music with lots of beer and food and fun for kids, including the ranch's straw maze. New this year, a Friday evening tribute band component with Silver Hammer doing The Beatles and The Miracle Show doing The Dead.
Saturday's action starts early (8 a.m.) with a pancake breakfast (with mimosas!) and Om Shala Yoga guiding poses. The music marathon begins at 11:30 a.m. with the cool, folky Lyndsey Battle Trio followed by hippie bluegrass band Kindred Spirits at 12:15 p.m. The Trouble starts rockin' at 12:45 p.m. The Grass Band jams at 2 p.m. The Janky Mallets drummers take over at 3:15 p.m. Silent Giants get heavy at 3:45 p.m. Then get ready for giggles as the weekend-long Savage Henry Comedy Fest offers a teaser showcase at 4:30 p.m. (See calendar for full details on the rest of that festival). Speakeasy Saints bring da funk at 5:30 p.m. The Missing Link DJ Crew spins for an hour starting at 7 p.m. Then Woven Roots close with homegrown reggae starting at 8:15 p.m. Aside from food and drink the whole fest is free, although parking will cost you $5. Want to leave the car at home? Free shuttles run all day from Ninth and F in Arcata (by the ballpark).
Meanwhile down south, it's the Fourth Annual SoHum Beer Fest and Barbecue Smoke Off at the Mateel. This fest combines a homebrew contest with a barbecue cook-off, all set to a local music soundtrack supplied by honky tonk heroes Rooster McClintock, blues rockers NightHawk and the eponymous Fries-Nester-Ruland Trio.
Same Saturday, the Petrolia Mid-Summer Festival at the Mattole Valley Community Center brings together local cooks, artists and crafters with a collection of acoustic musicians: autoharpist Ken Young, Calista Salbego on violin and guitar, Oliver Grant on violin, Tina DeProspero and friends singing, and Greg Smith playing his hand-crafted guitars. The music leads up to a performance of the climate change musical Tripping on the Tipping Point by Petrolia's own Human Nature Theater Company. (The eco-comedy also plays next Thursday and Friday, Aug. 23 and 24, at Beginnings in Briceland.)
August must be Anticon month. WHY? is due at the Arcata Playhouse at the end of the month (Aug. 31), but first, Thursday at Nocturnum, it's Jel on tour with DJ Abilities. One of the founders of the Anticon alt. hip hop collective, Jeffrey Logan, aka Jel, swings between rapping and beat production -- he's a sampler master known for live beats on SP-1200 and MPC2000XL machines. He's on the road with DJ Abilities of Rhymesayers -- expect solo and joint sets. Void Pedal, Zavala and Crushcon7 fill out the bill.
Meanwhile, Thursday at The Shanty, ex-locals The Ian Fays sing alt. pop ditties about ex-boyfriends and broken hearts accompanied by broken Casios. Boy-band-gone-to-seed Thee Eureka Garbage Company and new alt. surf duo Shores Galore provide local support.
There's burning EDM at the Arcata Theatre Lounge that same Thursday, a Fractal Nation Burning Man Benefit featuring the artist formerly known as Heyoka, who apparently was abducted by aliens, "upgraded and reconfigured" and henceforth will be called Andreilien. He's joined by dubstep glitch hopper Dov and Humboldt producer Hypha.
Hawaiian uke strummer/sweet soul singer Paula Fuga's first claim to fame was being an American Idol reject -- fortunately one with enough appeal to be asked to go to Hollywood for an Idol rejects TV show. She ended up meeting SoCal mellow rocker Jack Johnson, who sings with her on her latest EP, Misery's End, as does Jack's friend Ziggy Marley. Fuga ends a West Coast tour with guitarist Mike Love (not the Beach Boy) at Humboldt Brews on Thursday. Aloha!
And it's reggae time 'round the corner at the Jambalaya Thursday night with Jamaican dancehall singer Perfect Giddiman plus Batch and Ras Attitude. More reggae next Wednesday night at the Jam from another JA crew, Live Wyya, musicians who used to back Gregory Isaacs.
Wait, we're not done with Thursday. A new "dynamic dance party DJ duo" pairing the versatile Gabe Pressure and DJ Anya (formerly of "Hella Gay" Sundays) kicks off the first of many "Dirty Dancing Thursdays" at the Alibi, with "electro-funk booty jams and retro-punk synth-pop beats." Pressure Anya goes Caribbean/South American the next night, for a "Tropical Transmission" Friday at Six Rivers with reggae, cumbia, etc. and a coordinated dinner menu.
More DJ dancing Saturday night at the Ocean Grove as Just 'Cause presents Disco Trinidad! with DJ Knutz, DJ Red, Matt n' Adam and MXMSTR KRSHN2N (aka Dub Cowboy) spinning disco, funk, soul "and more."
With that classic guitar/mando/banjo/standup bass combination, Boston-based Joy Kills Sorrow could be just another new-acoustic stringband with stellar players. The young band is named for radio station WJKS, "Where Joy Kills Sorrow," where Bill Monroe played back in the day. Founder Matthew Arcara won the National Flatpicking Championship in 2006. Mandolinist Jacob Joliff is at Berklee on a full ride scholarship. You may know banjo man Wes Corbett from The Bee Eaters with Tristan Clarridge. Seems to be the ladies who shift the sound toward an indie rock feel: bassist Bridget Kearny, who won the John Lennon Songwriting Contest a few years ago, contributes literate lyrics; Emma Beaton sings them -- great combination all around. See for yourself Friday night at the Arcata Theatre Lounge.
When the British two-tone ska wave hit at the end of the '70s, one of the top bands was The English Beat (known over there simply as The Beat). Front man Dave Wakeling went on to found General Public; today he leads an all-star ska outfit playing the old hits you know, plus some new songs. He'll be at Humboldt Brews Friday night with DJ Red spinning appropriate 45s to warm up the crowd.
Catch a double dose of funk Saturday at the Jambalaya with local funksters The Bump Foundation opening for Big Sam's Funky Nation. You might have seen New Orleans trombonist "Big Sam" Williams, formerly of The Dirty Dozen and The Soul Rebels, leading his Nation on a couple of Treme episodes -- he's even better in person. A second chance to hear Bump Foundation comes Sunday afternoon (2 p.m.) when the band plays for free on the Arcata Plaza as part of Arcata Main Street's August Concerts on the Plaza series.
Worldly funk will be Monday at the Jambalaya as a new local trio with Pete Ciotti and B Swizlo opens for The Funk Ark out of Washington DC. Ark keyboardist Will Rast says, "To me, funk is the universal connection linking all music, people like James Brown and the JBs, The Meters, Santana, Fela Kuti, Medeski, Martin and Wood and The Fania Allstars. The Funk Ark is my shot at making the music that I love to listen to." That seems like a good plan to me.
As the name implies, it's hard to pigeonhole SquarPeg, a kinda jazzy combo with Tina Garsen and Jill Petricca on woodwinds and Gregg Moore on tuba etc. playing Saturday at Robert Goodman Wines. As Moore explains, "The trio proposes a chamber music for the 21st century, combining musical textures from a multitude of disciplines into fascinating new sounds." It's something he calls "stranger chamber music." Strange, sure, but I like strange.