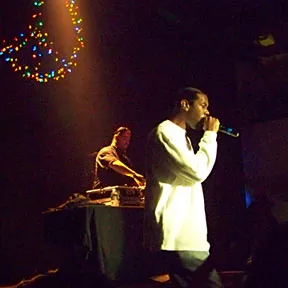 Andre Nikatina. Photo by Emily Hobelman
Live performance Jan. 18
at the Mateel Community Center
Andre Nickatina, formerly known as Dre Dog, graced SoHum with his presence this past Friday, Jan. 18. That's right, the Bay Area rap artist, along with a slew of other hyphy rap acts, played to a sold-out crowd at the Mateel as part of the Urban Legends Tour. (BTW hyphy, originally short for hyperactive, can be used as a genre name or as an adjective meaning cool or whatever.)
A little background is in order here. Nickatina is the "Ayo for Yayo" bro. ("Yayo" being cocaine, in case you're out of the loop.) I suspected the Mateel might just be packed full of cokeheads, smoking heady nugs of Humboldt weed. I think I was right. At least, I know I was right about the weed part.
The all-ages show had a whole lot of opening acts, including the Mendo Green Team, Something Terrible, Equipto, Smoov-E and some unnamed guy who got kicked off stage after attempting two songs. Another act, whose name I did not catch, had a brief two-song performance. I counted eight people on stage (not including the DJ and other techy people hanging out): three rappers, one female vocalist, one videographer and three dudes just dancing around. It was a seriously large crew.
Something Terrible also had quite the large crew too, but they all seemed to be rapping so it didn't seem so absurd. I knew of Something Terrible from a few years back when a buddy of mine showed me the Treal TV documentary. The rappers in Something Terrible, particularly one called Sauce Alito, were all over the movie, which was made by the legendary rap artist Mac Dre. Mac Dre is like the hyphy equivalent of Tupac — a pioneer of the movement who, like Pac, was murdered. The artists performing at the Mateel made many, many shout-outs to Mac Dre this past Friday. He is their hero.
Equipto and Smoov-E showed impressive skills. Both men were funny and proficient performers. Smoov-E made the night for me. A group of women made their way on stage and were freekin' each other like crazy. When Smoov-E saw what was going on, he yelled "Get your stankin' ass off my stage!" The ladies got bent and the crowd loved it. Best part of the show.
The Pisces himself, Nickatina, made it onto the stage eventually. For some reason he seemed quiet and awkward when he stepped out in front of the crowd. With no greetings, he launched into his first rap. He played a solid set with some classics, including my all-time Nicky fave Killa Whale, and some shit off his new album. Nicky shared a blunt with the crowd — gotta love that. He also invited Equipto up to freestyle. That was badass. And, I learned, Humboldt is apparently part of the Bay Area.
Well, I felt like I was in the Bay with the multitude of artists that performed and all the fashionable hoodies kids were sporting. Quite a show for just $25.